During the brutally hot Texas summers of his youth, Terry Maston often went to the Dallas South Oak Cliff High School gym to get his basketball education.
His tutors were his uncles, Derrick and Tony Battie, a pair of former pro basketball players who taught Terry everything they knew about developing big man skills. They fed him a steady diet of pivot moves, spins, pump fakes, and jump hooks with both the left and right hands until he knew every move instinctively.
"It was like 95 degrees in there at South Oak Cliff where they both went to high school," Maston said. "We would be in that gym every day, every summer. Even after my summer league games, I would leave the game and go work out again. The moves just kind of became patented."
If Maston's moves in the paint look more like Hakeem Olajuwon than Anthony Davis, he's OK with that. When people say Maston has an "Old Man" game, he considers it a compliment. The skills he learned from his uncles are paying off as Maston enters the final weeks of his Baylor career.
Producing big numbers during the second half of Big 12 play, Maston has been honored as the conference's top sixth man in a poll of the league's coaches. With Maston averaging a team-high 14.4 points, the Bears went 6-3 to close the regular season heading into Thursday's game against West Virginia in the Big 12 tournament in Kansas City.
"He's definitely a juggernaut offensively for other teams to figure out," Baylor coach Scott Drew said. "At the same time for us he's improved his quickness on defense and has improved his rebounding. When he's on we know it's give him the ball and get out of the way. When he's not on, usually a lot of people are spending a lot of time and attention worrying about him, and other people get shots"
In recent wins over Iowa State, Texas, Texas Tech and Oklahoma, Maston averaged 24 points and shot 67.2 percent from the field. He scored a career-high 26 points in a 74-73 double-overtime win at Texas on Feb. 12, and pulled off a ball fake underneath the basket against Longhorns center Mo Bamba that looked like it was pulled straight off an old Olajuwon game film.
Five days later, Maston came back to score 24 points in Baylor's 59-57 win over then-No. 7 Texas Tech at the Ferrell Center.
"I thought Maston was the best player on the floor," said Texas Tech coach Chris Beard. "You put him in the mix with their other players, and no one wants to play Baylor in the last month of the season."
During an era dominated by 3-point shooting and flashy dunks, Maston's game is a clear throwback to a time when big men played with their backs to the basket and used pivots and ball fakes to score in the paint. The Old Man game has become something of a lost art.
"I think definitely nowadays so many people play different from the standpoint that it's all 3-point shots, drives and dunks," Drew said. "T.J.'s one of those old skill, fundamentally sound guys who probably a lot of people haven't seen very much of in recent history."
While Maston has developed a few moves of his own, many of the blueprints came from his uncles' bag of old-school tricks.
Derrick Battie started at Temple University under legendary coach John Chaney from 1992-96 before going on to play professionally in Europe. The 6-10 power forward had a shot to play for the Boston Celtics in the late 1990s, but a knee injury cut short a potential NBA career.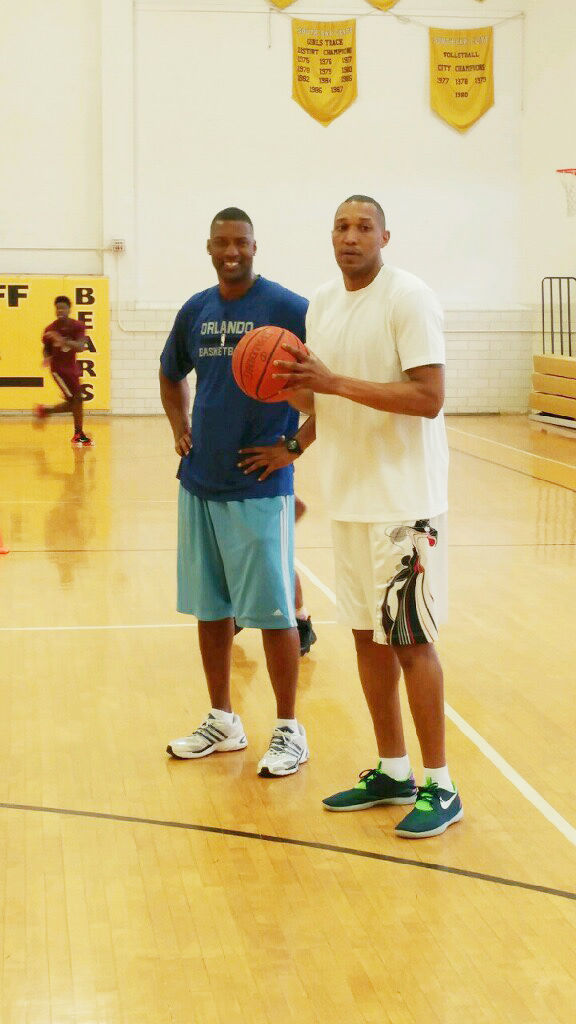 Tony Battie starred at Texas Tech in the mid-1990s before going on to a 15-year NBA career that ended in 2012. The 6-11 center was inducted into the Texas Tech Athletics Hall of Fame last year.
They showed no mercy on their nephew, nicknamed T.J., when they started honing his game during his junior high years.
"He was starting seventh grade at Trinity Christian, and during spring break I took him up to South Oak Cliff High School," Derrick Battie said. "He wasn't very tall and was kind of chubby. He didn't know a dropstep from a hook shot at the time. So I taught him the basics of playing like a big man with George Mikan and Pete Newell drills."
As Maston matured and crafted his game, his uncles made it tougher for him to score. Derrick often held up a broom for Maston to shoot over, and wouldn't let him leave the gym until he made 50 hook shots with each hand from left, right and center positions around the paint.
"They would take this old broomstick from sweeping up the gym, so it was really dirty," Maston said. "They would try to swat away my shot. That's kind of how I learned to shoot with both hands over taller defenders."
Maston played at DeSoto High School under Chris Dyer, who had coached Derrick and Tony Battie at South Oak Cliff nearly two decades earlier. By his senior year, he had grown to 6-8 and developed into a Class 5A all-state player who helped lead the Eagles to the state semifinals in 2014.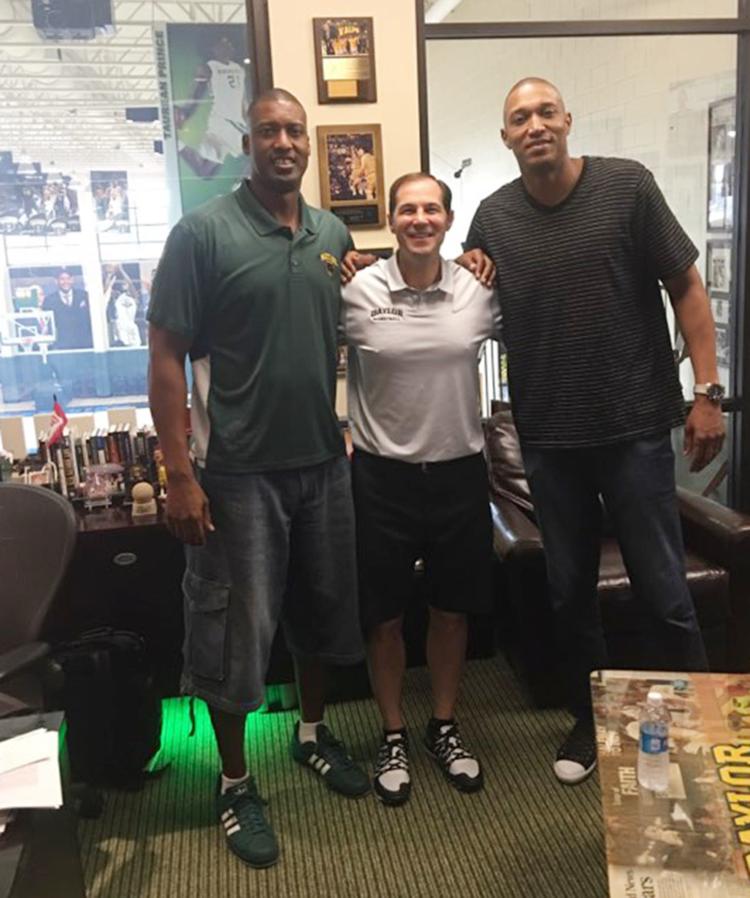 While Maston played against strong competition in AAU basketball during the summers, he kept coming back to the South Oak Cliff gym to learn more post moves from his uncles.
"Everything he did looked like it came so easy to T.J." Derrick Battie said. "But T.J. benefited from having two uncles who went through that. I wanted him to work out at a grassroots level to develop the type of toughness you see in great players. We were going to go out there and sweat and work out hard for a couple of hours. He became tremendously skilled with footwork and ability to shoot with both hands, and hit a jump shot from 15 feet like Karl Malone and Tim Duncan."
Maston's game drew the attention of a lot of colleges, but he chose Baylor because he liked the family atmosphere created by Drew and his coaching staff and the Christian environment.
After playing just 36 minutes as a freshman in 2014-15, Maston showed flashes of his ability as he played 12 minutes per game and averaged 6.1 points as a sophomore. Maston became a key player off Baylor's bench last year as he averaged 7.1 points and 3.8 rebounds in 15.6 minutes per game.
He was at his best during last year's NCAA tournament when he helped the Bears beat New Mexico State and USC with a pair of 19-point performances to earn a spot in the Sweet 16.
"I just got into a pretty good groove," Maston said. "I don't know if anyone remembers, but the previous five games I really hadn't played. But then I got my shot and I made a couple of jumpers and I got hot, and it was just a good weekend for me. It was a lot of fun especially with the teammates and the team we had. Everybody just loved each other and congratulated each other on the success we were having, and that just made it better."
Though Maston again came off the bench at the start of this season, he played more consistently as he averaged 11.7 points in the first six games. But he broke his right (shooting) hand in a loss to Xavier, and was forced to sit out the next six games after undergoing surgery in which a metal plate was placed into his hand.
Maston was disappointed that he missed six games in December, but made the most of his time off the court by working diligently on cardiovascular training and improving his diet. He's dropped from 254 pounds at the start of the season to 225 now.
"I said 'T.J., don't eat yourself out of a good career,' " Derrick Battie said. "Tony stepped in and put him on The Rock diet where he'd eat things like asparagus, white rice, and a six-ounce steak."
"I've made it into more of a lifestyle instead of just a diet change," Maston said. "I love sweets and fried foods. But I learned how to cut back on them instead of completely trying to quit."
While Maston appeared in good shape for his return in the Big 12 opener against Texas Tech on Dec. 29, his shooting touch was off as he missed all four shots in the Bears' 77-53 loss in Lubbock. But he improved dramatically in the next game as he hit 10 of 15 shots and scored 20 points in a loss to TCU.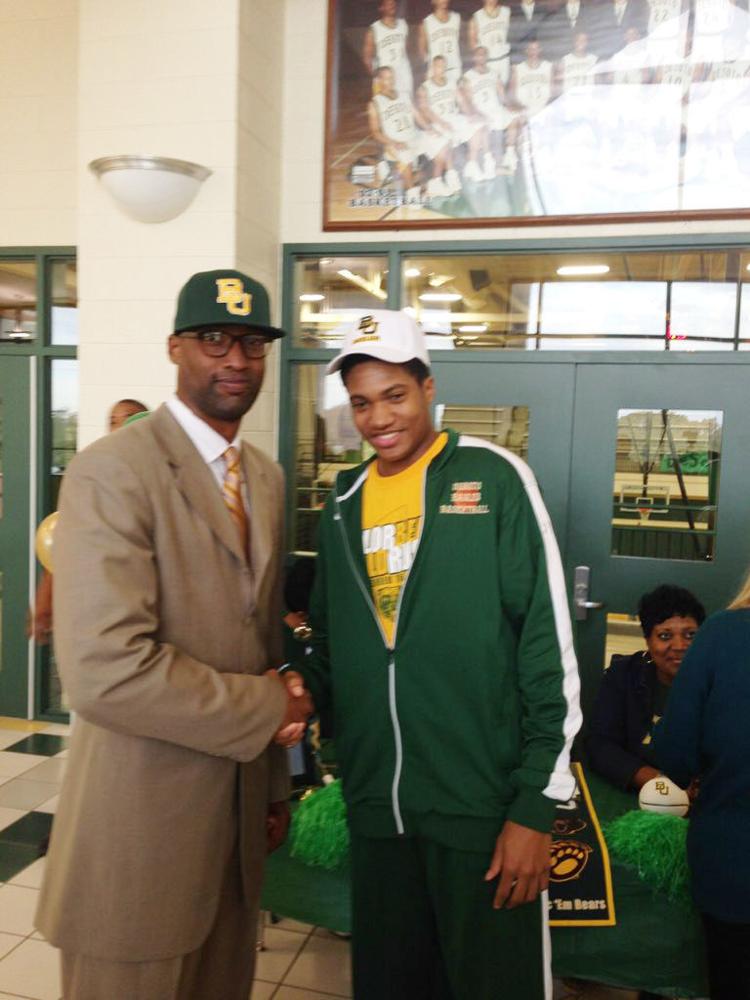 Maston's productivity continued to be erratic throughout January as he tried to regain his confidence following surgery. But he hit 23 points on Feb. 3 against Iowa State and followed with 20-plus points against Texas, Texas Tech and Oklahoma. Maston was instrumental in the Bears' five-game winning streak that put them back in the NCAA tournament conversation.
"He's made a huge impact on us especially with the turnaround we had when we went through that five-game run," said Baylor center Jo Lual-Acuil. "T.J. was a big part of that. He came off the bench with a lot of energy. Without him we don't win those games. He's a big part of what we do."
Maston keeps his teammates loose with his dance moves before games, and recently unveiled his air guitar. But once the game starts, he's all business. He hopes to help the Bears win their first Big 12 tournament this weekend and return to the NCAA tournament for the fifth straight year.
"It's going to be my last Big 12 tournament, and I'm the only guy who's been here four years," said Maston, who is averaging 10.8 points and 5.6 rebounds this season. "Hopefully the fourth time is the charm. We're going in with the mindset that we need to win every game we play. The first game is always the toughest, so right now we're preparing really hard for that."
Like his uncles, Maston hopes to play professionally after finishing at Baylor this season. Derrick and Tony will always be there to help him achieve his dreams.
"I'm glad T.J. went to college to get his degree and go into the family business," Derrick Battie said. "He has a huge upside, and is probably a better-skilled player than Tony and me. All NBA coaches say we don't have guys who want to play with their back to the basket. It's a lost art."