After an ugly, almost unwatchable first half, two things brought the Baylor basketball team and the Ferrell Center crowd back to life Monday night.
The Baylor students went nuts when public address announcer Derek Smith proclaimed that classes were canceled Tuesday due to approaching bad weather.
Reason No. 2: Manu Lecomte went on a 3-point shooting frenzy.
Breaking out of a deep shooting slump, Lecomte drained six second-half 3-pointers and finished with a career-high 30 points as the Bears romped to a 76-60 win over Oklahoma State to snap a two-game losing streak before 6,078 fans.
Lecomte came into the game with a 23.7 shooting percentage and a 20.6 3-point percentage in Big 12 play. The Bears badly needed Lecomte to regain his shooting touch, and he responded by nailing seven of 12 treys while hitting 11 of 17 shots overall.
Lecomte's hot shooting came at an ideal time for the Bears (12-6, 2-4) since they hit the road to play No. 10 Kansas on Saturday at Allen Fieldhouse in Lawrence.
"It felt good, and I think I needed it individually," Lecomte said. "I haven't been shooting well the last few games. But one thing is I never give up because I know things are going to change. I still believe in myself. I'm still a good shooter. And my teammates obviously did a great job finding me in transition."
Twenty-five of Lecomte's points came in the second half as the Bears outscored the Cowboys, 50-33, after Oklahoma State went into halftime with a 27-26 lead.
"Manu banged up his shoulder and it's getting better, and that helped," said Baylor coach Scott Drew. "He got the confidence of the team and the players made sure he knew the only time they're upset with him is if he turns down shots. But it was great to see him get on a roll in the second half and give us separation."
After the Bears shot just 38.7 percent in the first half against the Cowboys (12-6, 2-4), Lecomte gave a preview of things to come when he drilled a 3-pointer to open the second half. Jo Lual-Acuil, who finished with 12 points and seven rebounds, followed with a pair of free throws to give the Bears a 31-27 lead.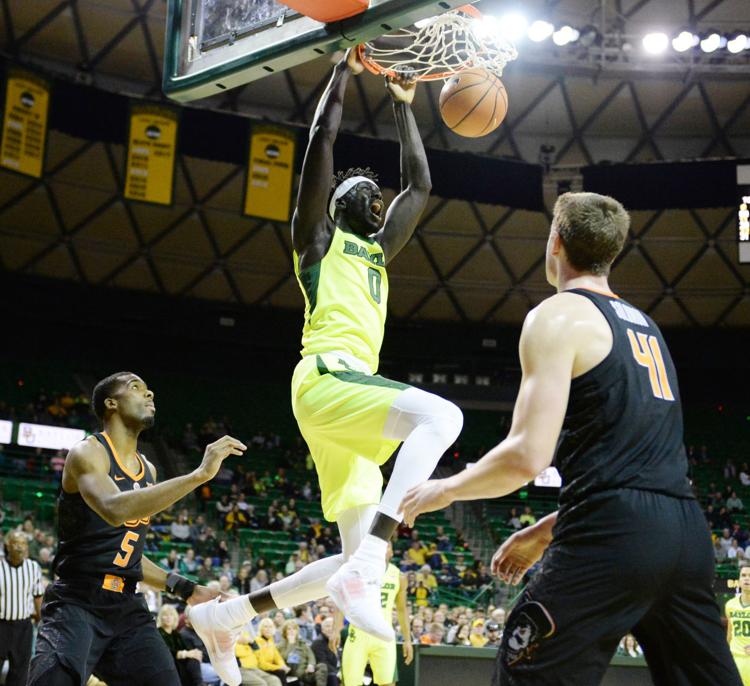 After Lecomte hit another trey, the Cowboys still hung tight when they cut Baylor's lead to 36-34 with Cameron McGriff's basket.
But the Cowboys couldn't stop Lecomte as he led the Bears on a 14-4 run to stretch the lead to 50-38 with 9:30 remaining. Hitting shots all around the arc, Lecomte nailed three more 3-pointers and Jake Lindsey also drilled a trey.
"Coach did a great job, he kept running plays for me," Lecomte said. "They got me open every time. Tristan (Clark), one time at the post, found me wide open. And then Mark (Vital) in transition found me wide open. I think we've done a really good job as a team that whoever's getting hot during the game, we just keep feeding him."
Midway through the second half, Smith announced that Baylor's classes were canceled, which drew the loudest cheers of the night. The announcement came during a time out when Drew was busy instructing his team in a huddle.
"I didn't know what the cheer was," Drew said. "I thought they were showing one of the highlights or Manu's 3 or something. But it got pretty loud. I know our players looked around. Everyone likes to play in front of larger crowds and louder crowds. The students definitely gave us that tonight, a night with the weather it might not have been that way. So we can't thank them enough for that."
The Bears led comfortably the rest of the night. Making his third straight start, Vital continued to give the Bears energy as he collected 10 rebounds and eight assists along with three points.
"He's brought a lot, honestly," Lecomte said. "Defensively, he's a beast. He makes up for a lot of our mistakes. When you get driven by, he's there to cover up. He gets steals, he gets rebounds. And on offense, sometimes he's really the point guard. You've got it, and I just run, and he makes plays for people. So that opens up the floor a lot."
The Bears played solid defense all night as the Cowboys shot 40.4 percent. Oklahoma State's starters scored just 20 points as Cameron McGriff led the team with 16 points off the bench.
"Everybody can look at the stat sheet," said Oklahoma State coach Mike Boynton. "If you don't get a lot out of guys that start, that usually play the majority of the minutes, if they're not going to play well in this league, it's going to be hard to win unless you have incredible quality of depth and can throw five other guys in there."