PLAYER OF THE YEAR, DEFENDER OF THE YEAR: BAYLOR'S ODYSSEY SIMS
There are very few numbers that Odyssey Sims cares about.
In fact, there are two – her team's win total and the number of championships it collects.
Baylor has notched plenty of them in Sims' time at the school – 134 to be exact heading during her career, heading into the Big 12 tournament. As a senior, Sims was surrounded by a roster full of teammates learning on the fly, and the Lady Bears needed her to shoulder a massive load to be successful.
The 5-foot-8 guard was more than up to the challenge.
Sims dropped in 29.6 points per night to lead the nation while continuing to bolster her reputation as the best on-the-ball defender in the college game.
Her all-around performance was crucial for Baylor, which finished 26-4 in the regular season despite its inexperience and took home a share of the conference crown.
"I just feel very accomplished, as far as my team," Sims said. "We weren't picked to win the Big 12, but we still came out and won the championship. I just give credit to my team. I did the best I could to lead them in Big 12 play, and they helped me get to where I am right now."
Sims scored 40-plus points five times this season, including a career-best 48-point effort in a win over West Virginia early in the Big 12 schedule. She also put up 47 against then-No. 5 Kentucky, 44 against Texas and 40 against Kansas State.
She also averaged 4.8 assists, 4.5 rebounds and 2.0 steals per contest, and found ways to come up big even on nights in which her shot wasn't falling.
In the Lady Bears' overtime win over Oklahoma State, Sims struggled to a 7-for-27 night, including 0-for-8 from 3-point range. But she scored the game-winning three-point play with five seconds remaining, then took away any chance the Cowgirls had at tying the score with a steal at midcourt as time ran out.
"There's no question she's deserving of both awards," Baylor coach Kim Mulkey said. "The thing is she could have won those awards the last three years, but she was so eager to come to win a championship she'd never won, she chose to come to Baylor with a lot of all-Americans on the team and figure out what her role was. But we would have never won a national championship without Odyssey Sims, and certainly not Big 12 championships."
Sims' stellar four-year career has her atop the Baylor all-time list in assists (612), 3-pointers (248), second in free throw percentage (.806), 3-point percentage (.411) and free-throws made (526), third in steals (318) and fourth in points (2,366) despite often sacrificing her own numbers to fit in with a dominant team during her first three seasons.
"She sacrificed scoring, she sacrificed a lot of things to make sure the team came first," Mulkey said. "Then you turn around and change the philosophy her senior year, and now you're asking her to change her mindset. She's done everything we've asked her to do in four years."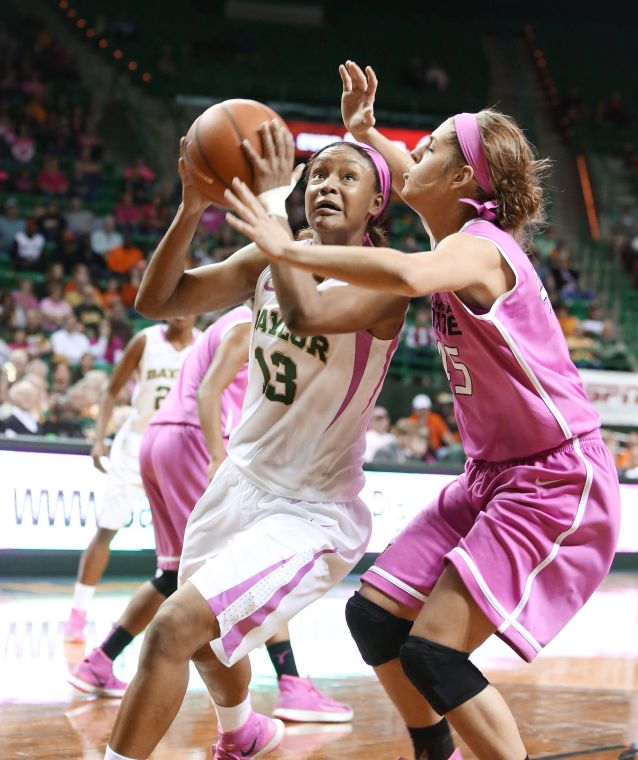 FRESHMAN OF THE YEAR: BAYLOR'S NINA DAVIS
When Baylor's freshman class hit campus, none came in with less fanfare than Nina Davis.
Sure, the 5-foot-11 forward was a Parade All-American and Tennessee's high school player of the year as a senior, but it was uncertain whether her size would allow her to handle the transition to the college game, not to mention a shot that would never be taught in a textbook.
Any doubts have been erased.
Davis' shooting motion might not be the prettiest, but the ball goes in more often than not. She scored 14.3 points and grabbed a Big 12-best nine rebounds while shooting 59.6 percent, seventh in the nation.
"I just feel blessed," Davis said. "Not many people have the opportunity to come in and make the impact that I made."
And Baylor needed every bit of what Davis provided.
An injury to Alexis Prince before the season left Baylor without its second-best player as well as the only one with significant experience outside of Odyssey Sims.
Davis quickly showed what she could do, scoring 28 points in her second game as a Lady Bear, and she hasn't slowed down. She matched that career-high total against Oklhoma State, and finished her rookie regular season with 10 double-doubles.
As important as her scoring has been, her work on the boards might be more impressive given her size.
Davis twice pulled down as many as 17 rebounds in a game, both against top-10 foes. The first of those performances came against No. 1 Connecticut, and she accomplished the feat again along with 16 points in a huge overtime win over then-No. 8 Oklahoma State.
"She's one of those players when you go on the floor you go, 'That's Nina Davis I keep reading about?' because you don't realize how small she is in there with those big players," Baylor coach Kim Mulkey said. "Then when you watch her shoot, you're like, how does she get that shot off? How does it go in? And you certainly think she's going to be exposed on the defensive end, but she doesn't. She's a great example of a player that didn't come in with a lot of accolades out of high school, but when you put her on that floor, she worked her way up and we can't work without her."
COACH OF THE YEAR: WEST VIRGINIA'S MIKE CAREY
In only its second year in the Big 12, West Virginia proved it belonged.
The Mountaineers were the conference's hottest team at the end of the year, running off 10 straight wins to close out the conference season and wrap up a share of the regular season crown — their first since 1992.
West Virginia coach Mike Carey was the architect of the squad, which won a school-record 27 regular season games and figures to be a tough out in the Big 12 and NCAA tournaments.
"We had a very successful year, were co-champs in the Big 12, and because of that people get those awards," Carey told Mountaineer TV. "But the players deserve all the credit. Without them, and the type of players we have, those awards would not be there."
The Mountaineers started the season with a loss to Ohio State, but that was a feeling they didn't taste often.
They dropped only two more games the rest of the way, a 78-62 setback to Baylor at home and a 66-63 defeat on the road at Texas.
The last of those losses put the Mountaineers in a situation where they had to win out to claim their first Big 12 regular season title, and they did it by accomplishing something no team had in nearly five years — beating Baylor on its home floor.
Their 71-69 win in the second-to-last game of the year snapped the Lady Bears' 35-game Big 12 home winning streak and pulled the Mountaineers even atop the standings.
West Virginia has a balanced offensive unit, but it's on the defensive end where it truly shines.
The Mountaineers have allowed a league-low 57.4 points and .352 field goal percentage against in Big 12 play with its hard-nosed man-to-man style.
"I just love the aggressiveness that he teaches those girls to play with in their man-to-man defense," Baylor coach Kim Mulkey said. "He doesn't throw a lot of junk defenses at you. It's just toss the ball up, let's go play and let's get after it in man-to-man. I've watched him through the years when he was in the Big East, and he went to Notre Dame one year and beat them. It jumps out at you when that's your philosophy defensively."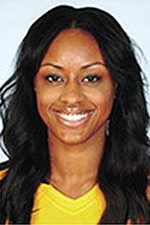 NEWCOMER OF THE YEAR: WEST VIRGINIA's ASYA BUSSIE
West Virginia was hoping for a fresh start last season with its move to the Big 12.
One player who didn't get to be part of those plans was center Asya Bussie, who suffered a season-ending knee injury on the first day of practice.
Losing that 6-foot-4 presence hurt the Mountaineers all season, and they tied for fifth in the conference with a 9-9 mark and went 17-14 overall.
Because of the injury, Bussie's senior year and Big 12 debut had to wait, but she came back with a vengeance.
"Last year we knew when she went down on the first day of practice that's not good," West Virginia coach Mike Carey said. "But the good thing was, if there was any positive, it was that she would have another year. It's never good to get injured, but it's a positive for the team to have this type of year and have the type of success she's had."
Bussie averaged 13.2 points and a team-best 7.7 rebounds to help the Mountaineers claim a share of the conference crown, and she was at her best when she was needed most.
In West Virginia's pivotal win of the season against Baylor, Bussie was unstoppable.
She hit eight of her 10 shots during a 21-point night and also blocked three shots. All told, she had seven double-doubles, four of which came against Big 12 foes.
"She's had some big games against some big teams, so it didn't surprise me," Carey said. "But she's a competitor, and she likes to go against some of the top players in the country."
SIXTH MAN OF THE YEAR: WEST VIRGINIA'S TAYLOR PALMER
It's never easy to take on a lesser role, but that's the situation Taylor Palmer faced this season.
After spending two years as a starter for West Virginia, Palmer found herself as a bench player as a senior.
"It was a situation where we were trying to bring scoring off the bench and some defensive pressure off the bench," West Virginia coach Mike Carey said. "I talked to Taylor I think the second game in and said I know you want to start, but this is probably what's best for the team. She accepted it very well and has been very positive the whole season. I'm glad it paid off for her."
It paid off for everybody.
Palmer's time on the court only dipped by about two minutes per contest, and the 5-foot-9 guard was exactly the kind of spark the Mountaineers needed.
Palmer continued to show her 3-point stroke with 49 of them, and she put in double-digit points per night with 10.2 while expanding her game and providing leadership.
"She's very aggressive, and she's very vocal," Carey said. "You put on top of that she's a threat from the 3-point line, and even this year she's taken it off the dribble and made some plays. I just think she's done a great job for us this year."