After winning their eighth straight Big 12 title and going undefeated throughout league play, the Baylor Lady Bears racked up the All-Big 12 awards.
Kim Mulkey was named the Big 12's Coach of the Year, sophomore forward Lauren Cox was voted the Defensive Player of the Year and junior center Kalani Brown received Player of the Year honors. This is the sixth time since 2005 that Mulkey was named the league's Coach of the Year.
This is the first postseason individual award for Brown. She's the program's seventh Player of the Year recipient. Cox picked up her second after winning the league's Sixth Man award last season.
Oklahoma State's point guard Loryn Goodwin was named the Big 12 Newcomer of the Year, Oklahoma's Shaina Pellington was voted the Freshman of the Year, while TCU's Amy Okonkwo received Sixth Man honors.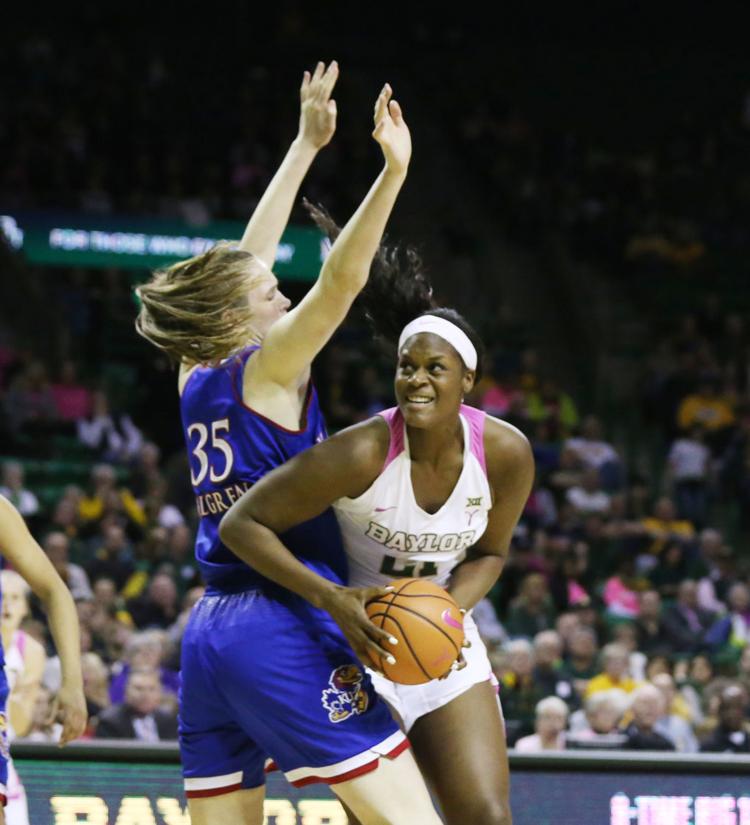 On the All-Big 12 First Team, Baylor's Brown and senior guard Kristy Wallace were unanimous selections along with Iowa State's guard Bridget Carleton, Goodwin, and Texas' Brooke McCarty. Rounding out the First Team are Cox, Oklahoma center Vionise Pierre-Louis, Texas' Ariel Atkins and West Virginia forward Teana Muldrow.
Cox and Wallace were each named to the All-Defensive Team, along with Atkins, Texas guard Lashann Higgs and Goodwin. On the All-Freshman Team are Baylor guard Alexis Morris, Kansas State guard Rachel Ranke, Oklahoma guard Ana Llanusa, Pellington and Oklahoma State guard Braxtin Miller.
On the All-Big 12 Second Team are Kansas Stateguard Kayla Goth, Oklahoma guard Gabbi Ortiz, Okonkwo, Higgs and West Virginia guard Naomi Davenport.
Baylor senior Dekeiya Cohen received honorable mention recognition, along with Christalah Lyons (Kansas), Peyton Williams (Kansas State), Llanusa, Maddie Manning (Oklahoma), Pellington, Miller, Jordan Moore (TCU), Kianna Ray (TCU) and Chania Ray (West Virginia).
The All-Big 12 honors were chosen by head coaches who are not allowed to vote for their own student-athletes. The Tribune-Herald will publish its annual All-Big 12 team on Sunday.