There wasn't much Stanford could do.
Kalani Brown continued to score at will against a Cardinal team ranked 16th in the country as the junior center finished with 28 points in Baylor's 81-57 victory Sunday afternoon inside the Ferrell Center.
"I didn't think that they would play behind," Brown said. "I thought they were more of a three-quarter team. So when they did play behind, I thought, 'Wow, take advantage of it.' Even with some things that they did — they called sandwich, where they put one in front and one behind — I was trying to find ways to get open. It took me a few plays to figure it out. But, as we went, I was just trying to figure out their defenses."
Stanford tried to make her catch the ball outside the lane to make her work with the ball in her hands for better positioning. But Brown worked so well early that the Cardinal couldn't get her out of the paint. At least 90 percent of the time, Brown caught the ball with at least one foot in the paint. So Stanford brought a double team, but Brown either shot over them or dished it to an open teammate.
"(Kalani is) really not just big, but she's very skilled, finishes very well at the basket, 12-for-16," Stanford coach Tara VanDerveer said. "We were trying to double her, but we didn't get there."
And if she ever missed, like she did with just under nine minutes to play, the hustle by her teammates, specifically Kristy Wallace, earned another possession for Baylor, which led to another shot for Brown. And for Brown, who has the nation's highest field goal percentage (77.1), she made the most of another chance.
"I mean, Kalani can score the ball," Wallace said. "She's still shooting 70 percent? She can score the ball, so I'm going to give her the ball anytime I can, if she's got numbers like that."
During the grind of a college basketball season, it helps to suffer from short-term memory loss.
Wallace finished just short of a triple double with 15 points, 10 rebounds and seven assists. She never turned the ball over. It marked her second career double-double.
"I thought this kid right here (Wallace) set the tone for our basketball team," Baylor coach Kim Mulkey said. "Kristy Wallace, no turnovers, almost played 40 minutes in the game, almost had a triple-double. She didn't try to do too much, she made the right passes, she made hustle plays. She may have had her finest game in her career at Baylor today."
Lauren Cox finished with her fourth double-double of the season with 15 points and 15 rebounds. Cox also had six assists.
"You see the difference she is in a game," Mulkey said. "She makes this kid (Kalani) better, she makes this kid (Wallace) better. They make each other better."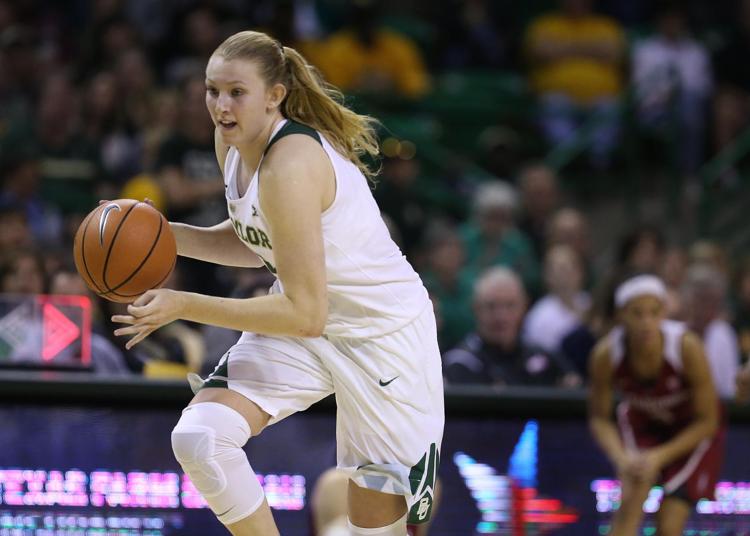 The Lady Bears finished shooting 43.4 percent from the floor. Once again, the defense played a strong as Baylor held Stanford to only 29.4 percent from the field. It marked the lowest shooting percentage of the season for the Cardinal.
Shannon Coffee led Stanford with 14 points, followed by Kiana Williams with 13 and Alanna Smith with 11.
"This early season has really been baptism by fire, and we were beaten clearly by a better team," VanDerveer said. "We need to learn from this and have better shot selection, but also have for Baylor their hook inside, Brown is so big and we didn't defend her the way we'd worked on and talked about."
Baylor got off to a fast start with a 25-8 lead after the first quarter. Stanford made only two shots from the field, in addition to a pair of free throws, in the opening frame. Brown had 10 of those points for the Lady Bears as the home team owned a 14-0 advantage inside.
After the first quarter, things got a lot closer. Stanford outscored Baylor by four in the second quarter, and Baylor outscored Stanford by five in the third quarter.
The Lady Bears held a six-point advantage in the fourth quarter behind 58.8 percent shooting.
"We started off really well," Wallace said. "We came out ready to play. We knew the scout, we knew what to do, we just had to execute."
Bear facts
Trinity Oliver is out for the season after sustaining an ACL injury in Baylor's game against Kentucky.