Kim Mulkey kissed Chameka Scott on the forehead and told her she loved her. And then the Baylor women's basketball head coach looked down at Scott's pinky.
"This little pinky right here almost made both of us throw up on the court," Mulkey told Scott Sunday morning, hours before the 33-year old died after a long battle with cancer.
"Her pinky in a game was at a 90-degree angle," Mulkey recalled. "I've seen dislocations before, but I've never seen them where it was open at the joint. I just grabbed it and said. 'Do not look, Chameka. Do not look at it.' I said, 'Alex (Olson, Baylor trainer), just take her off the court.' He did and they sewed it up in the locker room. He tapped me on the shoulder and said, 'She can play now.' I was stunned that you could just go pop it back in, put a stitch in it and play."
Scott had a colonoscopy in 2015 in which doctors discovered a malignant blockage. After surgery, she was thought to be cancer free. But the cancer recently returned, and she had been undergoing treatment at MD Anderson Cancer Center in her hometown of Houston.
"You think Chameka's in remission, then you get a phone call," Mulkey said. "John (Morris) had invited her to speak at a Legends luncheon, and she calls and says she can't come. (She) got a report that day that wasn't good but she wasn't ready to talk about it. We waited and waited. Three weeks later, she's not with us anymore."
The third-ranked Lady Bears will honor the former Baylor defensive dynamo who played at Baylor from 2002-06 and helped the team win the program's first national championship in 2005 before the tip of Thursday's top-10 contest against No. 6 Texas.
Prior to the national anthem, a video commemorating the life of Scott and a moment of silence will take place. Baylor is also giving out "Stripe the Ferrell" T-shirts to fans that will feature Scott's jersey No. 21 and her initials.
"Our kids will wear patches the rest of the year with her initials," Mulkey said. "There will be a vinyl emblem on the floor, I think, with her initials. Tons of her teammates will be here. Kids who haven't been here in years are coming back."
Scott suffered a torn ACL in her left knee halfway through her senior season at Clear Brook and struggled to get on the court her first two seasons at Baylor. As a freshman, she played in 21 of 35 games before she averaged 14.4 minutes and 4.5 points as a sophomore.
Mulkey said they showed film of Scott to the current Baylor squad on Monday.
"Some of them remembered Chameka and some of them didn't," Mulkey said. "Just let them see her moment winning that first national championship and how healthy and excited she was and then how quickly life can take a turn that you're not in control of. … It was emotional in that locker room. When Johnny Derrick gets up to speak with the team and he gets emotional, it touches home.
"Johnny was Chameka's rock when she didn't get off that bench the first two years at Baylor. She'd be in his office, she'd ask him questions. Her junior year, she becomes our defensive stopper."
Scott started 48 of her last 49 games at Baylor and finished her senior year averaging 8.7 points and 6.4 rebounds when she earned honorable mention All-Big 12 honors. She finished her career as a Lady Bear with 780 points, 538 rebounds, 187 assists, 186 steals and 70 blocks.
"It puts life in perspective that, gosh, there's nobody more competitive than me, but it really is just a game that I get to coach," Mulkey said. "The hard part, as you get older, I'm not supposed to outlive my children, my grandchildren and my players. That I struggle with."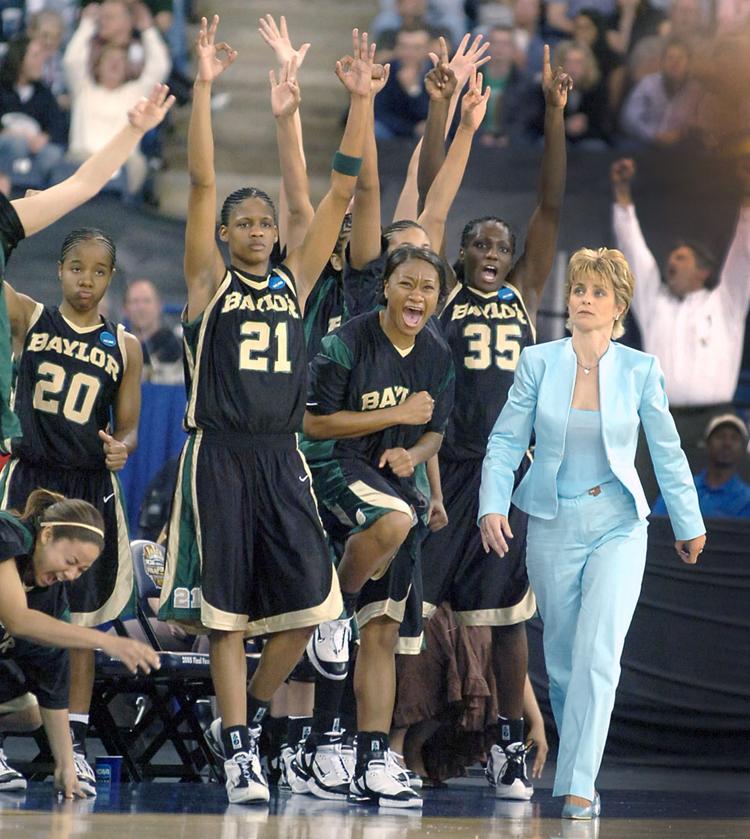 Along with Mulkey by Scott's bedside were Derrick, assistant AD for women's basketball operations and Jennifer Roberts, coordinator of basketball operations.
"Her smile, how she would just brighten up a room," Mulkey said. "Just funny stories we sat and told right there in front of her. To watch Jordan Davis and Abiola Wabara and Chelsea (Whitaker) wasn't there yet, to watch them take care of her like that was their family member while we were there. Beating on her back, sucking mucus out of her throat, who does that this day and age with young athletes?
"That relationship was developed at Baylor. That's why that team won the national championship. They had that bond back then. It has continued, not just when Chameka got sick. It's continued their whole life."
Mulkey said on the drive back to Waco from Houston, not a word was spoken until College Station.
"I just turned around and said, 'Guys, all we get to do is coach a game. At the end of the day, we coach a game,'" Mulkey said. "You think you have perspective in your life but sometimes you need to be shaken. I've certainly had some shakes in the last six months, that's for sure. But I have to keep on keeping on. They have to keep playing hard.
"It's life's lessons. This is a part of growing up. The number of kids you'll see at the game, it's been a long time since some of them have been back on this campus, but it's the respect they have for Chameka Scott."