Young Blood: Transfusion brings 3 new coaches, each facing unique challenges
Oklahoma's Lincoln Riley wants to keep fueling a college football giant, Texas' Tom Herman wants to wake up a sleeping giant, and Baylor's Matt Rhule wants to make giant steps toward creating a new culture.
This much is clear: The Big 12's three new head coaches will play a major role in shaping the future of the league.
While all three are walking into high-profile jobs, they're stepping into dramatically different situations.
The 33-year-old Riley is taking over for the winningest coach in Oklahoma and Big 12 football history following Bob Stoops shocking retirement in June.
Herman is tasked with resurrecting a Longhorns program that hasn't been nationally relevant since reaching the 2009 BCS championship game and is coming off three straight losing seasons under Charlie Strong.
Rhule is trying to clean up a Baylor program that reached unprecedented levels of success under Art Briles but damaged the university's image with a widespread sexual assault scandal.
Which coach has the toughest job is debatable. All three have their own unique challenges that will be played out before the eyes of the college football world.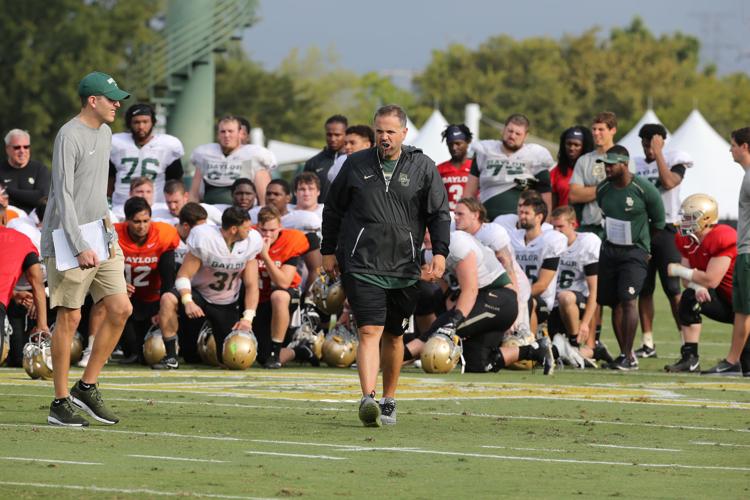 Rhule has met Baylor's sexual assault problems head-on, constantly reminding his players of the need to be responsible citizens off the field and representing the university the right way. He believes it's important to confront his players with sexual assault issues to raise awareness and avoid the problems Baylor has had in the past.
"That which we don't acknowledge we're doomed to repeat," Rhule said. "At the end of the day, I don't know everything that happened, but I just know something that happened that was wrong. If we don't talk about it, if we don't learn from it, then what was the point of it? I want to move forward, but I want to move forward always acknowledging the past."
Through text messages, Rhule repeatedly sends out directives to his players on how they need to show accountability in everything they do. He makes them understand that they need to help each other stay out of potentially bad situations.
"It's just a reminder to remember who you are and that you're a Baylor Bear and be respectful to women," Rhule said. "Get yourself out of bad situations and protect a teammate. It's about continuing to model and teach and demand that the guys in our program act like men. What does it mean to be a man? To us it's that you respect authority, you stand up to injustice whether it's popular or not, you protect those that are weaker than you. You're honest, you're accountable, you live a life of integrity. We want them to grow into men while they're here and be great husbands and fathers when they leave."
Rhule was well aware of the issues he was inheriting when he was named Baylor's coach last December. But as the son of a Nazarene pastor, he felt a calling to coach at Baylor after leading Temple to a pair of 10-win seasons in his final two seasons at the Philadelphia school.
"It was an opportunity for me to coach football and still outwardly embrace my faith," Rhule said. "I think there's no greater calling for me right now than to do that."
While changing the culture of the Baylor football program is a major goal, Rhule still wants to put a successful team on the field beginning this season.
Since the start of spring drills, his emphasis has been to develop a physical team that won't break mentally. He coached in the NFL with the New York Giants and many members of his staff also have NFL experience.
Though he understands the need to run an up-tempo spread offense in the Big 12, he'll also use elements of the pro-style offense that will feature power football.
"When you're different, you're unique," Rhule said. "So we're going to try to be different. But we're also going to try to highlight our players. It's not about the system to me. It's about what the players can do, the quarterback."
While Baylor is undergoing a significant transformation under Rhule, Riley simply wants to keep the crimson and white machine rolling at Oklahoma.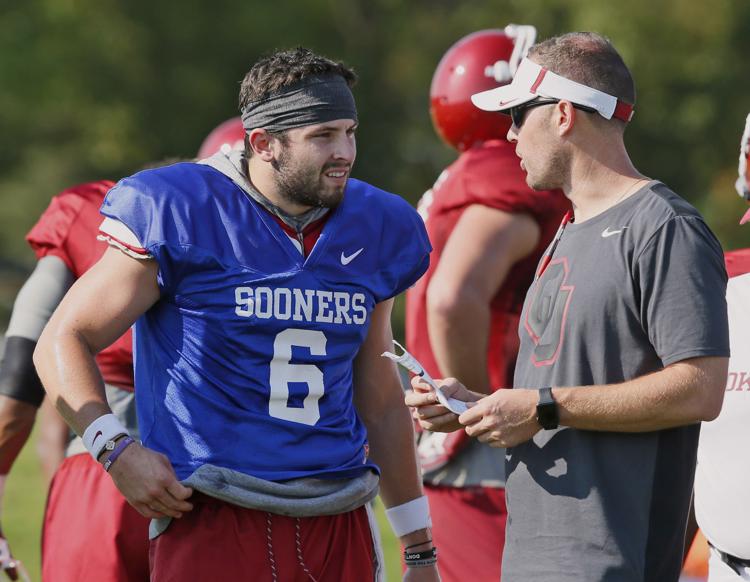 Bob Stoops built a legendary career in 18 seasons at Oklahoma, producing a school record 190 wins, 10 Big 12 championships and the 2000 national title. His June 7 retirement at the age of 56 stunned everybody -- including Lincoln Riley.
Riley knows he's stepping into some enormous shoes as Stoops' successor. After just two years as the Sooners' offensive coordinator, he's taking over one of the most high profile jobs in college football.
"Of course, the expectations are there to win, like they always are at Oklahoma," Riley said. "Of course, you get the pressure with it. But that's something that I enjoy and something that our staff enjoys, our players. That's why you come to play and coach at Oklahoma is to win and to win big. It's always been like that. If you don't enjoy that sense of pressure and those expectations, then it's probably not the place for you."
One of the reasons Stoops chose Riley as his successor is to keep the Oklahoma coaching staff intact, including his younger brother, defensive coordinator Mike Stoops. Undergoing a smooth transition is important to the Oklahoma players.
"Keeping the staff there was very important," said Oklahoma safety Steven Parker. "Nothing has changed, only the head coach. He made that clear from Day 1 as soon as he walked in. I feel like Coach Riley will succeed as a head coach because he's a player's coach and knows what he's doing. He's very intelligent. It's not just all about football. He's developing us as men also."
Oklahoma senior quarterback Baker Mayfield believes Riley possesses many of the same traits as Stoops and will continue to have success at a high level.
"Coach Riley and Coach Stoops have the ability to adapt to their players and get the best out of them," Mayfield said. "They both have extremely high expectations. That's why Coach Riley is the youngest coach in the FBS. Coach Riley brings in that young energy that we needed. I think it will be a great transition."
Coming off an 11-2 season, the Sooners are the Big 12 favorites and are ranked No. 8 in the country in the coaches preseason poll. Mayfield is a Heisman contender after passing for 3,965 yards and 40 touchdowns last season and the Sooners will feature one of the best offensive lines in the country.
Oklahoma's defense should be strong with linebacker Ogbonnia Okoronkwo, safety Steven Parker and cornerback Jordan Thomas returning.
"I'm thrilled going into the season," Riley said. "I feel like we have a very, very strong team coming back with some new exciting young players that we're excited to infuse our team with. Probably the thing I'm most excited about with our team is our overall team leadership."
Since Stoops will still be in Norman, Riley plans to continue to lean on his mentor any time he needs advice or encouragement. Not every coach has the luxury of dialing up the winningest coach in school history any time of the day.
"I'll definitely use his counsel," Riley said. "I think, both with Bob and with Coach (Barry) Switzer, you've got two guys there that have done it at as a high level as anybody has done it, obviously both at Oklahoma, and guys that are ready and willing at any point, which I'm thankful for."
When Rhule coached in the American Athletic Conference, one of his closest coaching friends was Tom Herman. Rhule's Temple teams went 20-8 and Herman's Houston teams went 22-5 during the two seasons they coached against each other in the AAC.
"I met Tom when he came into the league and we hit it off right away," Rhule said. "We'd kind of hung out with his wife and my wife at all the media days. Then he whipped me in the championship game one year. After that game I went into their locker room and shook his hand and shook (quarterback) Greg Ward's hand. I love the way his teams play and he's a good man."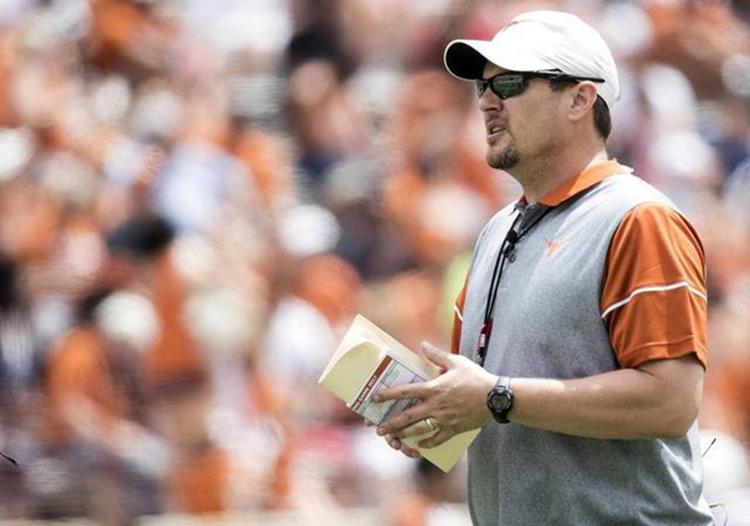 The Cougars' success over the last two seasons made Herman one of the hottest coaching prospects in the country. After Texas lost to TCU on Nov. 25 to finish 5-7 under Strong last year, Herman was named the Longhorns coach a day later.
Despite top recruiting classes, the Longhorns have been one of the most underachieving teams in the nation in the last seven years. Herman wants to restore a winning culture to a program that was once in the national championship conversation nearly every season under Mack Brown.
During his first meeting with Texas president Greg Fenves, Herman was assured he'd have total control of the football program without outside interference. In his first meeting with the players, he made it clear that he expects the losing culture to change under his guidance.
"Since the first team meeting that we had, which was a very political one and a direct one, our guys have bought in," Herman said. "I will say the buy-in level has been extremely high from the number of players I think really, truly believe in what we're preaching, that believe in our way of doing things."
Herman will inherit significant talent including sophomore quarterback Shane Buechele, All-America offensive tackle Connor Williams, safety P.J. Locke and linebacker Malik Jefferson.
While Herman has no grand predictions for this season, he believes his disciplined system will give his team a chance for immediate success. Despite three straight losing seasons, the Longhorns are ranked No. 23 in the coaches preseason poll.
"I know that these guys are going to be trained as well as anybody in the country and we're going to play to our maximum potential," Herman said. "I feel good that these guys are willing to do whatever we ask them to coming off the three-year stretch this program has had. They don't want that to be their legacy. They want to be remembered as the team and the group that turned this thing around. I think we're well on our way."
Preseason All-Big 12 Football Team
Offensive player of the year: Baker Mayfield, QB, Oklahoma
Defensive player of the year: Dorance Armstrong, DE, Kansas
Offensive newcomer of the year: Will Grier, QB, West Virginia
Defensive newcomer of the year: Elijah Walker, DB, Kansas State
| Pos | Name | School | Cl | Ht | Wt | Notable |
| --- | --- | --- | --- | --- | --- | --- |
| OFFENSE | | | | | | |
| QB | Baker Mayfield | Oklahoma | Sr | 6-1 | 220 | Third in 2016 Heisman race |
| RB | Justice Hill | Oklahoma State | So | 5-10 | 195 | 1,142 yards rushing, 6 TDs |
| RB | Justin Crawford | West Virginia | Sr | 6-0 | 202 | 1,184 yards, 7.3 yards per carry |
| WR | Allen Lazard | Iowa State | Sr | 6-5 | 222 | 69 catches, 1,018 yards |
| WR | James Washington | Oklahoma State | Sr | 6-0 | 205 | 71 catches, 1,380 yards, 10 TDs |
| WR | Keke Coutee | Texas Tech | Jr | 5-11 | 180 | 55 catches, 890 yards. 7 TDs |
| OL | Orlando Brown | Oklahoma | Jr | 6-8 | 345 | Leader of Big 12's best offensive line |
| OL | Connor Williams | Texas | Jr | 6-6 | 320 | Returning All-American |
| OL | Dalton Risner | Kansas State | Jr | 6-5 | 300 | All-Big 12 in 2016 |
| OL | Zach Crabtree | Oklahoma State | Sr | 6-7 | 310 | Dominating offensive tackle |
| OL | Austin Schlottman | TCU | Sr | 6-6 | 300 | Second-team all-Big 12 last season |
| K | Clayton Hatfield | Texas Tech | Jr | 5-10 | 185 | Hit 13 of 14 field goals |
| DEFENSE | | | | | | |
| DL | Dorance Armstrong | Kansas | Jr | 6-4 | 246 | League-high 20 tackles for loss |
| DL | K.J. Smith | Baylor | Sr | 6-1 | 260 | 7 sacks, 12 tackles for loss |
| DL | Reggie Walker | Kansas State | So | 6-2 | 235 | 6.5 sacks, 11.5 tackles for loss |
| DL | Mat Boesen | TCU | Sr | 6-4 | 235 | 6 sacks, 8 tackles for loss |
| LB | Travin Howard | TCU | Sr | 6-1 | 213 | 235 tackles in last two seasons |
| LB | Ogbonnia Okoronkwo | Oklahoma | Sr | 6-1 | 240 | 9 sacks, 12 tackles for loss |
| LB | Taylor Young | Baylor | Sr | 5-9 | 225 | 265 tackles in 3 seasons |
| DB | D.J. Reed | Kansas State | Jr | 5-9 | 188 | 19 passes defended, 3 interceptions |
| DB | Jordan Thomas | Oklahoma | Sr | 6-0 | 185 | 19 passes defended, 2 interceptions |
| DB | Nick Orr | TCU | Sr | 5-10 | 187 | 86 tackles, 4 interceptions |
| DB | Tre Flowers | Oklahoma State | Sr | 6-3 | 200 | 61 tackles, 7 pass breakups |
| P | Michael Dickson | Texas | Jr | 6-3 | 205 | Third nationally with 47.4-yard average |
Big 12/NCAA football predictions
staffers make their picks for how the college football season will play out.
| | Brice Cherry, Sports Editor | John Werner, Staff Writer | Krista Pirtle, Staff Writer | Brian Crownover, Sports Designer | Tim Woods, City Editor | Jim Wilson, Publisher |
| --- | --- | --- | --- | --- | --- | --- |
| PREDICTED STANDINGS | | | | | | |
| First | Oklahoma State 12-2 | Oklahoma 12-2 | Oklahoma State 12-2 | Oklahoma State 12-2 | Oklahoma 12-2 | Oklahoma 12-2 |
| Second | Oklahoma 11-3 | Oklahoma State 11-3 | Oklahoma 11-3 | Oklahoma 11-3 | Kansas State 10-4 | Oklahoma State 10-4 |
| Third | Kansas State 10-3 | Kansas State 9-4 | Kansas State 10-3 | Kansas State 9-4 | Oklahoma State 9-4 | Texas 8-5 |
| Fourth | West Virginia 8-5 | TCU 9-4 | TCU 8-5 | Baylor 9-4 | Texas 9-4 | Kansas State 8-5 |
| Fifth | TCU 8-5 | Texas 8-5 | Texas 8-5 | TCU 9-4 | Baylor 8-5 | West Virginia 7-6 |
| Sixth | Texas 7-6 | West Virginia 8-5 | Baylor 7-6 | West Virginia 8-5 | TCU 8-5 | TCU 7-6 |
| Seventh | Texas Tech 6-7 | Baylor 7-6 | West Virginia 7-6 | Texas 8-5 | West Virginia 7-6 | Texas Tech 6-7 |
| Eighth | Baylor 6-7 | Texas Tech 5-7 | Texas Tech 6-7 | Iowa State 7-6 | Texas Tech 5-7 | Iowa State 5-7 |
| Ninth | Iowa State 4-8 | Iowa State 5-7 | Iowa State 4-8 | Texas Tech 5-7 | Iowa State 5-7 | Baylor 5-7 |
| Tenth | Kansas 3-9 | Kansas 3-9 | Kansas 3-9 | Kansas 2-10 | Kansas 3-9 | Kansas 3-9 |
| INDIVIDUAL HONORS | | | | | | |
| Offensive player of the year | Mason Rudolph, OSU | Baker Mayfield, OU | Mason Rudolph, OSU | Mason Rudolph, OSU | Baker Mayfield, OU | Baker Mayfield, OU |
| Top offensive newcomer | Will Grier, WVU | Will Grier, WVU | Will Grier, WVU | Will Grier, WVU | Will Grier, WVU | Will Grier, WVU |
| Defensive player of the year | Travin Howard, TCU | Dorance Armstrong Jr., KU | Dorance Armstrong Jr., KU | Dorance Armstrong Jr., KU | Travin Howard, TCU | Travin Howard, TCU |
| Top defensive newcomer | Taquon Graham, UT | Elijah Walker, KSU | Elijah Walker, KSU | Elijah Walker, KSU | Elijah Walker, KSU | Elijah Walker, KSU |
| Best quarterback | Mason Rudolph, OSU | Baker Mayfield, OU | Mason Rudolph, OSU | Baker Mayfield, OU | Baker Mayfield, OU | Baker Mayfield, OU |
| Best running back | Terence Williams, BU | Justice Hill, OSU | Justin Crawford, WVU | Justin Crawford,WVU | Justice Hill, OSU | Justice Hill, OSU |
| Best receiver | James Washington, OSU | James Washington, OSU | James Washington, OSU | James Washington, OSU | James Washington, OSU | James Washington, OSU |
| Best offensive lineman | Austin Schlottmann, TCU | Orlando Brown, OU | Orlando Brown, OU | Dalton Risner, KSU | Orlando Brown, OU | Connor Williams, UT |
| Best defensive lineman | Dorance Armstrong Jr., KU | Dorance Armstrong Jr., KU | Dorance Armstrong Jr., KU | KJ Smith, BU | Dorance Armstrong Jr., KU | Dorance Armstrong Jr., KU |
| Best linebacker | Travin Howard, TCU | Ogbonnia Okoronkwo, OU | Malik Jefferson, UT | Malik Jefferson, UT | Travin Howard, TCU | Malik Jefferson, UT |
| Best defensive back | Jordan Thomas, OU | D.J. Reed, KSU | D.J. Reed, KSU | Kamari Cotton-Moya, ISU | Jordan Thomas, OU | Jordan Thomas, OU |
| Best specialist | Zach Sinor, OSU | Michael Dickson, UT | Michael Dickson, UT | KaVontae Turpin, TCU | Michael Dickson, UT | Clayton Hatfield, TT |
| Most underrated | Byron Pringle, KSU | Taylor Young, BU | Dravon Askew-Henry, WVU | Taylor Young, BU | Taylor Young, BU | Shane Buechele, UT |
| Best coach | Bill Snyder, KSU | Mike Gundy, OSU | Bill Snyder, KSU | Mike Gundy, OSU | Tom Herman, UT | Tom Herman, UT |
| Heisman Trophy winner | Sam Darnold, USC | Baker Mayfield, Oklahoma | Sam Darnold, USC | Saquon Barkley, Penn State | J.T. Barrett, Ohio State | Sam Darnold, USC |
| TITLE RACES | | | | | | |
| Big 12 champion | Oklahoma State | Oklahoma | Oklahoma State | Oklahoma State | Oklahoma | Oklahoma |
| SEC champion | Alabama | Alabama | Alabama | Alabama | Alabama | Alabama |
| Big Ten champion | Penn State | Ohio State | Ohio State | Ohio State | Ohio State | Ohio State |
| ACC champion | Louisville | Florida State | Florida State | Florida State | Florida State | Florida State |
| Pac-12 champion | USC | USC | USC | Washington | Washington | USC |
| CFP participants | Alabama, USC, Penn St., OSU | Oklahoma, Alabama, Ohio St., Florida St. | Alabama, Florida St., Ohio St., OSU | OSU, Alabama, Ohio St., Washington | Alabama, Ohio St., Florida St., Oklahoma | Alabama, Ohio St., Florida St., USC |
| Title game finalists | Alabama vs. USC | Alabama vs. Ohio State. | Alabama vs. Florida State | Ohio State vs. Alabama | Alabama vs. Ohio State | Alabama vs. Ohio State |
| National champ | Alabama | Alabama | Alabama | Ohio State | Ohio State | Alabama |