Baylor coach Art Briles' program has risen to such a high level now that he rarely has to play a true freshman.
While quarterback Jarrett Stidham and defensive back J.W. Ketchum might play this season, punter Drew Galitz is the only incoming freshman who will play for certain.
Galitz will replace all-Big 12 punter Spencer Roth who finished his career with a 43.7-yard average. He's even wearing Roth's old No. 36.
"I'm real excited because there's big expectations and I have a big role to fill," Galitz said. "Playing for back to back Big 12 champs, you can't get better than that."
Galitz handled punting and kicking duties as a senior at Rowlett High School, and became a YouTube sensation when he nailed a 71-yard field goal during a practice last fall. That video has received more than 90,000 hits.
"I was a little surprised but it was a long field goal," Galitz said. "I was hitting the ball pretty good that day, so I just thought why not back up and try 70 or 71 yards."
Galitz was named an Under Armour All-American after a senior year in which he hit four of seven field goals with a long kick of 47 yards. But with Chris Callahan handling extra points and field goals and Spencer Evans kicking off, Galitz will handle the punting for the Bears.
After averaging 38.4 yards as a senior, Galitz's punting average should improve since it will be his main focus. He feels fortunate to receive a scholarship to a major college because some punters have to walk on before earning a scholarship.
"I was blessed with the ability to punt and kick," Galitz said. "They offered a scholarship and I had to take it because I understand a lot of people don't get the opportunity I have."
"He's athletic and his leg is lively," Briles said. "He's a pretty confident kid. He's just got to help us with punting right now. It bodes well for us."
Since Baylor's offense should be one of the most explosive in college football, Galitz knows he won't get as many punting opportunities as he would at another school. That's OK with him.
"The less the better," Galitz said. "I know our offense is real fast and we'll score a lot of touchdowns every game we play."
While Baylor coach Art Briles was pleased with many aspects of Saturday's intrasquad scrimmage at McLane Stadium, he'd like to see more contributions from younger players.
"We had some guys step up but we need a few more to make some plays on both sides of the ball," Briles said. "We're dependent on our guys that have done it more than others. We know what they can do, but we need to find out what the other guys can do to help us. We've got to have other guys show up and grow up and be really productive for us."
Though Baylor's backfield is crowded with veterans like Shock Linwood, Johnny Jefferson and Devin Chafin, Briles is excited about redshirt freshman Terence Williams' future.
"He's a natural running back," Briles said. "He's got a great lower body and his upper body bends well. I'm really excited about where he's going to be in the next couple of years and hopefully this year."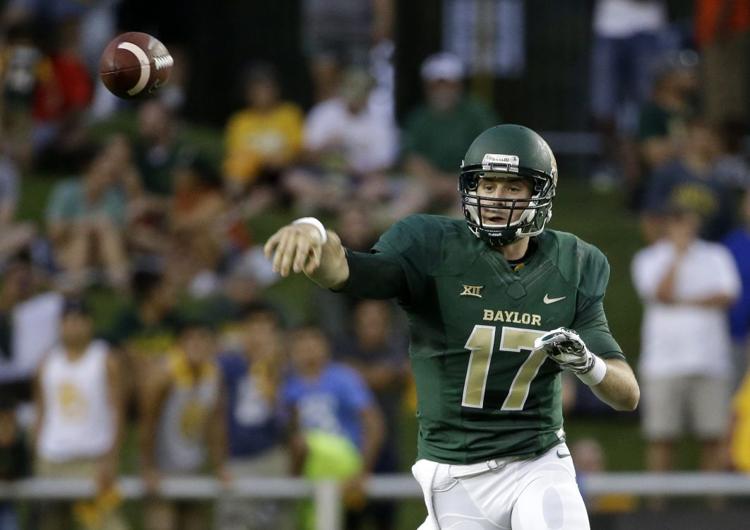 Seth Russell opened Saturday's scrimmage by hitting his first nine passes and finished the day 17 of 21 for 233 yards and three touchdowns. But there are a lot of areas the offense would like to polish before the Sept. 4 season opener against SMU.
"On Saturday, we showed we could run our offense efficiently," Russell said. "We're pleased but you can't be satisfied. We watched film today and there's a lot of things we have to work on."