DALLAS — Yipes! So THAT'S what a Nittany Lion is. And that's what he can do when he gets riled. And when a bunch of them get riled — well, yipes again.
They got riled in the second half of the 39th annual Cotton Bowl Classic here New Year's Day and left Baylor's Promised Land in shocking disarray. Searing 38 points in the game's final 30 minutes, they butchered the Bears 41-20, and turned an afternoon of high promise into the New Year's first bad hangover.
In short, Cinderella got mugged.
A chilled audience of 67,500 saw Baylor's Impossible Dream last just 30 minutes too long. The Bears, typically spirited and resolute, went to rest at halftime owning a 7-3 upper hand, and at that moment there were a lot of reasons to think Baylor's first undisputed Southwest Conference championship in 50 years was going to be crowned by the school's first Cotton Bowl victory in history.
But in jest, a veteran of SWC press boxes previewed what was waiting just around the corner.
"There's good news and bad news for Baylor," he said. "The good news is that the Bears are leading, 7 to 3. The bad news is that they've decided to go ahead and play the second half."
If the second half amounted to Penn State's reprieve, the Nittany Lions promptly made the most of it. They scored touchdowns and a field goal on their seven possessions of the final 30 minutes, and the only reason they didn't get a sixth touchdown on that one is because they got nailed by a sharp-eyed official on a 64-yard TD play and instead of getting six points they drew not one red flag but two and mount up getting the equivalent of an 88-yard penalty.
But they play might also have been the turning point. At least, it was the play that got the Nittany Lions riled. "Yeah, I'd have to say that's when we got fire in our eyes," said freshman wingback Jimmy Cefalo, who is the sweetest-running-and-catching freshman you ever will see. Cefalo, tight end Dan Natale, fullback Tom Donchez and quarterback Tom Shuman, a guy with a slingshot arm, just crumpled what had been a stingy, clutch-playing Baylor defense and left it on the short end of almost everything it tried.
Shuman was supposed to be on one of the better passers the Nittany Lions have ever had, but heck — nobody said anything about him being another Sammy Baugh. He throws spirals, he throws them with authority, and the throws them long and right on the money. He turned Baylor's pass defense wrongside out.
The 6-foot-1, 194-pound senior completed 10 of his 20 passes for a scorching 226 yards, only five yards off the Cotton Bowl aerial record, and he also ran for a touchdown in wrapping up the Outstanding Offensive Player honors for the second year in a row. Last year, he won such honors in guiding Penn State to an Orange Bowl victory over LSU.
Baylor safety Ken Quesenberry prevented a Penn State sweep by winning Outstanding Defensive Player honors. Kenny was a sensation for almost 40 minutes, before being sidelined with a knee injury. The voters had to notice what happened to the Baylor defense when Kenny went out. What happened was the defense went to pot.
The Nittany Lions also had their defensive heroes — linebacker Chris Devlin, tackle Mike Hartenstine, safety Mike Johnson and tackle John Quinn in particular — but towering over all was Shuman, the offensive triggerman. The guy was simply devastating in his marksmanship in the second half. The Lions gave him plenty of time to throw, and Cefalo and Natale in particular turned his humming bullets into demoralizing big-gainers. Meanwhile, Donchez, the big fullback, ravaged the Bears overland, and Joe Paterno's bounce-back kids just kept moving those stakes.  And rolling up the points.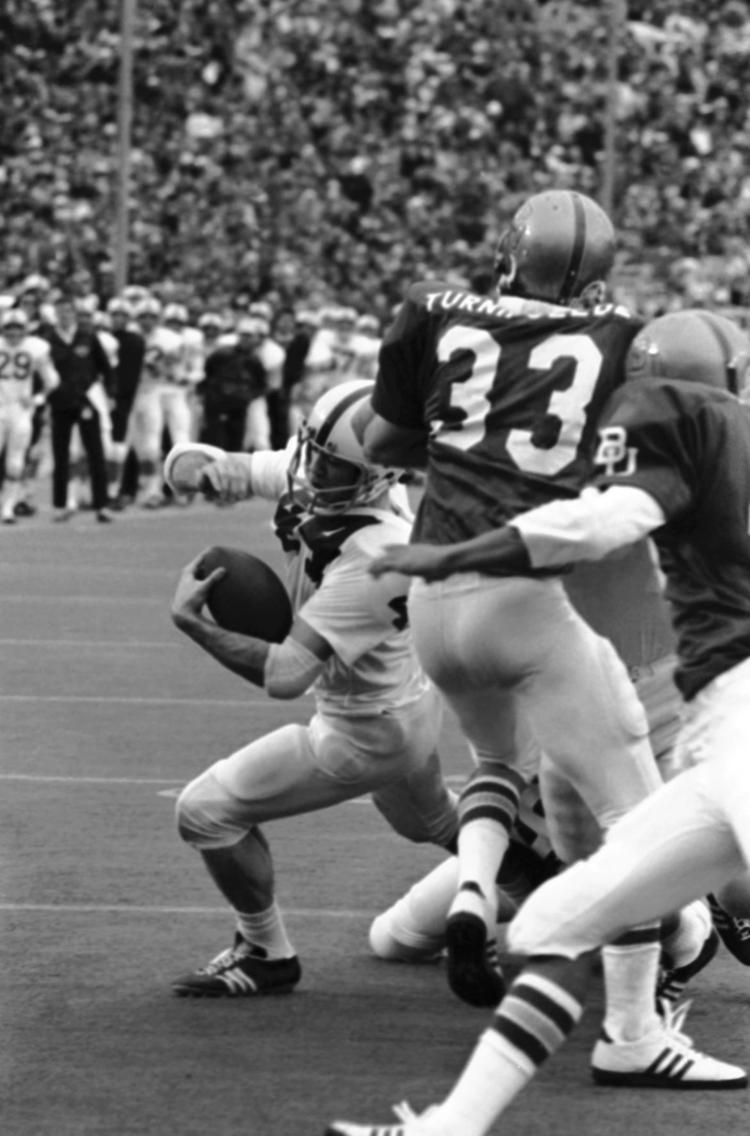 Actually, what happened to Baylor on this windy Wednesday now has happened to four of Penn State's bowl opponents. Kansas in the '69 Orange Bowl, Texas in the '72 Cotton Bowl, LSU in the '74 Orange Bowl, and now Baylor in the '75 Cotton Bowl — all led at halftime and then became Nittany Lion knockout victims in the second half.
The difference was that Penn State's late landslide buried Baylor more completely than the others, indeed more completely in terms of points allowed than any team in Cotton Bowl history. However, Penn State's record-setting last touchdown was a bit of a fluke — scored with two seconds left on the clock and long after school had let out.
With sophomore Mark Jackson engineering smartly, the Bears had just rolled 70 yards in 10 plays and scored their third touchdown of the game on Jackson's 11-yard pass to Ricky Thompson with 14 seconds left. When the two-point conversion failed, that made it a 34-20 game.
But still full of fight, the Bears tried for one last miracle. The effort blew up in their faces. They tried an onside kick, a bouncer delivered on a slant toward the east sideline. As the Bears rushed toward the ball, hoping to recover, Penn State linebacker Joe Jackson rushed forward and fielded the ball on the bounce and never missed a step. All the Bears were still headed south while Jackson was going north at full speed, with the ball tucked under his arm. It was a 50-yard touchdown play that consumed 12 seconds on the clock. When John Reihner kicked the extra point, which was Penn State's 41st point, the old Cotton Bowl scoring record, which had belonged to Texas (Texas 40, Missouri 27 in '46) went down the drain.
Those were the easiest points the Nittany Lions got, although at times they did get their yardage in alarming gulps. Starting with their final possession of the first half, they moved 77 yards in the 14 plays and produced a 25-yard field goal (kicked by Chris Bahr); and then in the second half they drove 80 yards in 9 plays, 52 yards in just 2 plays, 68 yards in 9 plays, 18 yards in 5 plays, and 50 yards on the kickoff return, and all those drives culminated in touchdowns. For good measure, Bahr also kicked another field goal, a 33-yarder which climaxed a 54-yard, 8-play drive.
Donchez, who rampaged for 116 yards on 25 carries, scored the first Penn State touchdown on a one-yard run. Shuman threw 48 yards to Cefalo for the Nittany Lions' second TD, and then Cefalo ran 3 yards in scoring his second touchdown of the day. Shuman snaked 2 yards on a keeper for the visitors' fourth touchdown of the day, and Jackson supplied the capper with his spring with 2 seconds remaining.
At times, Baylor moved the ball well, especially in the first half, but the Bears couldn't come up with enough equalizers. What they did come up with were three touchdown drives: 84 yards in 11 plays, with stout Steve Beaird going the final four yards with 4:13 remaining in the first period; then 55 yards in 4 plays with Neal Jeffrey hurling a 35-yard touchdown pass to Ricky Thompson with 4:23 left in the third period; and finally the 70-yard, 10-play march at the end of the game which Mark Jackson engineered and climaxed with his 11-yard touchdown throw to Thompson again.
Baylor not only held the upper hand at halftime, the Bears also moved back ahead 14-10 when Jeffrey threw the 35-yard Thompson. During that stretch, so many good things were happening to the Bears that it appeared they still might win despite Penn State's mounting momentum.
In the first half, the Nittany Lions had boomed from their own 25 to the Baylor 11 and on their first possession — and then had missed a close-in field-goal attempt. They gained possession on the Baylor 23 on a pass interception and got nothing out of it. They repeatedly came up with some long gainers in the first half — like Cefalo's 23-yard carry on their second play of the game; and a 22-yard pass to Donchez on Shuman's first aerial attempt; and later Shuman completions of 13, 15, 12 and 19 yards in the first half; and some rumbling runs by Donchez that picked up 13 and 14 yards.
But all they got out of all that wave-making was Bahr's 25-yard field goal, kicked with 1:13 left in the first half.
And then in the second half, after Shuman had hit Natale on 42- and 20-yard aerial strikes in setting up Donchez' one-yard scoring lunge with 10:46 left in the third quarter, and after the Bears had misfired on their first offensive effort of the second half, the game's most spectacular near-miss unfolded.
Penn State had started on its own 19 and Donchez had whirled for 22 yards. But soon it was third-and-15 and Shuman went back to throw. He hit Donchez on a screen pass, with a convoy of blockers in front of him, and the big fullback rolled down the field like a runaway express. All the way he went: 64 yards to the payoff station, apparently pushing the Lions into a 17-7 lead. But wait, a flag was down. And when he saw the flag, Shuman picked it up and hurled it away in anger and disgust. When he did that, a second flag promptly fell. It was double no-no: first for an illegal block downfield (ruled offensive pass interference) and then for unsportsmanlike conduct, and while the Lions fretted and fumed, the ball and back and the man in the stripes marched the ball all the way back to the Penn State 12-yard line. From here they punted.
But wait — Baylor's run of good fortune still wasn't over. The Bears get the ball at their own 45, and when Jeffrey was blitzed on a pass attempt, a Lion came in late on the play and Penn State was docked another 15. And then two plays later, Thompson ran a deep pattern and got a step behind Mike Johnson. Jeffrey's pass was a good one but Johnson got a hand on it and deflected it — right into Thompson's hands for a touchdown.
Bubba Hicks' second conversion kick of the game pushed Baylor back ahead 14-10.
"Man, all the weird things that have happened to Penn State, I couldn't figure it," said one neutral in the press box. "And then I looked around and there was Billy Graham, wearing a green scarf."
Alas, that was the high-water mark for the green, the gold, the scarf and the Bears.
Quesenberry had been hurt on Donchez' long touchdown run that didn't count. Facing a juggled Baylor secondary, Shuman went to work in earnest. And as Cefalo said later, after the double penalty, the Lions got fire in their eyes. Suddenly there was no holding them. Shuman sent Cefalo racing down the east sideline on a deep pattern while his pass protection gave him plenty of time to throw. When Cefalo got clear behind two Baylor defenders, Shuman hit him perfectly. It was an easy touchdown, pushing the Lions back ahead.
And this time they stayed ahead.
Baylor's tackling got sloppy as the game wore on and the Lions took full advantage. Soph Neil Hutton (79 yards on12 carries) ignited their next touchdown march with a 17-yard thrust and Cefalo kept it going with a 21-yard romp on a reverse that carried to the Baylor 16. Donchez carried to the 3 and Cefalo got the final 3. Reihner's kick made it 24-14 and the lights were getting dim for Baylor.
They had to punt in short order and Penn state used the next possession to march 34 yards to the Baylor 16. The big gainers included a 14-yard run by Hutton and a 34-yard aerial strike, Shuman to Cefalo. On fourth down, Bahr kicked a 33-yard field goal with 6:17 left in the game.
So for the Bears it was now or never. It was never. Jeffrey's first pass was intercepted by Mike Johnson and returned to the Baylor 18, and 5 plays later Shuman annexed the final 2 yards. Reihner kicked the extra point, and it was all over.
Making his first appearance, Baylor's Mark Jackson gave the Bears reason to think good thoughts about '75. He ran for 16, then threw to Sam Harper for 15 and 14 yards, and finally he and Ricky Thompson teamed on a beautifully executed 11-yard play that Baylor's final touchdown of an unforgettable season. But too little and too late. And too much Joe Jackson on the onside kick that followed.
As much as anything, the Nittany Lions snuffed out Baylor's little big man, Steve Beaird, in the second half, which eliminated any Bruin hopes for ball control, or anything close to it. Beaird rushed for 72 yards on 14 carries in the first half, but could get only 12 yards on 7 carries in the game's final 30 minutes. "I couldn't believe that little rascal, the way he was running against us in the first half," said Penn State ace Greg Murphy. "But in the second half, I guess we just got down on his level."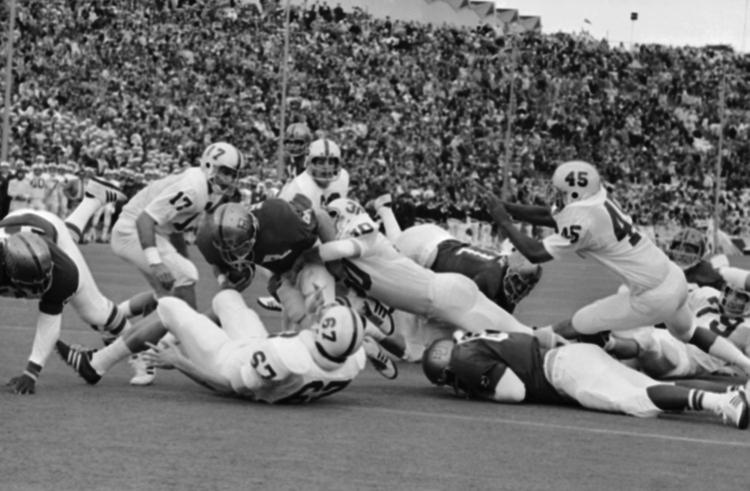 Stout Steve hit the Lions repeatedly for good gainers in the early going, and on Baylor's first scoring march he touched off the thrust with a 20-yard burst right up the middle. He carried 8 times on that 11-play drive for a net of 49 yards, and his last carry, a 4-yard job against a massed defense, put the Bears in front.
But the Lions eventually found the handle on Steve. And the second half arrived, and the second half is their half. In those final 30 minutes they rampaged for 284 yards in total offense (139 rushing and 145 passing), plus the 50-yard touchdown run on the kick return, while holding Baylor to 160 yards in total offense. And 70 of that came on the Bruin scoring drive produced after the issue had been settled.
Combining blitzes with good coverage, the Lions managed to muffle Jeffrey's guns most of the time. He had to settle for 7 completions on 19 attempts for 135 yards. Thompson, Harper and Alcy Jackson made the best catches. Other than Beaird, only Pat McNeil (8 carries for 36 yards) and Mark Jackson (3 for 18) rushed in double figures. Jeffrey lamented Baylor's inability to rally one last time for a fourth-quarter victory. "I guess our luck finally caught up with us," he said.
But Grant Teaff summed it up best: "We played a fine football team. They're well coaches, poised and experienced. They took it away from us the fourth quarter, when that's been ours. But don't be ashamed of the loss," he told his players. "You're still the Southwest Conference champions. You learn something from everything."
Shuman was generous in victory. "Baylor was a good team," he said. "They weren't that physical and they weren't big. But they were a good, aggressive team."
A good, aggressive team that finally got a stirred-up Lion — a Nittany Lion, that is — by the tail and couldn't turn loose. As Teaff said, you learn from everything. Next time, guys, make the season 30 minutes shorter.
This story has been lightly edited from its original version.