The Big 12 is the nation's most dynamic offensive league, so you could argue all day about which player most deserves the league's offensive player of the year.
Two Oklahoma players were Heisman Trophy finalists: quarterback Baker Mayfield passed for 3,669 yards and 38 touchdowns while Biletnikoff Award winner Dede Westbrook made 74 catches for 1,465 yards and 16 touchdowns.
All Texas Tech quarterback Patrick Mahomes did was lead the nation with 5,052 yards passing while throwing for 41 touchdown.
But the Tribune-Herald's choice for Big 12 offensive player of the year is Texas running back D'Onta Foreman. The Longhorns' junior was the nation's only 2,000-yard rusher as he finished with 2,028 yards with 15 touchdowns.
Foreman is a load at 6-0, 238-pounds but has surprising open-field speed. Just check out his 74-yard touchdown run against Texas Tech or his 62-yarder against Oklahoma State.
The big man picked up steam as the season progressed. In his last five games, Foreman burned Baylor for 250 yards, Texas Tech for 341, West Virginia for 167, Kansas for 250 and TCU for 165.
If he'd played for a better team, he would have been a Heisman finalist.
"Well the thing that always gets your attention when you see you have a 250-pound running back, you immediately know that, if you let that guy build up a head of steam, you've got some issues," said Baylor interim coach Jim Grobe. "The thing about him that's so impressive is he's got great balance and he's got deceptive foot speed. He gets out on the edge and outruns people to the perimeter sometimes. So you've got a running back that's not only big and physical, but he's also very athletic."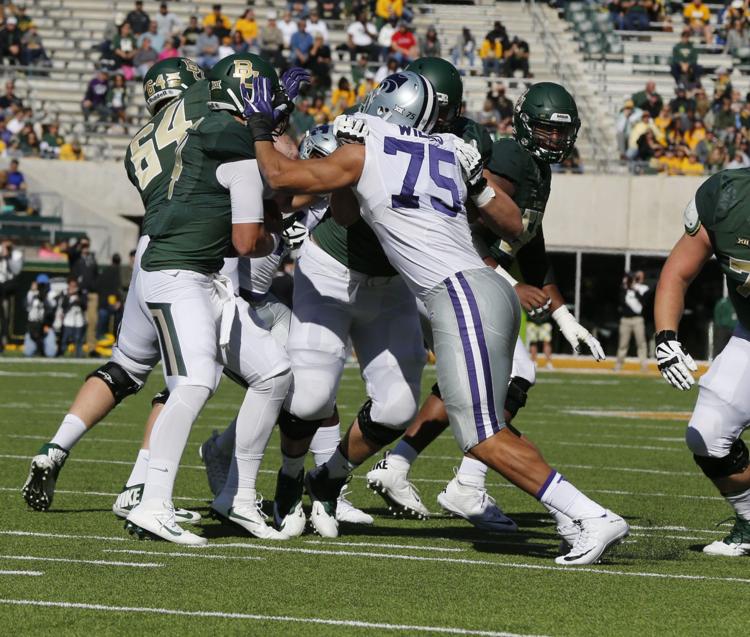 On the flip side, there weren't nearly has many outstanding candidates for Big 12 defensive player of the year.
But one player stood above the rest: Kansas State senior defensive end Jordan Willis.
Willis led the Big 12 with 11.5 sacks and ranked second with 16.5 tackles for loss. He finished the regular season with 48 tackles, and collected two sacks against West Virginia, Texas Tech and Texas.
Kansas State coach Bill Snyder credits Willis' great work ethic for his superb college career.
"He's one of those individuals who attempts to do everything the right way, and not just on the field," Snyder said. "I admire that a great deal. He's the kind of worker any coach would enjoy. When you watch him play he plays equally hard every minute of game."
Willis primed himself for a dominating senior year with a superb junior year in which he amassed 15.5 tackles for loss, 9.5 sacks and forced four fumbles. He's been an inspiration to his Kansas State teammates.
"He's a leader in his own quiet way and they see the effort," Snyder said. "He worked diligently to be a better player and continues to get better and better."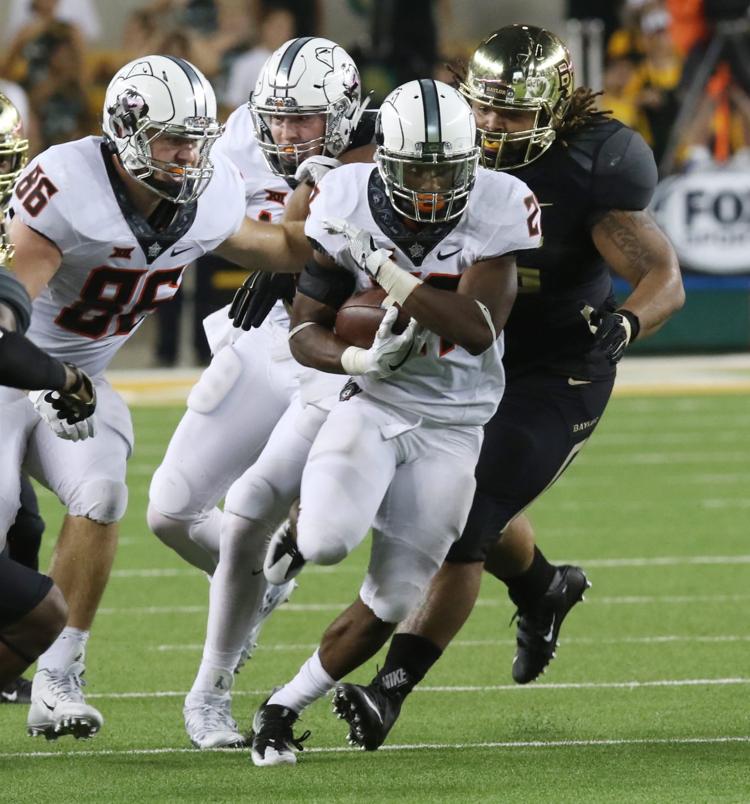 The Big 12 defensive freshman of the year is Willis' Kansas State teammate, defensive lineman Reggie Walker who finished with 6.5 sacks. The league's offensive freshman of the year is Oklahoma State's Justice Hill who collected 1,042 yards and five touchdowns.
Oklahoma's Bob Stoops is the coach of the year after leading the Sooners to a 9-0 record in the Big 12 following a 1-2 start in nonconference play. Stoops has led the Sooners to 10 Big 12 titles in his 18 seasons, and they became the first team to go unbeaten in league play since the round-robin format started in 2011.
Oklahoma clinched the title with a 38-20 win over Oklahoma State in the season finale.
"I'm so proud of the seniors for their leadership going out this way," Stoops said. "Nobody has bellyached about it or had anything negative to say. It's great to win another Big 12 championship. The players worked hard during a tough stretch. I couldn't have been more pleased to see how our players continued to improve throughout the season."
2016 TRIBUNE-HERALD ALL-BIG 12 FOOTBALL TEAM
Offensive player of the year: D'Onta Foreman, Texas
Defensive player of the year: Jordan Willis, Kansas State
Offensive freshman of the year: Justice Hill, Oklahoma State
Defensive freshman of the year: Reggie Walker, Kansas State
Coach of the year: Bob Stoops, Oklahoma

OFFENSE

First team
Pos
Player
School
Class
Notable
QB
Patrick Mahomes
Texas Tech
Jr
Led nation with 5,052 passing yards
RB
D'Onta Foreman
Texas
Jr
Led nation with 2,028 rushing yards
RB
Justin Crawford
WVU
Jr
1,168 yards rushing
OL
Connor Williams
Texas
So
One of Big 12's best young OL
OL
Ben Powers
Oklahoma
So
Established himself this season
C
Tyler Orlosky
WVU
Sr
Among best centers in country
OL
Dalton Risner
KSU
So
Keyed strong Wildcat ground game
OL
Orlando Brown
Oklahoma
So
Great NFL potential
WR
Dede Westbrook
Oklahoma
Sr
Won Biletnikoff Award
WR
James Washington
Oklahoma St.
Jr
62 catches, 1,209 yards
WR
KD Cannon
Baylor
Jr
73 catches, 11 TDs
Util:
Joe Mixon
Oklahoma
So
1,183 rushing, 494 KO return
K
Cole Netten
Iowa State
Sr
16 of 17 FG
Second team
QB
Baker Mayfield
Oklahoma
Jr
Heisman Trophy finalist
RB
Samaje Perine
Oklahoma
Jr
974 rushing in 9 games
RB
Justice Hill
Oklahoma St.
Fr
1,042 yards rushing
OL
Victor Salako
Oklahoma St.
Sr
Senior leader of Cowboys OL
OL
Terrale Johnson
KSU
Sr
Force for Wildcats
C
Kyle Fuller
Baylor
Sr
Three-year Baylor starter
OL
Blake Jarwin
Oklahoma St.
Sr
Powerful lineman
OL
Baylen Brown
Texas Tech
Sr
Experience up front
WR
Jonathan Giles
Texas Tech
So
1,158 yards, 13 TDs
WR
Allen Lazard
Iowa State
Jr
1,018 yards, 7 TDs
WR
Steven Sims,
Kansas
So
72 catches, 859 yards
Util
Byron Pringle
KSU
So
659 yards KO, 1 TD
K
Ben Grogan
Oklahoma St
Sr
18 of 23 FG

DEFENSE

First team
DL
Jordan Willis
KSU
Sr
Big 12-high 11.5 sacks
DL
Josh Carraway
TCU
Sr
8 sacks, 11 tackles for loss
DL
Vincent Taylor
Oklahoma St.
Jr
6 sacks, 11.5 tackles for loss
DL
Dorance Armstrong
Kansas
So
10 sacks second in league
LB
Travin Howard
TCU
Jr
League-high 125 tackles
LB
Ogbonnia Okoronkwo
Oklahoma St.
Jr
9 sacks, 10.5 tackles for loss
LB
Elijah Lee
KSU
Jr
98 tackles for strong defense
DB
Rasul Douglas
WVU
Sr
Big 12-high 8 interceptions
DB
D.J. Reed
KSU
So
18 passes defended
DB
Jordan Sterns
OSU
Sr
96 tackles, 3 ints
DB
Denzel Johnson
TCU
Sr
84 tackles
P
Michael Dickson
Texas
So
47.4-yard average
Second team
DL
K.J. Smith
Baylor
Jr
6 sacks for young D-line
DL
Reggie Walker
KSU
Fr
Veteran amassed 6.5 sacks
DL
Aaron Curry
TCU
Sr
5.5 sacks, 8 tackles for loss
DL
Noble Nwachukwu
WVU
Sr
Leader on superb defense
LB
Breckyn Hager
Texas
So
6 sacks
LB
Jordan Evans
Oklahoma
Sr
89 tackles, 4 ints
LB
Ty Summers
TCU
So
113 tackles 2nd in Big 12
DB
Ranthony Texada
TCU
Jr
8 passes defended
DB
Patrick Levels
Baylor
Sr
12 tackles for loss
DB
Orion Stewart
Baylor
Sr
5 ints, 4 pass breakups
DB
Fish Smithson
Kansas
Sr
93 tackles, 11 passes defended
P
Nick Walsh
KSU
Jr
42.8-yard average