COACH OF THE YEAR: ART BRILES, BAYLOR
If people thought Art Briles would be satisfied with winning one Big 12 championship, they don't know what makes the veteran coach tick.
In Briles' mind, Baylor's breakthrough 2013 Big 12 championship season was just the beginning.
He proved that this season by leading the Bears to their first back-to-back conference championships in school history. He became just the second coach in Big 12 history to repeat as champions, joining Oklahoma's Bob Stoops who pulled off a three-peat from 2006-08.
Briles' rare accomplishment made him the Tribune-Herald's pick for the league's coach of the year for the second straight season.
"Last year was a thrill, it was exciting, it was hopeful," Briles said. "This year it was like we've got the windows rolled up and the doors locked because somebody's always trying to get to us. We're not taking jabs, we're taking haymakers. They're trying to knock us out. For our football team to sustain through that through the season really showed me a lot of substance in our program and in those players."
Like last season, the Bears finished the regular season with an 11-1 overall record and an 8-1 Big 12 mark. But after the Bears won last year's title, this season was arguably harder because every team wanted to knock off the champions.
"Last year everybody was more sleeping on us, but this year we're the defending champion so everybody gives us their best shot," Baylor linebacker Taylor Young said. "It's tough but at the same time everybody embraces it."
Baylor's Big 12 schedule was arguably tougher this year with road trips to Texas, Oklahoma and West Virginia. The Bears only stumbled once in a penalty plagued 41-27 loss to the Mountaineers on Oct. 18.
Many of the Baylor players felt snubbed when Oklahoma was picked ahead of them in the Big 12 preseason poll. A big reason for that was the head-to-head matchup in Norman where the Bears had an 0-11 record coming into this season.
Baylor remedied that with a resounding 48-14 win over the Sooners on Nov. 8 as Stoops suffered his most lopsided home loss since his arrival in Norman in 1999.
The Bears beat two top 10 teams at home. They rallied from a 21-point fourth-quarter deficit for a 61-58 win over TCU on Oct. 11 before clinching the co-championship with the Horned Frogs following a 38-27 win over Kansas State last weekend.
Finishing No. 5 in the College Football Playoff rankings, the Bears will face Michigan State in the Cotton Bowl on Jan. 1 at AT&T Stadium in Arlington.
Baylor senior quarterback Bryce Petty feels privileged to have played under Briles who sold the older players on a vision that a Big 12 championship would be in their future. Now they've got two of them.
"It's a true testament to Coach Briles and his vision," Petty said. "Each time you sit down in his office and he tells you where we want to be you've got to believe it. It starts from the top down, so he's had that belief and determination ever since he's been here. It's remarkable how he keeps on keeping on and now he's got us in the right direction."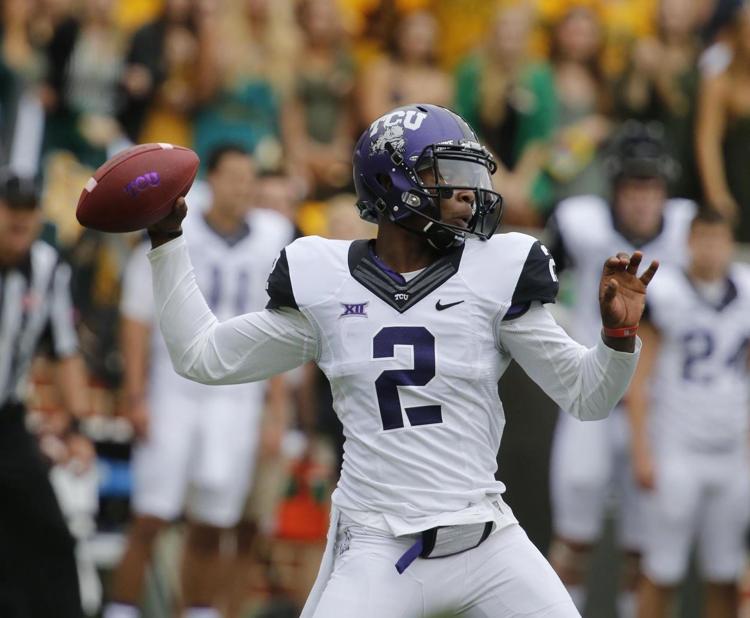 OFFENSIVE PLAYER: TREVONE BOYKIN, TCU
Heading into the season, the popular opinion was that Trevone Boykin was on his way out as TCU's quarterback.
Boykin had struggled through an erratic sophomore year when he stepped in for quarterback Casey Pachall. It seemed only a matter of time before Texas A&M transfer Matt Joeckel replaced him at quarterback.
But with new co-offensive coordinators Sonny Cumbie and Doug Meacham on board, TCU's offense was retooled to maximize Boykin's passing and running skills.
Boykin flourished in the new spread attack to earn Tribune-Herald Big 12 offensive player of the year while leading the Horned Frogs to an 11-1 record and the league's co-championship.
"I've been a fan of Trevone's for awhile, but he's just grown up and I think this offense fits him," TCU coach Gary Patterson said. "Coach Cumbie and Coach Meacham have done a great job of helping him mature and try not to do too much. Our offensive line has done a really nice job of protecting him."
Boykin has completed 60.5 percent of his passes for a league-high 3,714 yards and 30 touchdowns with just seven interceptions. He's shown his versatility by rushing for 642 yards and eight touchdowns while leading the Big 12 in total offense with 363 yards per game.
"When you have a dual-threat quarterback like Boykin, it poses problems without question," Baylor coach Art Briles said. "He's exceptional and has continued to grow as a football player and a quarterback. He's definitely a catalyst for them offensively."
In some of TCU's biggest games, Boykin was at his best.
With Boykin passing for 318 yards and two touchdowns and rushing for 77 yards, the Horned Frogs knocked off Oklahoma which was ranked No. 3 at the time.
Boykin rushed for 123 yards and three touchdowns and passed for 219 yards and a score as the Horned Frogs shot down then-No. 7 Kansas State, 41-20.
TCU clinched a co-championship with Baylor following a regular season-ending 55-3 win over Iowa State as Boykin passed for 460 yards and four touchdowns and rushed for 44 yards and two scores.
"He was always a tremendous athlete, but his accuracy has improved and he's got control of the offense," Iowa State coach Paul Rhoads said. "He's been fun and enjoyable to watch."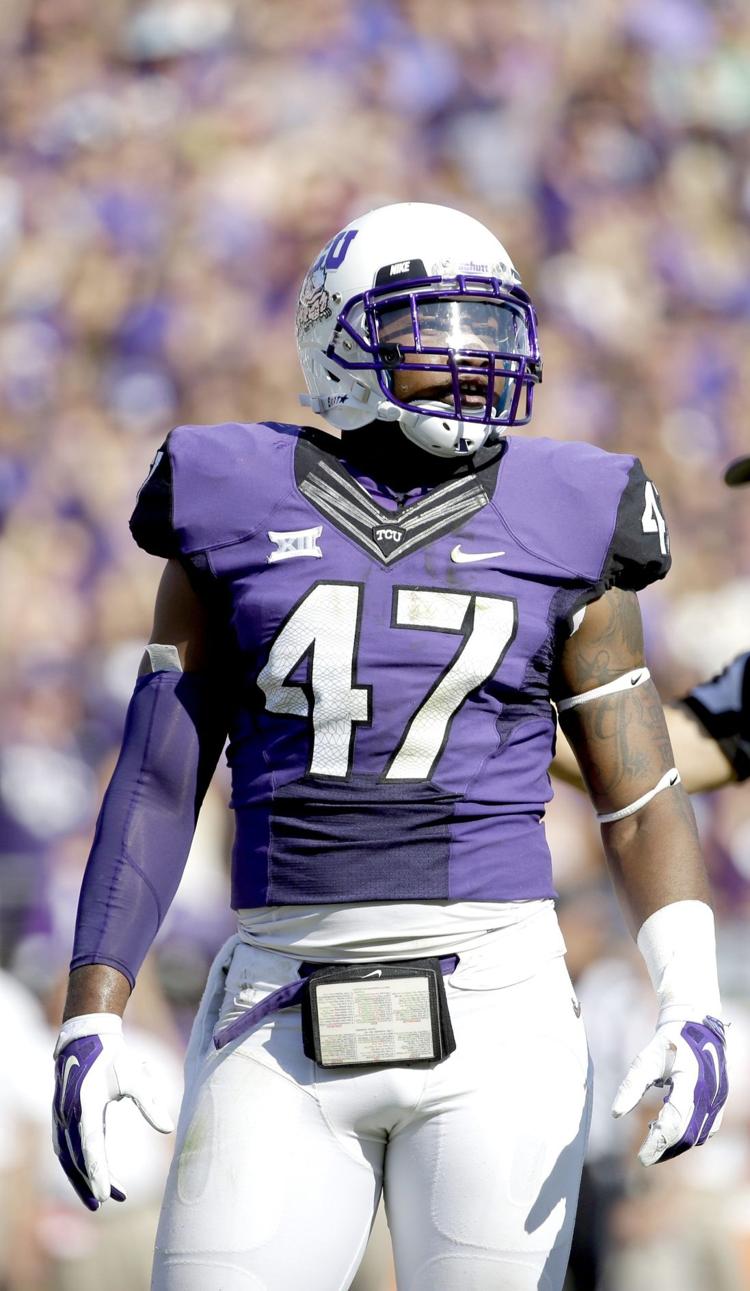 DEFENSIVE PLAYER: PAUL DAWSON, TCU
It didn't take TCU's Paul Dawson long to establish himself as a high caliber Big 12 linebacker after transferring from Trinity Valley Community College.
After a solid junior season, the gifted linebacker has delivered an All-American senior year to earn Tribune-Herald Big 12 defensive player of the year.
Dawson has recorded a league-high 128 tackles and became the only player in the country to collect at least 100 tackles, four interceptions and five sacks. With 18½ tackles for loss, Dawson is tied Baylor defensive end Shawn Oakman for the most in the Big 12.
"He was really incredible and made the big play when we needed it," TCU coach Gary Patterson said. "To be a good football team, you need guys to step up and play like you want, and he's one of those guys."
Dawson has scored one TD, and it was a big one. With Dawson returning an interception for a 41-yard fourth-quarter touchdown, the Horned Frogs held on for a 37-33 win over Oklahoma which was ranked No. 3 in the country during the Oct. 4 game.
"This is going to put us on the map," said Dawson following the game. "You want to beat the best of the best. The opportunity was here, and we shocked the world."
It did put the Horned Frogs on the map as they used that win over the Sooners as a springboard to a Big 12 co-championship.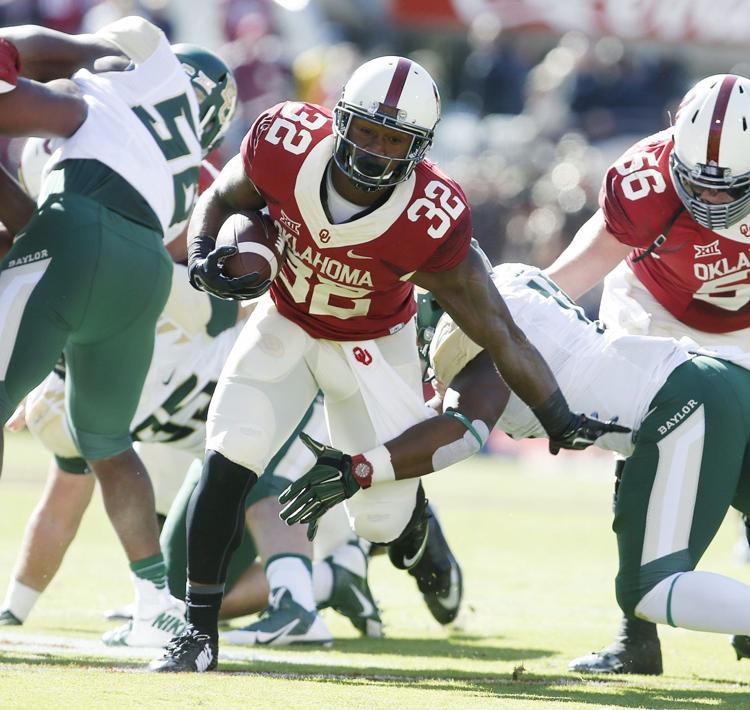 OFFENSIVE NEWCOMER: SAMAJE PERINE, OKLAHOMA
Samaje Perine came into Oklahoma with considerable fanfare, but no one could have predicted that he'd be the best running back in the Big 12 as a true freshman.
Perine leads the Big 12 with 1,579 yards rushing even though he only started seven of the Sooners' 12 regular season games.
On Oct. 22, he became the talk of college football by exploding for an NCAA-record 427 yards rushing while scoring five touchdowns in a 44-7 win over Kansas. Wisconsin's Melvin Gordon's rushing record of 408 yards lasted only a week.
"Perine was just sensational," Oklahoma coach Bob Stoops said. "The guy is just so exceptional in everything he does."
Stoops felt Perine was special when he signed the 5-11, 243-pound powerhouse out of Pflugerville Hendrickson High School after he rushed for 1,993 yards as a junior and 1,492 yards as a senior.
"I can't say he's been a surprise because we knew how strong and physical he was in high school," Stoops said. "What makes him good is great hands, vision and timing, and he's such a strong physical presence."
DEFENSIVE NEWCOMER: SHAQ RIDDICK, WEST VIRGINIA
Shaq Riddick took a circuitous route to West Virginia.
Overlooked out of Buchtel High School in Akron, Ohio, Riddick signed with Garner-Webb, a Football Championship Subdivision school.
Last year, the defensive end made All-American as he ranked second in the FCS with 19 tackles for loss while collecting 8½ sacks and 17 quarterback hurries. Following graduation from Garner-Webb, he decided to play his final season at West Virginia.
Riddick has been outstanding for the Mountaineers as a fifth-year senior this season as he's tied for fifth in the Big 12 with seven sacks while amassing with 10 tackles for loss.
Riddick was named the Walter Camp national defensive player of the week after West Virginia's 41-27 upset of Baylor as he collected three sacks and four tackles for loss.
---
TRIBUNE-HERALD 2014 ALL-BIG 12 FOOTBALL TEAM
Offensive player of year: Trevone Boykin, QB, TCU
Defensive player of year: Paul Dawson, LB, TCU
Top offensive newcomer: Samaje Perine, RB, Oklahoma
Top defensive newcomer: Shaq Riddick, DE, WVU
Coach of the year: Art Briles, Baylor
FIRST TEAM OFFENSE
Pos
Player
Cl.
School
Ht
Wt
Notable
QB
Trevone Boykin
Jr
TCU
6-2
215
3,714 yards passing, 642 rushing
RB
Samaje Perine
Fr
Oklahoma
5-11
238
League-high 1,579 yards rushing
RB
Shock Linwood
So
Baylor
5-9
200
1,226 yards rushing, 16 TDs
WR
Corey Coleman
So
Baylor
5-10
190
57 catches, 969 yards in Big 12
WR
Kevin White
Sr
West Virginia
6-3
209
102 catches, 1,318 yards
WR
Curry Sexton
Sr
Kansas State
5-11
183
69 catches, 955 yards
OL
Spencer Drango
Jr
Baylor
6-6
305
Second-team All-American
OL
B.J. Finney
Sr
Kansas State
6-4
303
Returning all-Big 12 player
OL
Daryl Williams
Sr
Oklahoma
6-6
328
Leader of Sooners' line
OL
Le'Raven Clark
Jr
Texas Tech
6-6
313
Great NFL potential
OL
Joey Hunt
Jr
TCU
6-3
295
Opened way for explosive offense
KR
Tyler Lockett
Sr
Kansas State
5-11
175
Big 12-high 2,047 all-purpose yards
K
Jaden Oberkrom
Jr
TCU
6-3
187
22 of 26 field goals
FIRST TEAM DEFENSE
Pos
Player
Cl.
School
Ht
Wt
Notable
DL
Shawn Oakman
Jr
Baylor
6-9
280
10 sacks, 18.5 tackles for loss
DL
Emmanuel Ogbah
So
Oklahoma State
6-4
270
11 sacks, 17 tackles for loss
DL
Andrew Billings
So
Baylor
6-2
300
Powerful force in middle
DL
Malcom Brown
Jr
Texas
6-4
320
6.5 sacks, 12.5 for loss
LB
Paul Dawson
Sr
TCU
6-2
230
128 tackles, 5 sacks, 4 int.
LB
Ben Heeney
Sr
Kansas
6-0
230
127 tackles second in league
LB
Jonathan Truman
Sr
Kansas State
5-11
219
114 tackles third in league
DB
Chris Hackett
Jr
TCU
6-2
195
Big 12-high 6 interceptions
DB
Randall Evans
Sr
Kansas State
6-0
190
4 ints., 9 breakups
DB
Sam Carter
Sr
TCU
6-1
215
5 breakups, 4 ints.
DB
Karl Joseph
Jr
West Virginia
5-10
196
Hard hitter with 82 tackles
P
Trevor Pardula
Sr
Kansas
6-5
212
Big 12-best 44.3-yard average
SECOND TEAM OFFENSE
Pos
Player
Cl.
School
Ht
Wt
Notable
QB
Bryce Petty
Sr
Baylor
6-3
230
3,305 yards passing, 26 TDs
RB
Aaron Green
Jr
TCU
5-11
200
854 yards rushing, 8 TDs
RB
DeAndre Washington
Jr
Texas Tech
5-8
201
1,103 yards, 5.9 average
WR
John Harris
Sr
Texas
6-3
223
64 catches, 1,015 yards
WR
Jakeem Grant
Jr
Texas Tech
5-6
169
67 catches, 938 yards
WR
Brad Marquez
Sr
Texas Tech
6-0
203
65 catches, 10 TDs
OL
Cody Whitehair
Jr
Kansas State
6-4
309
Two-year starter
OL
Tyrus Thompson
Sr
Oklahoma
6-5
330
Fifth-year leader
OL
Blake Muir
Jr
Baylor
6-6
300
Transfer from Hawaii
OL
Mark Glowinski
Sr
West Virginia
6-5
310
Veteran O-line leader
OL
Halapoulivaati Vaitai
Jr
TCU
6-6
308
Massive force up front
KR
Alex Ross
So
Oklahoma
6-1
221
32.0 kick return avg., 2 TDs
K
Josh Lambert
So
West Virginia
5-11
212
Big 12-high 27 FGs
SECOND TEAM DEFENSE
Pos
Player
Cl.
School
Ht
Wt
Notable
DL
Shaq Riddick
Sr
West Virginia
6-6
244
7 sacks, 10 tackles for loss
DL
Ryan Mueller
Sr
Kansas State
6-2
245
Returning all-Big 12 lineman
DL
Cedric Reed
Sr
Texas
6-6
271
Veteran leader with 5.5 sacks
DL
Chucky Hunter
Sr
TCU
6-1
300
Run plugger in middle
LB
Bryce Hager
Sr
Baylor
6-2
235
101 tackles 4th in league
LB
Eric Striker
Jr
Oklahoma
6-0
220
14 tackles for loss
LB
Pete Robertson
Jr
Texas Tech
6-3
236
Big 12-high 12 sacks
DB
Zack Sanchez
So
Oklahoma
5-11
175
Big 12-high 6 ints.
DB
JaCorey Shepherd
Sr
Kansas
5-11
195
League-best 18 passes defended
DB
Duke Thomas
Jr
Texas
5-11
182
13 passes defended
DB
Xavien Howard
So
Baylor
6-2
200
16 passes defended
P
Spencer Roth
Sr
Baylor
6-5
220
43.3 yards per punt