Traditions Never Die: Some Big 12 rituals will live forever. Here are the league's best
As college football conferences go, the Big 12 is still a baby. The league turns 21 years old this year, so it's barely old enough to order a pitcher of beers at your favorite pregame watering hole.
And yet the teams within the league are not short on tradition.
Obviously, the teams in the Big 12 had been playing football for many decades before the conference took root in the fall of 1996. Collectively, the league's 10 schools boast a college football history of 1,183 combined years.
As such, each program carries its own distinctive traditions. From the "Oklahoma Drill" -- the full-contact collision developed in the 1950s by Bud Wilkinson – to the University of Texas' longstanding policy of lighting the UT tower orange following a Longhorn victory, these rituals aren't going away anytime soon.
Some traditions date back many decades; others are newer to the scene. Here's a look at our picks for the top 10 coolest football traditions in the Big 12, one for each school.
THE BAYLOR LINE (BAYLOR)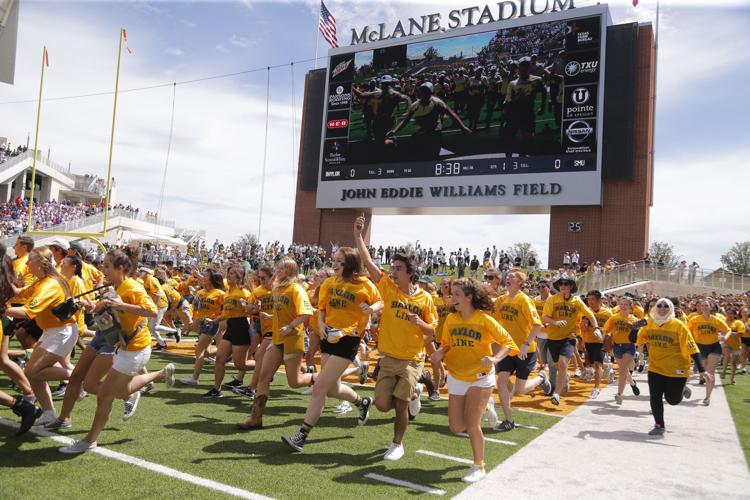 It looks chaotic, and in some ways it is. But it's a controlled chaos, and few traditions incorporate the student body any better than the running of the Baylor Line.
The Line started in 1970 as a spirit organization of freshmen men. By 1993, the group had changed with the times and gone co-ed, and nowadays it numbers at around 2,500 freshmen men and women for game days.
Members wear bright gold jerseys replete with their graduating year – 21 for the incoming freshman class – and a nickname on the back. Before the games, they gather at the ramp next to the south end zone at McLane Stadium. Then, like generations of Baylor students before them, they pour onto the field like a pack of wild banshees, running and jumping and trying to get the crowd fired up.
Eventually, they form a long, rowdy human tunnel for the Baylor team's entrance.
"It's the best thing going in the Big 12," Baylor linebacker Taylor Young said. "You can feel them (in the tunnel), you know what I mean? Just seeing the energy they're bringing, it's like they're fixing to play a game. It gives you more energy to see them up in the stands. It doesn't matter if we're up 60-0 or if we're down, they're still there. They're great fans."
VICTORY BELL (IOWA STATE)
In Ames, a win by the Cyclones necessitates a ringing of the school's Victory Bell. According to the school's website, the bell has called the Iowa State campus home for more than a century. As for the bell itself, it turned 127 years old this year, as it was cast in 1890 by the Clinton H. Meneeley Bell Company of Troy, N.Y.
Though the bell currently resides outside of Iowa State's Jack Trice Stadium, its original usage stretched beyond the football field. In the early days of the school, the bell signaled the change of classes and the introduction of student curfews.
The bell isn't even the only noisemaker penetrating the relative solitude of America's Heartland. Iowa State also possesses a tornado siren that blares whenever the Cyclones score a touchdown or make a big defensive stand, as well as a cannon that is fired when the team takes the field or kicks off.
WAVING THE WHEAT (KANSAS)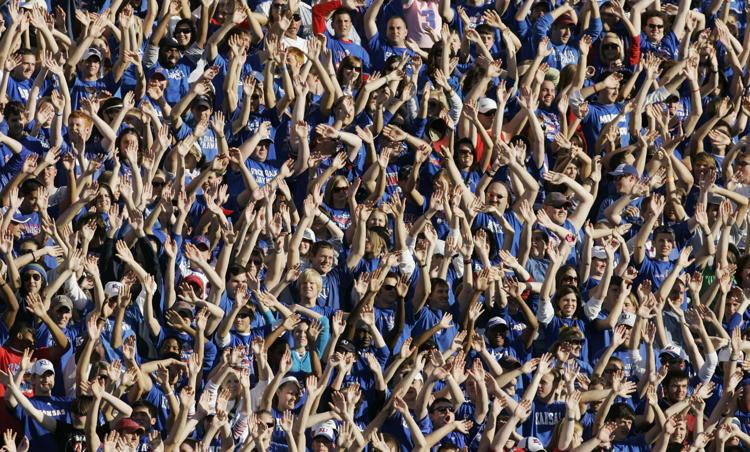 Lord knows that "The Wave" has been played out for years. But the variation that blows through Lawrence, Kansas, on game days is far cooler.
Here's the twist: Whenever a crucial moment unfolds in a Jayhawk football – or, let's face it, a basketball game – Kansas fans will collectively raise their hands above their heads and "wave the wheat." That is, they'll alternate waving each hand back and forth. It's supposed to resemble a Kansas wheat field waving in the wind – and it kind of does.
The tradition – like many at Kansas, including the monk-like "Rock Chalk" chant – dates back almost 100 years, to the first half of the 20th century.
WABASH CANNONBALL (KANSAS STATE)
It's not exactly a modern ditty, but the "Wabash Cannonball" song holds a special place in many a K-State fan's hearts.
As legend has it, the song was first played at a Kansas State athletic event in December of 1968, at a basketball game. Three nights before, arsonists torched the building which housed K-State's music department, and the only sheet music that survived was – you guessed it – the "Wabash Cannonball."
Since then, it's come to represent the school's underdog spirit, and the peppy song – composed in 1933 as a homage to America's rail-riding hobos -- never fails to send the fans into a tizzy. They sway back and forth and clap to the music, not relenting until its completion.
"Being on the sideline, they play the 'Wabash Cannonball' song 20 times a game," said K-State tight end Dayton Valentine. "We go to a few basketball games every year, and I was thinking, 'I don't know how these students do this the entire game.' You sit there and fist pump and rock back and forth the whole time. I did it twice, and it's like a four-minute song, and I was like, 'I'm done. Props to you guys.'"
SOONER SCHOONER (OKLAHOMA)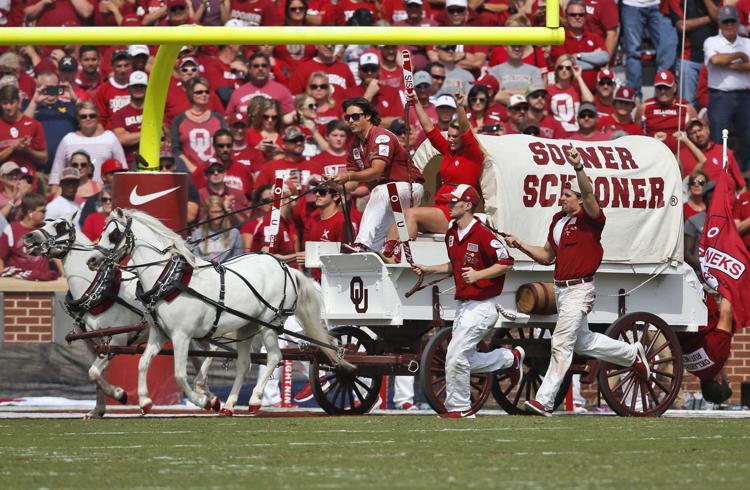 It's hard to imagine an Oklahoma football game without the Sooner Schooner doing donuts on the turf.
Since 1964, the Schooner – a replica of a Conestoga wagon, a large covered wagon used extensively in the 18th and 19th centuries and a symbol of the Oklahoma land rush – has zipped onto the field at Oklahoma home games. It is pulled by two white ponies named, fittingly, Boomer and Sooner, and is maintained and driven by OU's RUF/NEKS spirit organization.
One RUF/NEK member traditionally hangs out of the back of the wagon and waves a massive Sooner flag, to the delight of the home crowd.
As many trips as that wagon has made, it's naturally experienced a bumpy ride or two. Most notably, the 1985 Orange Bowl became known as the "Sooner Schooner game," when the wagon ended up stuck in the mud in front of the bench of the Washington Huskies. The Sooners were penalized 15 yards for unsportsmanlike conduct.
Despite that unfortunate detour, the Schooner just keeps rolling along.
"It's a symbol to a lot of people," said Kenneth Forehand, President of the RUF/NEKS Alumni Association. "It's iconic. Everywhere you go, they know about the Schooner. It's something people recognize."
PISTOL PETE (OKLAHOMA STATE)
The biggest head in the Big 12 belongs to Pistol Pete, Oklahoma State's familiar and longstanding mascot. And it's not just because of the mascot's Old West machismo.
Though Pistol Pete has officially served as OSU's school mascot since 1958, his origins date back 25 years prior to that. In 1923, officials at then-Oklahoma A&M University were searching for a new mascot to replace the unpopular "Tigers" when a group of students spotted a crusty old cowboy marching in Stillwater's Armistice Day parade. That man, Frank Eaton, agreed to serve as the model for Pistol Pete, the mustachioed cowboy with the distinctive jawline that came to represent the school's athletic teams.
Nowadays, two OSU students share the responsibility of donning the Pistol Pete costume. According to the school's website, they represent the Cowboys at around 650 events per year. In addition to sporting events, that includes parades, festivals, corporate functions, weddings and even kids' birthday parties.
Who needs a clown to creep you out when you've got a seven-foot tall gunslinger?
FROG HORN (TCU)
Ever had a frog in your throat? If you've ever been to Amon G. Carter Stadium, you've also had one ringing in your eardrums.
The Frog Horn is one of TCU's newer traditions, as the 3,000-pound, gas-powered machine was built in 1994. But it's also the school's most raucous ritual. Any time that TCU scores, that prodigious, purple four-wheeled frog pierces the sky with a locomotive horn capable of creating a 100-decibel sound from 100 feet away.
If that blaring noise wasn't attention-grabbing enough, the horn is also equipped with flashing lights, a bell and dual smokestacks.
The Frog Horn's blast can send shivers down many a newcomer's spine, although TCU linebacker Travin Howard said he wasn't fazed the first time he heard it.
It wasn't too (surprising), because at Longview, where I come from, we have a train whistle (at games), so I'm used to that," Howard said.
HOOK 'EM HORNS SIGN (TEXAS)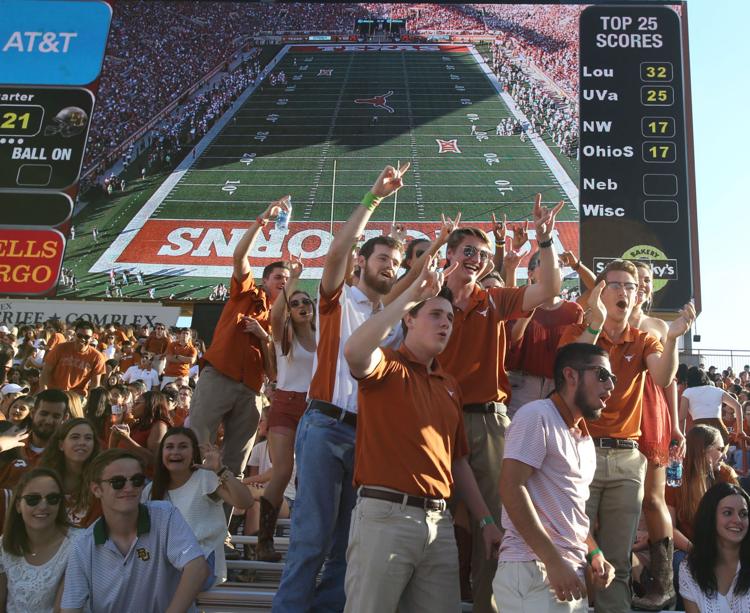 College football contains its very own sign language, as every old Texas-based Southwest Conference school features its own hand sign.
None, though, is any more iconic than UT's "Hook 'Em, Horns" symbol.
Not Baylor's "Sic 'Em Bears" claw or Texas Tech's "Guns Up" pose. Certainly not whatever TCU's carpal tunnel-inducing Frog fingers. Not even the originator from Texas A&M, and its tradition of sticking a thumb in the air to represent the "gigging" the Aggies were about to give someone.
Sorry, gang, but Texas's is clearly better. It's simple – fans point their index and pinkie fingers upward while holding down their two middle digits with their thumb – and yet it so instinctively represents UT's Longhorn mascot.
Like so much of the football history at Texas (and vice versa at Texas A&M), the "Hook 'Emn Horns" sign was born out a desire to keep pace with UT's chief in-state rival. In 1955, a UT cheerleader named Harley Clark decided that it was almost criminal that A&M had a hand sign and Texas had none, so he unveiled "Hook 'Em, Horns at a pep rally. The rest, as they say, is history.
Just how cool is the sign? In the 1970s, heavy metal rockers stole it for their own use, thus giving it a whole new meaning: Rock on.
TORTILLA TOSSING (TEXAS TECH)
Nothing says "We're rowdy and we're ready to party" like flinging your taco fixins at the field.
You're not likely to find tortilla tossing listed anywhere in Texas Tech's official rundown of school traditions. It may not boast the same esteemed history as the Masked Rider or the "Guns Up" hand sign. But it has become no less integral an ingredient in what makes Red Raider football spicy and unique.
According to EverythingLubbock.com, Red Raiders fans first started chucking their deconstructed burritos in 1989. Students had a habit of taking the lids off their 44-ounce sodas and zipping them toward the field, but after the lids were taken away, the students discovered the aerodynamic quality of the tortilla.
The practice caught fire like a double dollop of peppery salsa. Officially, tortilla tossing is prohibited at Jones Stadium, but it's more of a "wink-wink" ban, and it hasn't stopped students from sneaking them in and letting them fly at Tech kickoffs.
"It was crazy (when I first saw it)," Tech defensive back Ja'Shawn Johnson said. "I was on my (official) visit. I think it was the Oklahoma State game. I was like, 'That's serious?' I thought it was a joke. But it's my favorite now."
TAKE ME HOME, COUNTRY ROADS (WEST VIRGINIA)
The late folk singer John Denver may be most associated with the state of Colorado, but he'll always have a home in the heart of the people of West Virginia.
Denver's 1971 hit "Take Me Home, Country Roads" is actually the official state anthem of West Virginia, earning that designation in 2014. And ever since the song's release, it has proven popular at Mountaineer football games. According to WVUSports.com, the song has been played at every home football game in Morgantown since 1972.
Most notably, it's always played after the game's completion, when fans and players alike link arms and passionately croon along – "Country roads, take me home, to the place I belong, West Virginia, mountain mama, take me home, country roads."
West Virginia safety Kyzir White is the younger brother of Kevin White, a former All-American receiver for WVU who now plays for the Chicago Bears. So Kyzir knew the song well before he ever enrolled.
He said it never gets old.
"You go around, slap the fans' hands after a big win, and sing 'Country Roads,' and they sing it with you," White said. "It's great, the whole stadium is singing. It's a great experience, and the best tradition around."