Red-hot Revivalry — Inside the Baylor-TCU feud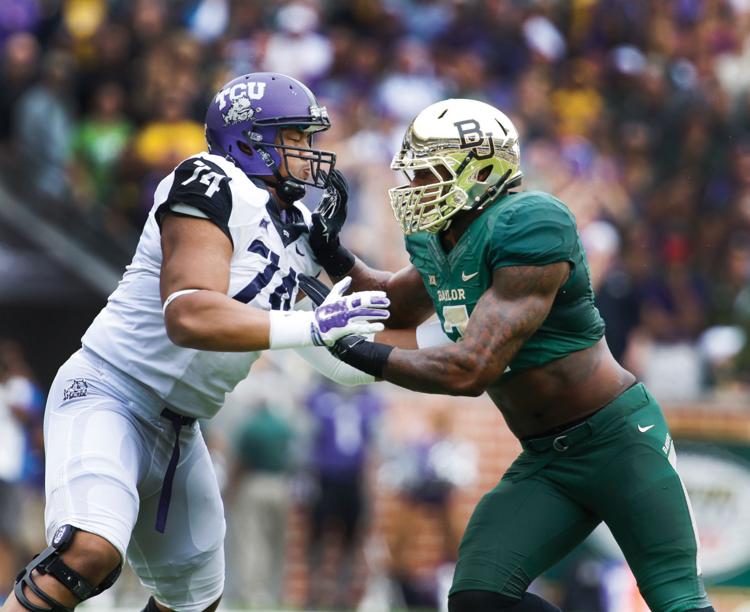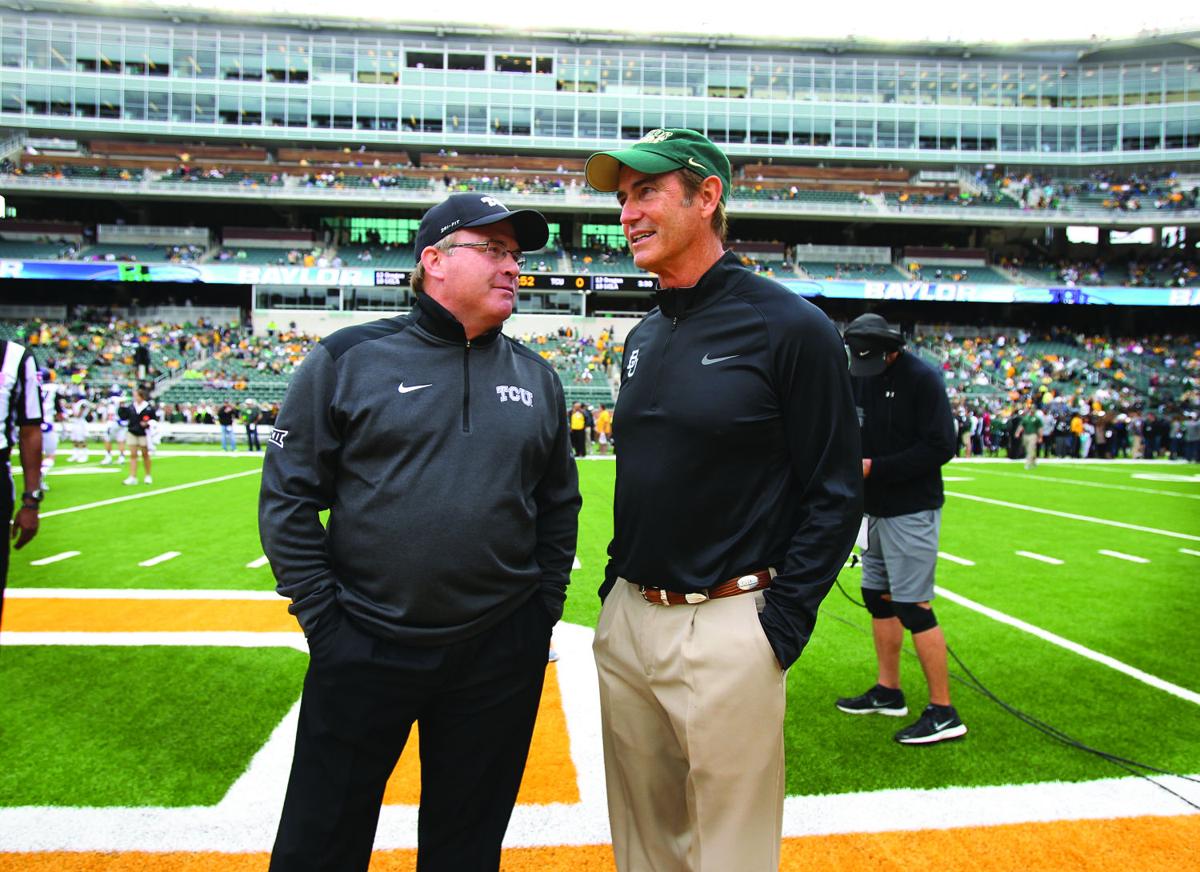 At the Baylor Bookstore, customers can purchase a children's book entitled "Bruiser's Game Day Rules." Author Sherri Graves Smith uses Baylor's mascot, Bruiser the Bear, to teach kids proper game-day etiquette and sportsmanship. The book is illustrated throughout, and the setting is a Baylor-TCU game. Yes, that's right, fans decked out in green and purple, showing the next generation how to get along.
Clearly it's a work of fiction. TCU and Baylor … as friends?
The series between the Bears and Horned Frogs is colloquially known as "the Revivalry," a hat tip to both schools' Christian heritage. Baylor is the largest Baptist institution in the world, while TCU is affiliated with the Disciples of Christ. Yet Christian love does not abound in the TCU-Baylor football feud. Forget turning the other cheek when it comes to these two.
That fact only intensified last season, as the Frogs and Bears both tallied 11-1 records. The Big 12 declared each as champion, presenting both teams with a trophy. In disgust over having to share, Baylor fans pointed to the Bears' 61-58 come-from-behind win over TCU in Waco as evidence that the title belonged in Waco, while TCU supporters rightly countered that, unlike Baylor, their team was able to win at West Virginia, thus finishing with the same record as the Bears.
One True Champion? Sorry, Big 12, more like One Tense Confrontation.
Now, they're back for another installment of this bubbling blood feud, with TCU as the preseason conference favorite and Baylor coming in right on the Frogs' heels. The teams' Black Friday matchup Nov. 27 in Fort Worth has already been given "game of the year" billing by the media which covers the league.
Still, it begs the question: How did the Big 12's two smallest institutions, the only private schools in the league, forge the biggest rivalry in these parts? How did a couple of Christian colleges build one of the most contentious feuds in all of college football?
Well, it didn't start yesterday. The rivalry began when the two schools were next-door neighbors, as TCU moved to Waco in 1895 from its original home in Thorp Spring. In 1899, Baylor and TCU met on the football field for the first time.
"TCU didn't start here, but it was here (in Waco) before the move to Fort Worth," said Dave Campbell, founder of Texas Football magazine. "The building burned here, which prompted the move to Fort Worth. They've had a very competitive rivalry."
Just how competitive? Heading into last year's 110th meeting between the teams – it's the most-played rivalry for either school – the series was tied, 51-51-7. And the 2014 game, of course, came down to a last-second field goal by Baylor's Chris Callahan.
"It would be hard to find a much more competitive series, throughout all of college football," Campbell said.
In the fledgling years of the programs, Baylor and TCU played as many as three times in a season. Familiarity can breed contempt, and it didn't take long for the rivalry to get a little extra fuel.
Seems in those days, the rules governing uniforms weren't as stringent as they are today. During one early meeting, Baylor capitalized on the wiggle room in the rules.
"As the story goes, there was a game about 1901 or so, and at halftime Baylor was losing," said Grant Teaff, Baylor's coach from 1972-92. "There were no rules regarding the color of jerseys, and so at the half the Baylor coach had several players change into the same color TCU was wearing.
"Apparently in the second half, Baylor intercepted several of TCU's passes and came back and won the game. Word is that the TCU folks were not convinced that Baylor had acted in the most scrupulous of manners. I'm sure that added some fierceness to the rivalry."
Hard-fought, down-to-the-wire games have marked the series from its infancy. A total of 42 times TCU and Baylor have played to within seven points or less, including seven ties. Baylor's last four wins in the series have come by a combined 11 points.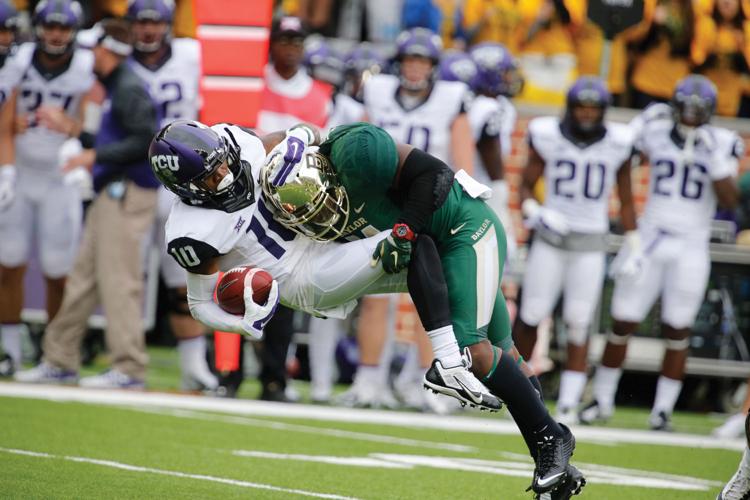 The rivalry has sometimes seen its ebbs and flows. Throughout the mid-1950s and into the 1960s, TCU controlled the series. The Frogs won 15 of 17 matchups from 1956-71.
So when Teaff arrived in Waco in 1972, one of the primary missions he was tasked with was putting a halt to TCU's run.
"When I got to Baylor, I didn't know anything about the TCU rivalry," Teaff said. "But I found out that TCU had been the dominant team for a while. So we really put an emphasis on that game. We ended up going to Fort Worth that year and beat TCU handily, cleaned their plow pretty good."
Indeed, the Bears won, 42-9, sparking a raucous celebration back in Waco.
"Oh my Lord, you would have thought we won the national championship," Teaff said. "I didn't really think anything of it, but it was pretty clear it was a fierce rivalry."
Teaff's arrival signaled a shift in series supremacy. Baylor handled the Frogs for much of Teaff's tenure, including winning eight in a row from 1974-81.
From the TCU perspective, the animosity toward Baylor deepened when the Southwest Conference fell apart in the mid-1990s. Texas, Texas A&M, Texas Tech and Baylor ended up linking up with the old Big 8 schools to form the new Big 12 Conference in 1996. But a large faction of the Frogs' fan base grew angry that Baylor had earned the golden ticket to the new league instead of TCU.
"They resented that Baylor got in the conference and they didn't," Campbell said. "It really intensified things."
It also set off a period of hatred from afar. From 1996 to 2005, TCU and Baylor didn't play one another. In 2006, the Frogs and Bears finally resumed their feud in a nonconference setup.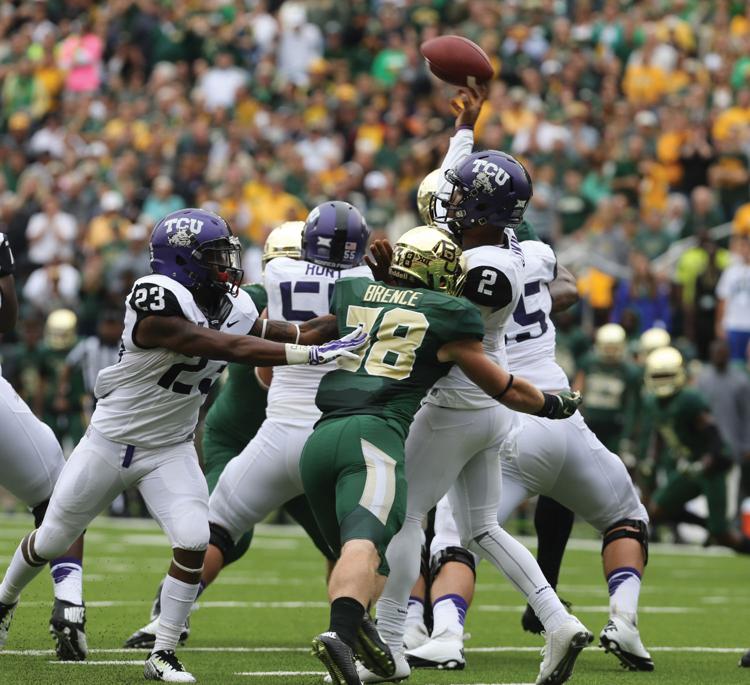 The animosity seemed to ratchet up another notch – or 12 – following a TCU 45-10 romp over Baylor in Fort Worth early in the 2010 season. As the Baylor players filed to their locker room, some nearby TCU fans heckled them with taunts of "Good job, Big 12! It stings, doesn't it? Enjoy the bus ride home!"
Ironically, the Big 12 was where the Frogs wanted to be all along, and where they'd eventually land. After the departures of Nebraska, Colorado, Texas A&M and Missouri from the conference, the Big 12 presidents voted to invite West Virginia and TCU to join the league, beginning with the 2012 season.
In the past two years, the rivalry has taken on new spirited twists. In 2013, TCU coach Gary Patterson accused then-Baylor safety Ahmad Dixon of dirty play, in the wake of a 41-38 BU win in Fort Worth. After last year's epic showdown – the first top 10 matchup in the history of the series – Patterson said he was "sort of threatened" by a Baylor player on the field after the game. That player was later revealed to be safety Orion Stewart, who denied saying anything threatening.
Campbell said that he got a revelatory glimpse of how heated the rivalry had become when he encountered Linda Kaye, a photographer he knew, at a recent Texas Rangers game. Kaye, a TCU graduate, had taken photos for Campbell's magazine in the past, and Campbell inquired about how the Frogs were looking.
"I asked her, 'Hey Linda, how is TCU going to be this year?'" Campbell recalled. "And she said, 'They're going to be better than damned Baylor, that's for sure.'"
For their part, the players try to downplay the rivalry when publicly asked about it. They know better than to give their opponent any extra bulletin board motivation.
"I feel like that's what people are trying to make it," TCU safety Derrick Kindred said. "It's just another game. Every game is a big game."
"It's going to be a big game because it's that game that week," Frogs lineman Joey Hunt added. "We don't have any dates circled."
But it's safe to say you guys don't like each other? the players were asked.
"It's safe to say we respect each other," TCU defensive end James McFarland said, matter-of-factly.
The Baylor players took the same "it's just another game" tack at the conference's preseason media day gathering. When they were asked about TCU, they mostly shifted to autopilot.
"The team of the week is who our rival is that week," BU offensive lineman Spencer Drango said. "It's not a specific team. It's the guys we're playing that week."
But, when pressed, the players could occasionally reveal some underlying hostility. TCU quarterback Trevone Boykin discussed at length the importance of beating Baylor since the Frogs hadn't done so since 2012. When asked if he gets excited to play the Frogs, Baylor defensive tackle Andrew Billings smiled and answered, "Definitely. I never liked purple. I went to Waco High. I didn't like University. Now it's purple, purple, purple. It's always in the back of my head."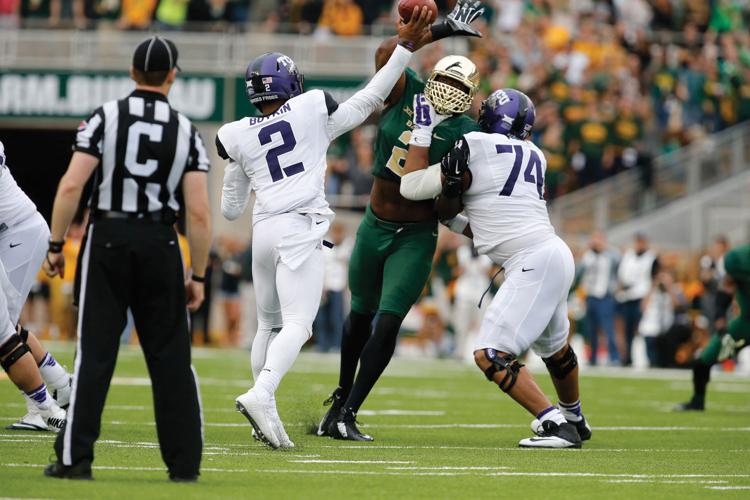 This year the matchup returns to Thanksgiving weekend, marking the 16th time it has been staged on or around Turkey Day. It'll be the final game on the schedule for TCU, falling on college football's rivalry weekend. It's a reflection of how the series has ascended to a place of national prominence.
Patterson said he likes it that way.
"I asked for it," he said. "I think if you're going to have a rivalry game you shouldn't play it in the middle of the season. Like Oklahoma-Oklahoma State or BYU-Utah. I always thought it was an advantage that BYU and Utah played the last game of the season, because they never had to play anybody after that.
"As a general rule, you'd like to play a game where you can put everything into it. That's what you want in a rivalry game. You want to put everything into it and not feel like it hurts you the next week. So I'd rather always play that time of year against those guys."
In so many ways, Baylor and TCU are one in the same. They're not A&M or Texas, Lone Star State royalty with massive alumni bases. They're the little guy on the playground, the kid who has been kicked around and bullied, who had to learn how to fight back. They're the underdogs who grew to be the top dogs.
But for a myriad of reasons, they seem to save their most vicious bite for one another.
"For a good while there, TCU and Baylor were separated in different conferences, gone but not forgotten," Campbell said. "They're together again, and bitter enemies."