It hasn't been much fun for Terence Williams to sit on the sidelines watching his Baylor teammates lose their first three games.
He thought he could have made a difference, and that made him mad.
"I'm an angry watcher," Williams said. "I would rather contribute than just sit there and watch. It's all inside, I keep it inside. I don't need to make a scene. Making a scene is never good, so I think to myself to just calm down. Everything is going to be all right."
Following offseason shoulder surgery, Williams will make his first appearance of the season when the Bears host No. 3 Oklahoma in the Big 12 opener at 5:30 p.m. Saturday at McLane Stadium.
Combining power and speed, Williams was one of Baylor's best players last season as he rushed for 1,048 yards and 11 touchdowns despite playing with knee issues. In the final game of the 2016 season, Williams rushed for 103 yards on 25 carries in Baylor's 31-12 win over Boise State in the Cactus Bowl.
But the 6-2, 222-pound junior has been out of action since the spring and can't wait to get back on the field. When asked how long it's been since he has been healthy, Williams said, "Junior high?"
"I'm just happy to be back playing football," Williams said. "It was frustrating not being able to play football for that long, especially after the season we had last year. I was ready to get back out there. I'm excited as anybody would."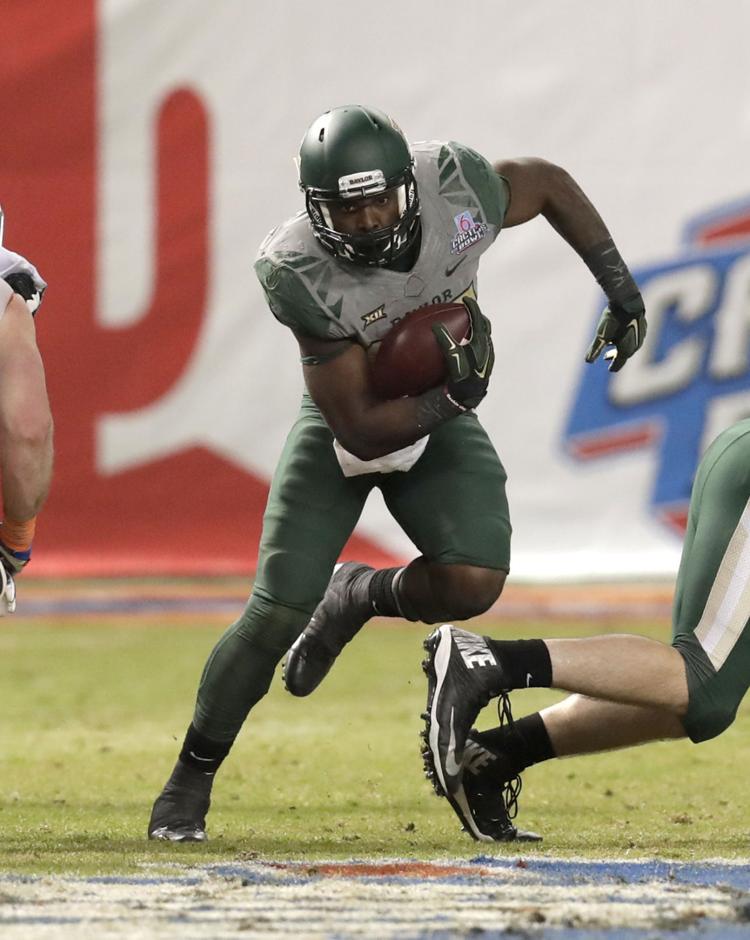 Baylor's rushing yardage has diminished each week. After rushing for 254 yards against Liberty, the Bears finished with 137 in a 17-10 loss to UTSA before dropping to 57 in a 34-20 loss to Duke.
Williams has tried to encourage Baylor's young backs, and hasn't been afraid to tell them where they need to improve.
"I get them in there and watch film with them and tell them things we should work on to make the running game better," Williams said. "I mean we're all grown men here. It doesn't matter how old you are. You come here you're a grown man, so we're going to treat you like one. That's just how it is."
While Williams couldn't practice, he prepared for his return by rehabbing and studying the playbook and learning everything he could under Baylor's first-year coaching staff.
"I've been doing rehab a lot and running," Williams said. "I was in my playbook the whole time. I was always getting mental reps. I was in my playbook when I was at home, so I wouldn't be behind when I was able to play again."
After losing its three nonconference games, Baylor has numerous issues heading into Big 12 p…
Baylor's offensive line has struggled, but Baylor coach Matt Rhule believes Williams could make a difference. Williams wanted to come back against Duke last week but wasn't yet cleared by doctors.
"He texted me after UTSA, and was like, 'Coach, please, I want to play this week,' " Rhule said. "The doctor said he wasn't ready. To have him back out there, I think he knows the contribution he can make, and I think also recognizes how important it is to be a great teammate and to be part of a team. He is a much welcomed addition back into the fold."
Williams is among several Baylor players returning from injuries, including cornerbacks Grayland Arnold and Jordan Tolbert and linebacker Lenoy Jones. Offensive guard Ishmael Wilson left in the second half of the Duke game with an injury, but Rhule said he's ready to play. However, defensive lineman K.J. Smith is expected to miss his third straight game with shin splits.
Additionally, safety Taion Sells will play for the first time this season after serving a three-game suspension for an undisclosed incident over the summer.
"Grayland was a guy in the preseason who we felt like was one of our top players, so hopefully he can go out and give us something in the coverage game as well," Rhule said. "Defensively, we're not good yet, but we're getting better, and adding a guy like Grayland really helps. What we've done is add in some depth after the unfortunate injuries and suspensions. Now, once you hit conference play, you feel like you have four, five, or six corners that can go into the game."
The Bears will have their hands full against an Oklahoma team that's off to a 3-0 start, including a 31-16 win over then-No. 2 Ohio State in Columbus two weeks ago.
Oklahoma quarterback Baker Mayfield is a leading Heisman Trophy candidate as he's completed 76.8 percent of his passes for 1,046 yards and 10 touchdowns with no interceptions. The Sooners are among the top offensive teams in the country as they average 599 yards and 47.7 points per game.
"We're looking forward to playing a fantastic Oklahoma team," Rhule said. "They are certainly well-balanced and a well-rounded football team. It's a tremendous opportunity for our players to play against the No. 3 team in the country, a team that went to Ohio State and beat them on their field. Baker Mayfield, as we all know, is a fantastic quarterback, and he has a tremendous amount of weapons around him."
Rhule hopes Baylor's offensive line will give sophomore quarterback Zach Smith more protection after Duke sacked him three times.
With Anu Solomon still unavailable to play with concussion-like symptoms, Smith will try to improve on his first start after he hit 12 of 34 for 263 yards for three touchdowns with three interceptions against the Blue Devils.
"Once we start jumping up and catching the football and getting the run game going, then I think we can fairly evaluate where Zach is, but I like his toughness," Rhule said. "He stood out there and took a beating, but that all has to change. Offensively, we have to get a little tougher up front to be able to protect, and we have to go catch the football."