The Big 12 media days always alert us that we're on the verge of the college football season — whether we're ready or not.
Coaches and players will convene Monday and Tuesday at The Star, the home of the Dallas Cowboys training facility in Frisco. More publicity for Jerry Jones and company, as if they needed any.
Media days are much more compact than the old days of the Southwest Conference when a scrum of writers and broadcasters traveled together by bus and plane to all nine schools over 10 days or so for in-depth interviews.
You gathered loads of information on the teams and also had a lot of fun when the work was done. One writer called the SWC tour bus a rolling honky tonk.
Everybody always breathed a sigh of relief when the plane landed safely in the hills of Fayetteville, Ark. I can remember a few hairy landings.
There will be a lot of intriguing storylines as next week's media days unfold in Frisco. Here are a few of the major topics:
NEW COACHING TRIO: During its 22-year history, the Big 12 has never seen such an influx of new head coaches who will be thrust into high-profile situations.
Thirty-three year-old Lincoln Riley is taking over at Oklahoma for retired Bob Stoops, Tom Herman moves into the head coaching chair at Texas after Charlie Strong was fired, and Matt Rhule will try to steer the Baylor football program in the right direction amid the school's sexual assault scandal.
It will be interesting to see how Riley handles the mass of media coming his way on Monday since this is his first head coaching job. He did a great job as Oklahoma's offensive coordinator, but this will be a whole different level of attention.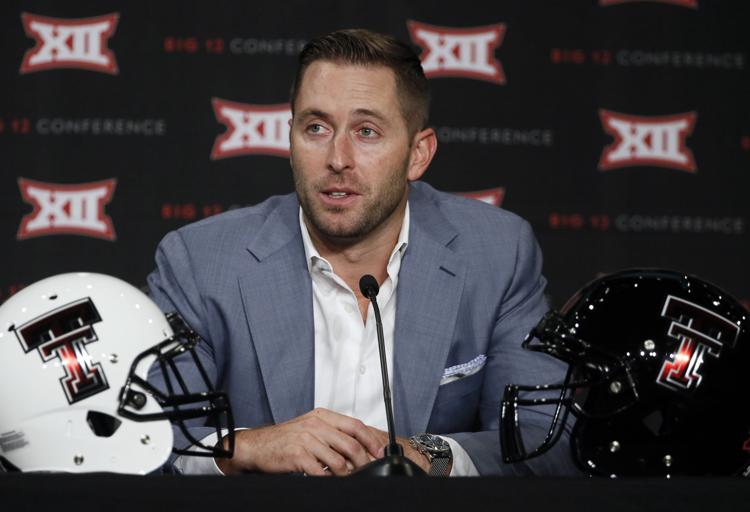 HOT SEAT IN LUBBOCK: When Kliff Kingsbury was hired as head coach at his alma mater in December 2012, Texas Tech fans were thrilled that the offensive mastermind was back in town.
With his movie-star good looks, a popular T-shirt around Lubbock read: Our coach is hotter than your coach.
But Kingsbury's team wasn't hot on the field last season as the Red Raiders finished 5-7. Kingsbury's overall record dropped to 24-26 in four seasons, mainly because of a defense that can't stop anybody.
Kingsbury plans to take more of a CEO approach to his program this year and relinquish some of his coaching duties to offensive coordinator Eric Morris. Whether he can revive the defense enough to get his program on the right track remains to be seen.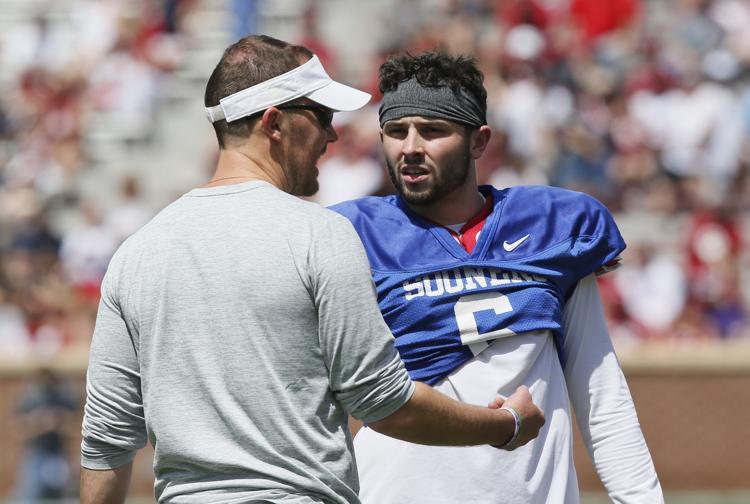 SPOTLIGHT ON MAYFIELD: After finishing third in the last year's Heisman Trophy voting, Oklahoma quarterback Baker Mayfield is one of the leading candidates to win it this year.
But he was in the news for all the wrong reasons in February when he was arrested in Fayetteville for public intoxication, disorderly conduct, fleeing and resisting arrest. One police officer made an impressive open-field tackle after catching a fleeing Mayfield.
Mayfield later apologized for the incident and was ordered to complete alcohol education courses and perform community service hours. Former Texas A&M quarterback Johnny Manziel won the 2012 Heisman despite off the field issues, so Mayfield is hoping that his chances won't be diminished because of one bad night.
TOP DEFENDER AT KANSAS? The Jayhawks have been the Big 12 bottom feeders for years, but David Beaty is banking on a breakthrough year after going 2-22 in his first two seasons.
He'll be counting on junior defensive end Dorance Armstrong to play a major role after he was named Big 12 preseason defensive player of the year.
Armstrong is coming off an all-Big 12 sophomore year in which he collected 10 sacks and 20 tackles for loss. Armstrong will try to keep the Kansas fans from giving up on the football team for once when basketball starts in November.
JOEL LANNING'S BIG SWITCH: It's pretty unusual for a quarterback to make a career move to middle linebacker, but Iowa State's Joel Lanning is trying to pull off the switch.
Lanning started 14 games at quarterback for the Cyclones over the last two years and was known as a bruising runner. The Iowa State coaches thought his physical style of play would boost their defense, and he moved into the starting middle linebacker role in the spring.
CANCER CAN'T STOP SNYDER: Bill Snyder has done one of the most remarkable coaching jobs in college football history by making Kansas State a consistent winner over the last three decades after a history of futility.
He's 77 years old now and was diagnosed with throat cancer during the offseason.
Snyder has been forced to cut down his coaching hours, but still plans to return for his 26th season at Kansas State. It seems nothing can stop the venerable old coach, and the Big 12 is better for it.