ARLINGTON — Making its first Cotton Bowl appearance in 34 years, Baylor was relishing the moment and writing a book on offensive creativity.
There was wide receiver Jay Lee's stunning 53-yard option pass for a touchdown to Corey Coleman and Bryce Petty's beautifully thrown deep passes to freshman KD Cannon.
The most memorable play was Petty's 18-yard touchdown pass to 390-pound lineman LaQuan McGowan which must have set a record for the largest man to ever catch a touchdown pass in a bowl game.
Nobody foresaw a meltdown coming. But when it started, there was no stopping it.
Taking advantage of No. 4 Baylor's poor pass defense, two missed field goals and two costly penalties, No. 7 Michigan State scored 21 unanswered points in the fourth quarter to pull off a staggering 42-41 win before 71,464 fans Thursday at AT&T Stadium.
The Spartans finished off their comeback with Connor Cook's 10-yard touchdown pass to Keith Mumphery with 17 seconds remaining.
"It's quite honestly an embarrassment to me as a coach," Baylor coach Art Briles said. "I feel bad for our players, I feel bad for our football team, I feel bad for our university. We had a really good opportunity to come out of here victorious and had a couple of unfortunate things happen down the stretch that prevented us from winning."
For the second straight season, the Bears followed a Big 12 championship season with a bowl loss to finish 11-2. While last year's 52-42 loss to Central Florida in the Fiesta Bowl was disappointing, this one hurt the Bears even more because they let a 20-point lead slip away in the fourth quarter.
Playing his final game for the Bears, Petty set a Cotton Bowl record with 550 yards passing and three touchdowns. Hitting 36 of 51 passes, Petty was named the game's most outstanding offensive player, but he was in no mood to celebrate.
"It's all for naught when you lose," Petty said. "In big moments, especially the fourth quarter, you've got to finish. That stuff starts with me. Really the quarterbacks are the catalysts on the team, so they're going to do what you do and follow what you do. I just missed opportunities here and there."
Leading 41-21 heading into the fourth quarter, Baylor's problems began when Chris Callahan's 46-yard field goal attempt hit the right upright with 14:18 remaining.
The Spartans answered with a 71-yard drive that ended with Cook's 8-yard touchdown pass to Josiah Price. The Spartans recovered an onside kick before Cook hit Aaron Burbridge for 39 yards to Baylor's 14.
Under heavy pressure by Baylor defensive end K.J. Smith, Cook threw a wild pass that was intercepted by freshman linebacker Taylor Young. He broke into the clear for an apparent 90-yard touchdown but it was called back because of an illegal block by Andrew Billings.
"It was frustrating," Young said. "But at the same time, it happens. At the time, I didn't think it was a really big deal because everybody believes in our offense and felt like they were going to score."
Getting the ball at their own 43 following Young's interception, the Bears failed to capitalize after Petty's pass to Cannon fell incomplete on fourth-and-six at Michigan State's 39. The Spartans took advantage by scoring again on Jeremy Langford's 1-yard touchdown run to cut Baylor's lead to 41-35 with 4:55 remaining.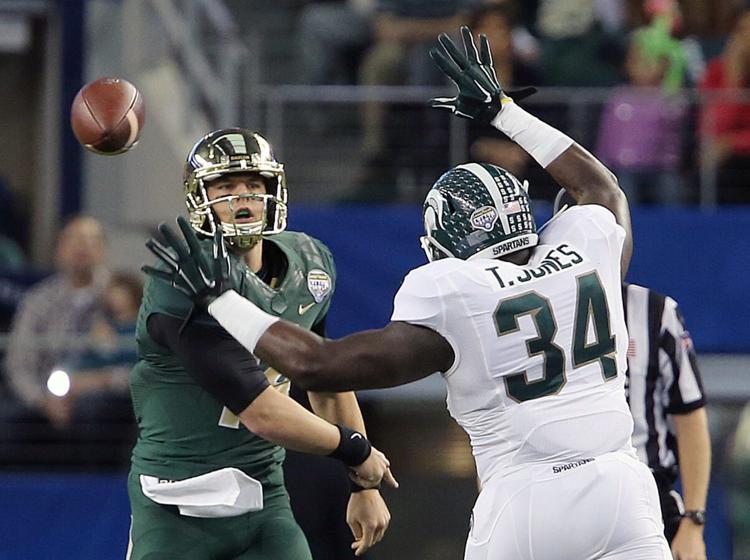 Baylor appeared unfazed as Petty hit Levi Norwood with a 31-yard pass and then found Coleman for 26 yards to the 7. But Coleman was called for grabbing Tony Lippett's facemask as he tried to break away following the catch.
Instead of first-and-goal at the 7, Baylor had a first down at the 22. The Bears tried to set up a potential game-winning field goal by Callahan, but Marcus Rush blocked his 43-yard attempt and R.J. Williamson returned it 36 yards to Baylor's 45.
"Lawrence Thomas and Shalique Calhoun got good penetration and I came through and got my hand in the right place and it went right into R.J.'s hands," Rush said.
With 1:05 left on the clock and no time outs remaining, Cook hit Mumphery for 18 yards to Baylor's 27. After missing three straight passes, Cook found Lippett for 17 yards to the 10 on fourth down.
Cook missed two more passes before finding Mumphery flying across the middle for a 10-yard touchdown. When Michael Geiger hit the extra point, the Spartans took a 42-41 lead with 17 seconds remaining.
Cook hit 24 of 42 passes for 314 yards, and both of his touchdowns came during the fourth-quarter comeback.
"Those are some big-time plays by those guys," Baylor nickelback Collin Brence said. "Unfortunately we weren't able to make some of the plays that we should have down the stretch. We were at times not in the right position. It definitely hurts because we left some plays on the field."
The Spartans finished off their comeback by sacking Petty twice before Riley Bullough intercepted a pass with two seconds remaining. For the Bears, it was shocking to see the Spartans celebrating on the field with the Cotton Bowl trophy in their hands.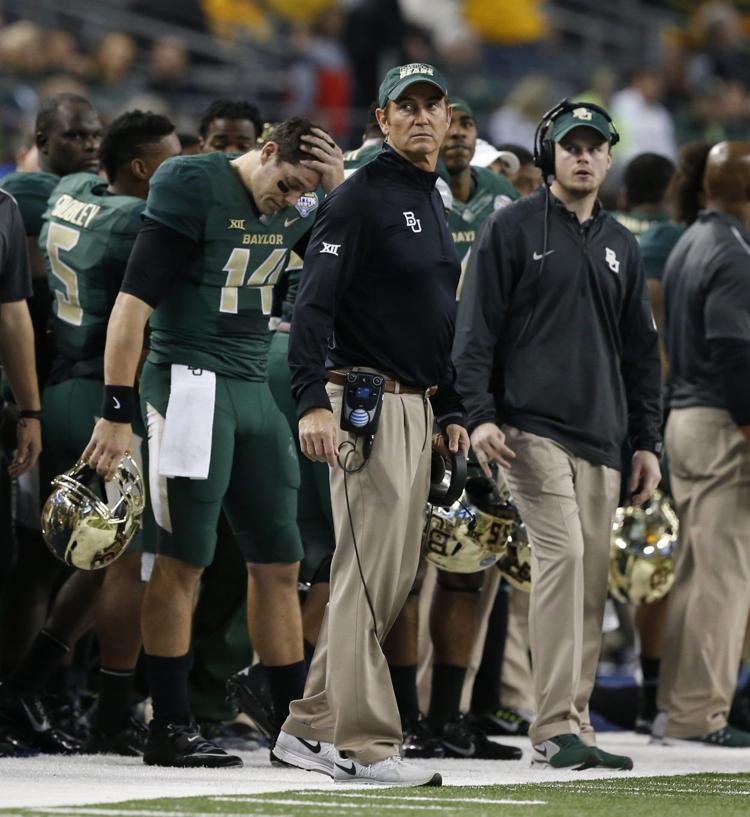 "It's a kick in the gut," Baylor defensive coordinator Phil Bennett said. "I felt like, with no disrespect to Michigan State whatsoever, we were the better team. The fact is they never quit plugging and did what they had to do to win the game."
Piling up 552 yards total offense, the Spartans (11-2) won their fourth straight bowl game. While Baylor racked up a school-record 603 yards passing, they could never get anything going on the ground as they finished with minus 20 yards on 22 carries against a strong Michigan State defensive line.
Baylor's inability to run the ball hurt in the fourth quarter when it was trying to run time off the clock. The Bears are now winless in three Cotton Bowl appearances.
"We certainly would have liked to run the ball better down the stretch when you have the lead and have a chance to put it away," Briles said. "When we did attempt to run, we never really felt the seams were there."
Run game doesn't fail Mich. St.
The Bears had difficulty stopping the run as Langford rushed for 162 yards and three touchdowns. His 65-yard run on the game's first drive set up a 2-yard run for his first score.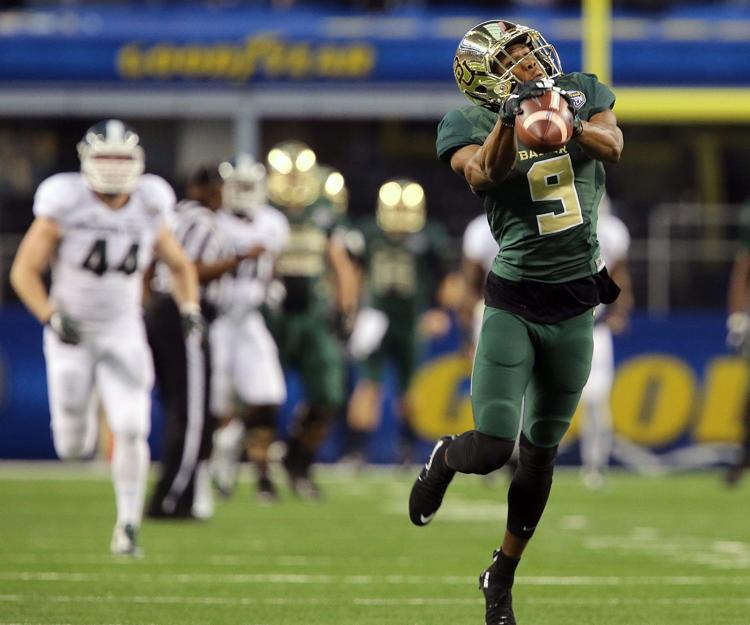 Utilizing new offensive coordinator Kendal Briles' creative play calling, a lot of Baylor receivers had big days as Cannon caught eight passes for 197 yards and two scores and Coleman made seven catches for 150 yards and a touchdown.
But the Bears couldn't enjoy their big numbers. All they could think about was how they let a 20-point fourth-quarter lead slip away in a major bowl.
"It stinks," Norwood said. "I'm still trying to figure out what just happened. We needed one more (touchdown) to put the game away and weren't able to do it. It's hard especially being a senior and knowing I won't get to play with these guys again."