LAWRENCE, Kan. — Baylor coach Matt Rhule always makes his players dress classy, requiring them to wear suits to road games.
But if the Bears win, he lets them travel back to Waco in their sweat tops and pants.
With Saturday's 38-9 blowout of Kansas, Rhule won his first game as Baylor's coach, and the Bears got the chance to come home dressed in casual attire.
In the postgame locker room, the Bears chanted, "No suits, no suits, no suits."
"It was a huge motivation," said Baylor senior linebacker Taylor Young. "There's a whole bunch of guys on our team who are over 300 pounds. Having to button that top button around that 21-inch neck, that's a big deal."
Making the first start of his college career, freshman quarterback Charlie Brewer showed all the savvy and versatility that made him a record-setting quarterback at Lake Travis High School.
Brewer was remarkably accurate as he hit 23 of 29 for 315 yards and three touchdowns with no interceptions. Though he picked up just 22 yards on eight carries, he had some key runs for first downs. He even caught a 20-yard pass from wide receiver Jared Atkinson.
"I felt ready to go, I felt prepared," Brewer said. "I think all the other guys did too, and that showed. It definitely feels good. It's not fun to lose. Everyone is pretty excited and we just need to find a way to carry it on to next week."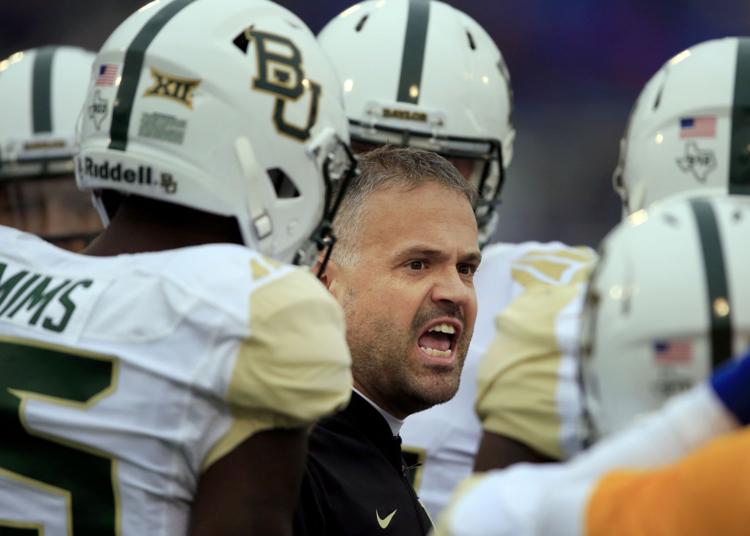 The Bears (1-8, 1-5) won their first game since a 31-12 win over Boise State in the Cactus Bowl last December. It was Baylor's first regular season win since a 49-7 blowout of Kansas on Oct. 15, 2016 at McLane Stadium, snapping a 14-game losing streak.
It didn't matter that it came against the struggling Jayhawks (1-8, 0-6) who have gone 1-23 in Big 12 play in coach David Beaty's three seasons. The Bears needed a win, period, regardless of who it came against.
"I'm just happy for the players, to see the weight lifted off of their shoulders," Rhule said. "I've worked them so hard and just to see Taylor Young and those guys out there playing such good football. So is it a relief? I think you could maybe say that, but you get into this field to watch young people be their best and have fun."
Rhule was impressed how Brewer handled his first start with sophomore quarterback Zach Smith sitting out with a shoulder injury. But he wasn't surprised the young quarterback played with so much poise.
"We know Charlie is a good player and he could go down and make some plays," Rhule said. "He was impressive. He threw the ball down the field a good bit and he had a chance at a couple of other ones, so we were aggressive."
Baylor's defense played superbly all afternoon as it held the Jayhawks to 289 yards, the fewest the Bears have allowed this season. With the Bears collecting three sacks and delivering heavy pressure, Kansas quarterbacks Carter Stanley and Peyton Bender combined to hit 19 of 36 passes for 163 yards with an interception and no touchdowns.
It marked the first time in the Big 12 era that the Bears haven't allowed a touchdown in a conference road game. Young keyed the defense with 10 tackles, including a sack and three tackles for loss.
"We played fast and like we were trying to prove something," Young said. "They didn't score a touchdown, so that was a big goal for us. We shut them out in the fourth quarter, and that was a big goal for us as a team. We got an interception and stripped the ball for a fumble, all the things we practice on."
LAWRENCE, Kan. —The Baylor tight ends haven't seen a lot of passes thrown their way this season, but that changed in Saturday's 38-9 win over Kansas.
After punting on their first three possessions and failing to score, the Bears erupted for three touchdowns in the second quarter to go into halftime with a 21-9 lead. The Jayhawks never recovered.
Baylor got its offense rolling at the start of the second quarter when Brewer found Denzel Mims drifting over the middle for 56 yards to the Kansas 19.
Mims led the Bears with five catches for 122 yards. He was shook up when he collided with a Kansas player while trying to make a catch in the second half, but Rhule said he was cleared to play.
Brewer spotted Gavin Holmes along the right sideline for a 26-yard touchdown to give Baylor a 7-3 lead with 13:15 left in the second quarter.
"I think Charlie put it somewhere where only I could get it," Holmes said. "It was a great ball and I knew I had to adjust to it, and that's what I did. Charlie was great. We knew he'd come out there and put his heart on the line."
On the next drive, Brewer led the Bears 74 yards on nine plays as he hit five straight passes for 61 yards. He threw a perfectly placed 25-yard touchdown pass to Jordan Feuerbacher to push Baylor's lead to 14-3 with 7:03 left in the second quarter.
It was the first touchdown catch for a Baylor tight end since Feuerbacher grabbed a 22-yard touchdown against Rice on Sept. 16, 2016.
Kansas answered with Gabriel Rui's 40-yard field goal, his second of the game after nailing a 38-yarder at the start of the second quarter.
But Brewer stayed hot on Baylor's next drive as he hit Mims for 30 yards to Kansas' 26 and then found a wide-open Trestan Ebner for 22 yards. Holmes finished off the drive with a four-yard touchdown run around the left side to open up a 21-6 lead with 1:42 left in the first half.
"We started off a little slow, especially the first quarter," Brewer said. "We picked it up and had a really good second quarter and carried it on throughout the game. The receivers were making plays and the O-line was blocking good. Those guys made me look good today."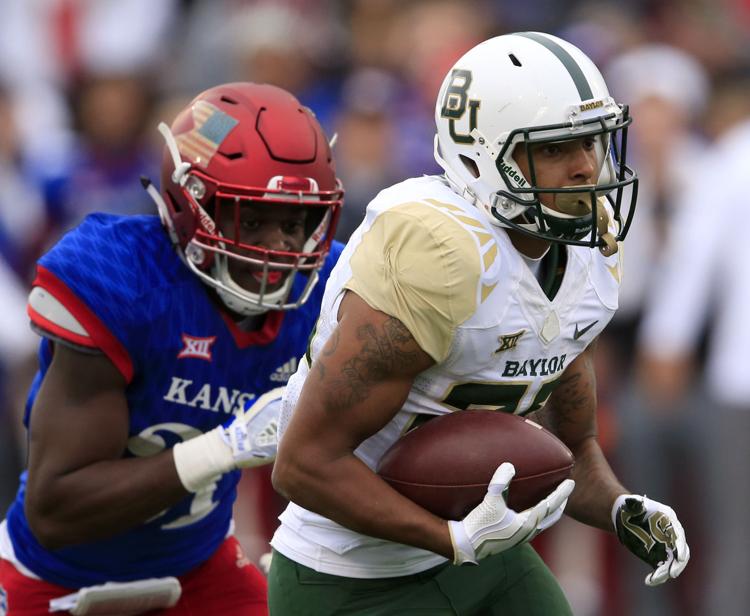 The Bears had a chance to score again when James Lynch recovered a fumble at Baylor's 46 after Rajah Preciado stripped the ball from Ryan Schadler.
Baylor showed some offensive creativity when wide receiver Atkinson threw a 20-yard pass to Brewer on a reverse play. But the usually reliable Connor Martin missed a 36-yard field goal.
After Rui nailed a 43-yard field goal to open the third quarter, Baylor stopped Kansas on its next possession and got ideal field position at the Bears' 46.
Brewer hit Mims for 19 yards and Holmes for 10 yards to the 2. On fourth and goal from the 1, Terence Williams rammed across for his first touchdown of the season to open up a 28-9 lead with 2:51 left in the third quarter.
Baylor finished off the win with Martin's 38-yard field goal and Ish Wainright's leaping nine-yard touchdown catch from Brewer with 2:31 remaining. For the former Baylor basketball player, it was his first catch and touchdown.
After the Bears play Texas Tech next weekend at AT&T Stadium in Arlington, they hope to come back to Waco not wearing suits for the second straight week. Perhaps they can start a tradition of chanting "No suits" in the locker room.
"It's a lot of singing and dancing and fun," Feuerbacher said. "We weren't sitting there saying I wish I had done this or that. We're going to enjoy it the rest of the night and then come in and watch film, and do whatever it takes to beat Tech next week."