Even the guys on the sideline have no time to rest.
One of the fringe benefits of Baylor's pedal-to-the-metal tempo in practice is that it provides the Bears' backups with more reps than they might normally receive.
Art Briles wants to go fast. The Baylor coach wants to play fast, and practice even faster. Set the ball, snap the ball, run the play, get the first team out, put the second team in, keep the pace rolling.
As a result, Briles said his reserves should never be overwhelmed or unprepared if they're pushed into game duty.
"That's not an issue, because all our guys get equal reps. I shouldn't say equal, it's probably 60-40," Briles said. "But those (backups) get a lot of reps. And defense does a great job of substituting guys in also, but from an offensive standpoint we're going so fast that we can't keep our firsts in there the whole time. … So we're not concerned about putting a guy in the game and wondering if he knows what to do. They know what to do."
Should Baylor starting quarterback Bryce Petty's back injury keep him sidelined this week, backup Seth Russell said he'll be ready to go. Russell said he tries to approach every week the same, diligently working out in practice and mentally preparing himself in case his number is called. But the third-year sophomore did admit that he may watch a bit more film leading into Saturday's game against Northwestern State, just in case he draws the starting nod.
"You never know what is going to happen on each snap," Russell said. "But you always have to be prepared and be ready to make the most of your opportunity."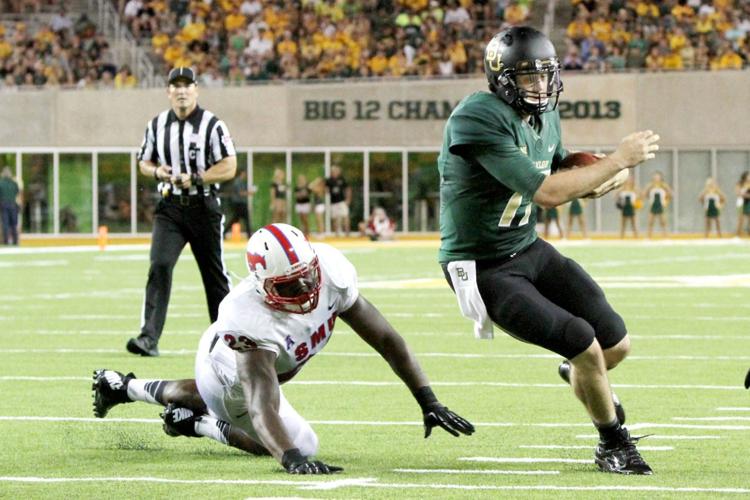 Russell has yet to make a collegiate start, but he isn't a wide-eyed newbie, either. He played extensively in five of Baylor's first six games last year, thanks to lopsided leads from the Bears in the second half. For his career, Russell has completed 39 of 66 passes for 551 yards, with four touchdowns and four interceptions, along with another three TDs on the ground.
"That's the great thing about Seth," Briles said. "He's got a lot of experience for a backup QB. I don't know how many snaps he's played, but if I was guessing, I'd guess close to 200. That may be on the low end, which is a lot of snaps in a college atmosphere. That's something that really helps."
A couple of guys who are very much still cutting their collegiate teeth are receivers Davion Hall and KD Cannon. Both true freshmen found the field a lot in Baylor's 45-0 opening win against SMU, due to injuries to starters Antwan Goodley and Corey Coleman. They said the rapid-fire reps they've received in practice helped ease their transition to game time, even if they had to overcome a few butterflies.
"It gets us prepared a lot, because we do things different," said Cannon, who caught two passes for 59 yards and a touchdown. "The way we run our offense is like conditioning. It's so fast, so it's basically like practice. It's full speed every time, so a lot of teams aren't prepared for it. "I really feel like we get a lot of reps as the twos," said Hall, who made seven catches for a team-high 86 yards. "The ones go so fast, and they're up-tempo, up-tempo, then we have to freshen them up with the backups. So that's where we step in and do what we do."
Naturally, it's still different going from the practice field to the game, especially when it relates to the nasty intent with which the defenders want to hit you. Briles was pleased, however, with how the freshman receivers transferred what they'd learned in camp to a game situation.
"They did exactly what they've been doing in practice, which is being consistent and making plays," Briles said. "That's all you can ask for. What you want in anything is a predictable outcome. The less drama, the less surprises, the better."
Ideally, Briles would prefer to have the likes of Petty, Goodley and running back Devin Chafin at his disposal. Injuries could prevent any or all of that trio from seeing the field this weekend against the Demons. So that means tapping into the backup generator's power supply, which has its own advantages.
"It's certainly tested our depth, without question," Briles said. "It's a good thing that we're able to be semi-productive at this time. So we're getting a lot of valuable experience early in the season, which will hopefully benefit us later on."
Bear Facts: Baylor's defense has been credited with a ninth sack in its 45-0 season-opening win over SMU. Initial statistics had Baylor landing eight sacks, but defensive tackle Beau Blackshear was awarded a sack on the final play of the third quarter, a play that was initially ruled a team loss for SMU. The nine sacks by the Bears ties a school record from a 1983 game against UTEP.