Everybody wishes they had access to a do-over button at some point in their lives. Say something stupid, make some mistake, suffer an unforeseen tragedy – who wouldn't want to erase such moments?
Shelly Fanning wouldn't alter her 2016 season, though. Give her a genie in a bottle, a magic eraser, a do-over button, whatever, and she still wouldn't change the fact that she didn't get to play volleyball in her sophomore year at Baylor.
That's because in retrospect, she can see why it happened.
"I think being redshirted last year gave me a lot of insight into being a different teammate," Fanning said. "Having a different role. It was just a really cool learning experience. I don't regret sitting out that year."
Fanning missed the entire 2016 season with a painful stress injury that reduced her vertical leap to "a credit card swipe," she said. The time off not only gave her a new perspective on the game, but it proved to be a disguised blessing in another way as well.
Shelly's father Bill spent last fall undergoing procedures for bladder cancer. Because she wasn't seeing action on the court, Shelly was able to spend valuable time with him and the rest of her family.
"Being redshirted, it was kind of a God thing that I was able to be there for my family," Fanning said. "It was pretty awesome that I was able to do that. Even though I wanted to play, I was able to be there for my family and then still have an extra season."
The time away didn't lead to any rust forming on Fanning's hi-tops. Entering Baylor's Big 12 opener against Texas Tech on Wednesday, the 6-foot-2 middle hitter out of Cy-Ranch is playing arguably the best volleyball of her life.
Fanning tops the team in blocks (49) and ranks second behind All-American Katie Staiger in kills with 152. She's also shown herself to be more efficient than a high-speed train, as her .421 hitting percentage leads the squad.
"For Shelly, she's always had that grit – a competitive warrior. Man, she's grown beautifully," Baylor coach Ryan McGuyre said. "Sometimes when things are taken away from us and given back, we tend to appreciate it so much more."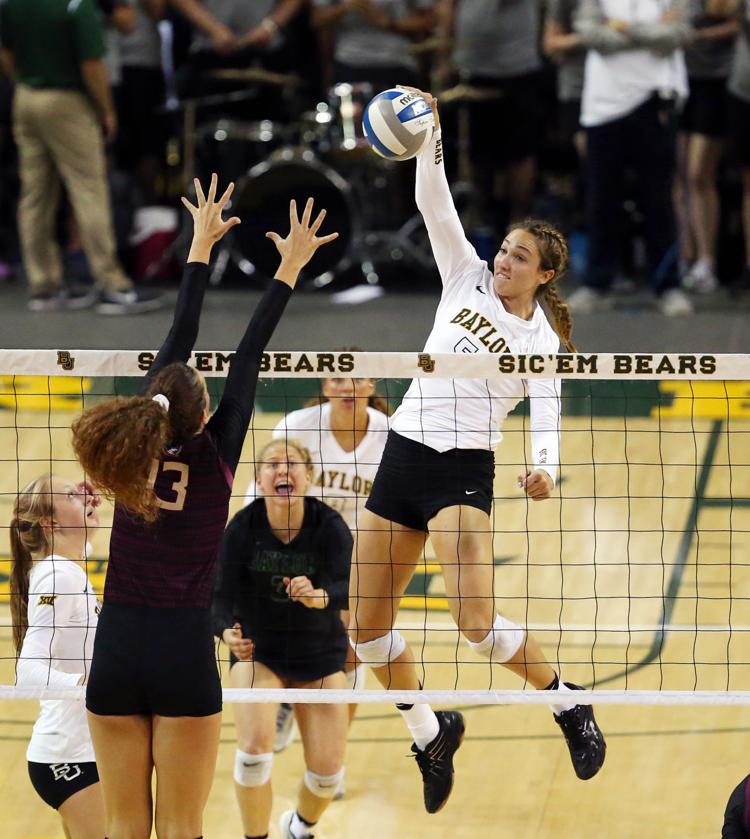 As a young girl, Fanning did her jumping on the back of a horse rather than in the face of an opposing blocker. She regularly participated in equestrian shows, and still feels a sense of nostalgia whenever she visits Baylor's equestrian barn.
Fanning lived in San Antonio through elementary school, then moved with her family to Houston when work led Bill there. In Houston, Fanning picked up track and field and eventually volleyball, though she was hardly an overnight success.
"I was like, my friends are playing volleyball in middle school, might as well do that as well," Fanning said. "So I tried out, made eighth grade 'C' team. So it was kind of a rough start. … I felt uncoordinated at first."
But she liked it – and she improved. In her freshman year of high school at Cy-Ranch, Fanning made the varsity roster. Before long, she started acquiring the interest of college coaches. However, she was so "clueless" – her words – that she didn't even know a scholarship offer was a thing until after she received her first one.
"I was very naïve to that whole situation," Fanning said. "Whenever I started playing club volleyball, a few of my coaches would come up to me and tell me that some college coaches are interested. This was new to me. I just had no idea."
Bill took over as Shelly's recruiting liaison. Shelly figured out that she wanted a smaller private school, preferably one whose mission aligned with her Christian faith. She narrowed her top three to Oklahoma, Baylor and Pepperdine, then trimmed OU from that group before ultimately settling on Baylor.
Fanning contributed immediately as a freshman in 2015. She whacked 290 kills and produced 57 blocks on her way to making the All-Big 12 Freshman and All-Big 12 Second Teams.
Near the end of that season, though, she started dealing with pain like she'd never felt before.
"The end of my freshman year I started to have pain in my shins," she said. "It's just like, athlete mentality, 'Oh, I'll be fine. I'll play right through it.'"
Baylor's trainers made her back off her workload, but the pain never subsided. By the team's Green and Gold Scrimmage just before the 2016 season, the effects were crippling. The coaching staff and trainers suggested that she should redshirt, though initially Fanning felt like she'd rather gargle gasoline.
"I was more mad that I couldn't perform for my team than I was that I was injured," Fanning said. "I think I was upset because I had an opportunity to be in a critical spot, a part of this team this (2016) season, and it's something that was taken away. So I was kind of upset that I let my team down. That's how I felt."
Time has healed those wounds. Perspective can be hard-earned, but Fanning's pockets are stuffed with it.
Sometimes it blows in with the wind. Like so many families from the Houston area, Fanning's home in Cypress experienced water damage from Hurricane Harvey, but "nothing serious," she said, a fact for which she is deeply grateful.
Another enormous blessing: Bill's health is much better. "He's stayed out of the hospital for a few months now, so that's good," Fanning said.
That season on the sideline served to open Fanning's eyes to the possibility of coaching. She loves the game of volleyball and said she has benefited greatly from the guidance of Baylor's coaching staff, and she is tempted by the idea of paying it forward as her career someday.
Or, who knows, she might take to the air. Bill was a Marine and Fanning's older sister Mandy graduated from the Air Force Academy while her older brother Travis is a Naval Academy graduate. Shelly said that she has considered joining the Air Force after college herself.
"That's not set in stone," she quickly added. "I'm just kind of leaving all my options open."
She still has two full seasons of eligibility on her docket after this one, thanks to her redshirt year. So Baylor should benefit from her high-flying services – her vertical leap isn't credit card-sized anymore — for the foreseeable future.
"I'm excited that I get another season to play and pursue education," Fanning said. "You mentioned does it seem like that's how it was meant to be, and I really do feel like that was God's plan for me."