A cold front blew in late Friday and brought autumn-like temperatures to Central Texas.
But even Mother Nature couldn't cool down the Baylor track and field team.
The Bears delivered another well-rounded effort at Saturday's Michael Johnson Invitational, cutting through the wind to produce seven event titles against a sturdy field. The conditions may not have been ideal for the sprinters and jumpers, who typically don't mind a bit of warmth. But the likes of Maxwell Willis and Leticia de Souza nevertheless burned some rubber (or, rather, green polyurethane).
"Even Notre Dame, this is probably warm for them, but even they said, 'It's cold.' It kind of wore on you over the day," Baylor coach Todd Harbour said. "The sun came out there a little bit at the end, warmed it up, then it cooled off again once it started getting dark. But I thought we battled through it really well, and I thought our athletes really competed, for the most part, at a really high level."
Willis picked 'em up and put 'em down as well as anyone. The freshman sprinter from Washington, D.C., blazed to victory in the 200-meter dash, popping off a time of 20.36. That was just six thousandths of a second off the stadium record held by a guy most fans have probably heard of – 2016 Olympian Trayvon Bromell.
If it had been up to him, Willis would have dialed up the temperature by about 20 degrees. In fact, he said that stadium record would have been his for sure on a warmer day.
"Mentally and physically, I was just cold," Wilis said. "I just gave it my all, came across the line. I wasn't happy, but then at the same time I was happy because it was just cold, so mentally I was just down. I'm still counting it as a blessing, I'm happy to have that time in the books."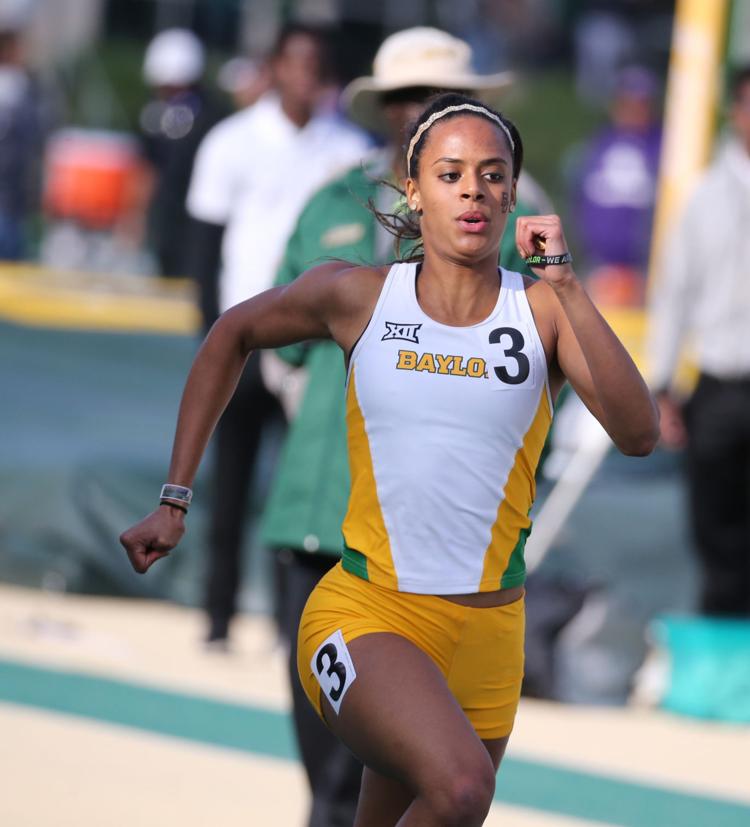 In the women's 400, Baylor's Brazilian transfer Leticia de Souza crafted a victory that should bolster her confidence as she pursues a national title. The junior showed plenty of power as she pierced the headwind on the opening 200 meters, then sailed away like a kite on the homestretch, completing the race in 52.74 seconds.
The third-place finisher in that race? Miami senior Shakima Wimbley, the NCAA 400-meter champion during the indoor season. Longtime BU coach Clyde Hart approached De Souza in the cool-down area after the race and reminded her of that fact.
"Some of those girls you beat aren't bad," Hart said. "In fact, one of them is a national champion."
De Souza's time wasn't a personal best, but she still came off the track bouncing with enthusiasm about the path ahead.
"She's one of the girls that I've always liked watching her running," De Souza said. "She's amazing, and she's had amazing results. So, I'm happy to be able to vie with her."
Baylor senior Annie Rhodes added one more home-meet pole vault title to her career docket, though she also is gazing higher into the heavens. Rhodes executed with power and precision, clearing a season-best height of 14-5½ for the gold medal.
Then Rhodes made three attempts at 14-9½, which would have surpassed her own school record of 14-7¼. Twice she actually soared over the bar, only to clip it just enough to bump it from its perch on the descent.
"Both times, honestly, I kind of came off of the bar thinking I had cleared it," Rhodes said. "And then by the time I hit the mat, I saw it fall. And it's like your worst nightmare as an athlete, thinking you cleared it. … But, you know, that 14-9 is not my goal, 15 feet is my goal."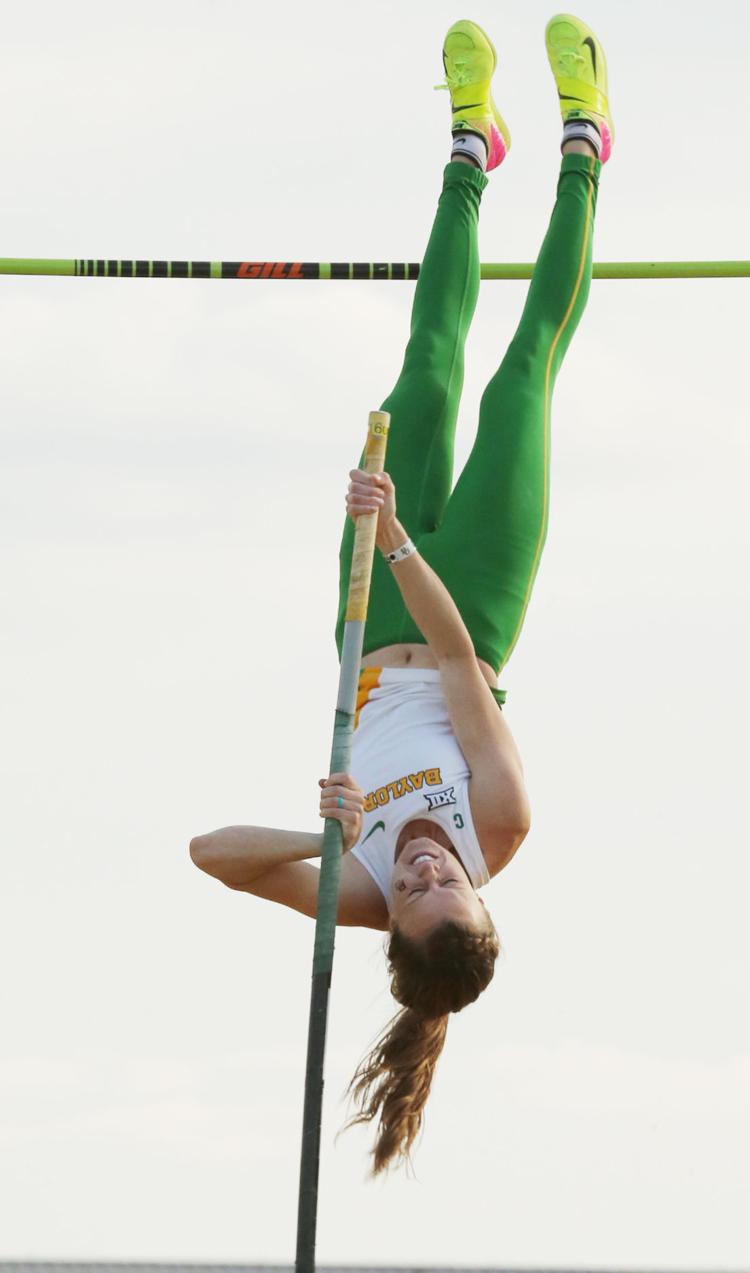 In the men's 400, Texas A&M senior Fred Kerley wowed the crowd by ripping up the track as if it were a 72-degree day with no wind. Kerley, coming off an NCAA title during the indoor season, ran a stadium-record time of 44.60 to power to the win, while Baylor's Wil London was second at 45.78 and George Caddick third at 46.13.
Kerley didn't run for the Aggies in the 4x400 race, but A&M is always loaded with standout sprinters and quarter-milers. So the fact that the Bears raced to victory ahead of the Aggies was nothing to dismiss, especially since Baylor was also running without its normal relay performers, Caleb Dickson.
Baylor's team of Willis, London, half-miler Zach Curran and George Caddick produced the win in a time of 3:04.98, ahead of A&M's 3:05.16. Curran fell behind to third at one point during his leg, but closed strong to hand off to Caddick in a near dead heat with A&M and a professional team from Shanghai, China. Caddick then held off A&M's Mylik Kerley in the final 20 meters.
The BU women's 4x400 won going away, with De Souza flying around the track on the anchor. The Bears' foursome, which also included Victoria Powell, Kiana Hawn and Kiana Horton, posted a time of 3:36.85.
"To end on the 4x400s with two wins, two solid victories there, against some great competition, that was a great way to end the meet," Harbour said.
Baylor also gathered wins from senior Cion Hicks in the women's shot put (53-9¼), junior Hawn in the women's 400-meter hurdles (58.30) and senior Matt League in the men's 1,500 (3:53.03).
Harbour also praised the effort of Chris Platt, who played in Baylor's spring football game earlier on Saturday before contributing a split of 47.5 seconds on BU's "B" 4x400 relay squad.
Baylor will compete once more – at Friday's Texas Tech Quadrangular in Lubbock – before opening the postseason part of its schedule at the Big 12 Outdoor Championships May 12-14 in Lawrence, Kansas.
BEAR FACTS: Baylor recognized 19 seniors during a break in the running finals, including professional star Trayvon Bromell in that group. Bromell is slated to graduate with his original class. … Baylor sophomore Megan SaxvanderWeyden finished second in the javelin, with a school record throw of 152-3.