Moving ahead through relationships, collaborations: Q&A with former Waco Mayor Malcolm Duncan Jr.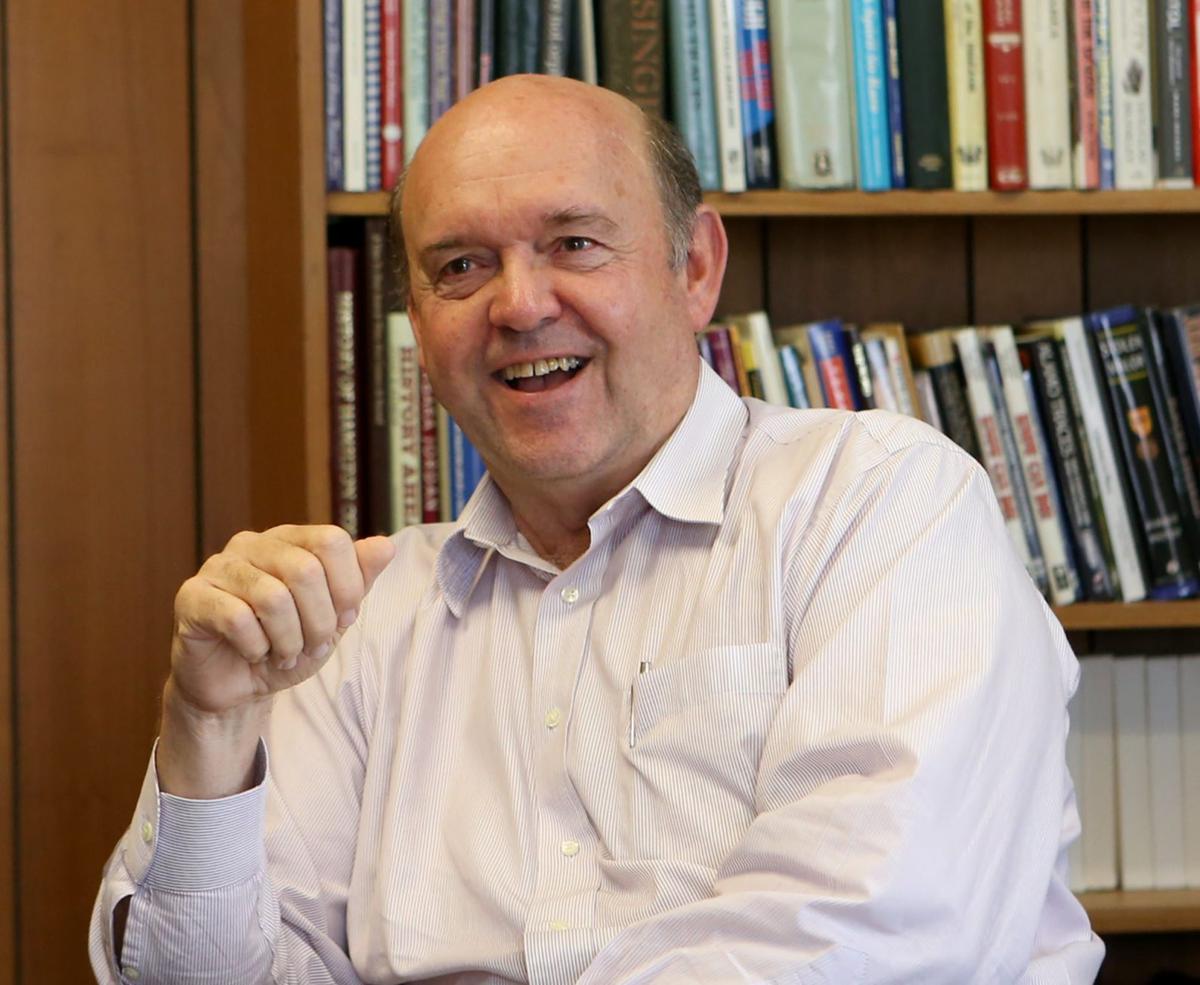 Last Tuesday, Malcolm Duncan Jr., 63, stepped down as Waco's ubiquitous, industrious, ever-inquisitive mayor after a busy four-year tenure. Hailing from a family that longtime friend and fellow civic leader Wilton Lanning describes as existing in a "perpetual state of civic heat," Duncan helped launch the Prosper Waco initiative to battle chronic poverty; worked to reverse the city's abysmal pet-euthanasia rate at the animal shelter; spurred innovative forces behind the popular Waco Downtown Farmers Market along the riverfront; met with Baylor University officials to ensure this growing institution of higher learning is part of city solutions; supported educational endeavors in struggling neighborhoods; and bridged racial divides, as at last weekend's commemoration of the Jesse Washington lynching 100 years ago. On Wednesday he sat down with the Trib to discuss his insights and lessons learned.
Q     Last summer, when I pressed your father, former mayor and school board trustee Malcolm Duncan Sr., to get you to run for another term, he told me that he had really tried.
A    You know what he did? He came to me and said, "Well, then, how about the school district?" [Laughter.]
Q     The city charter allowed you one more term as mayor. Why did you step down when a final two-year term might have allowed you to ensure clear sailing for so many projects you helped launch?
A    To perform at the level I was is hard on the organizations and I think the culture in them is ingrained now anyway. And I'm just not as capable as I was four years ago. Really, you lose a certain edge and enthusiasm over time. I mean, I haven't lost any enthusiasm, but my focus gets so narrow that I lose my ability to look at the big picture. And that just takes new blood.
Q     Given you grew up here, what's one thing about Waco that you know now that you might not have been aware of just four years ago?
A    There are several things, but the most striking is what I hear from people who come to town and want to get civically engaged. They say they've never been to a town that has been so receptive. They say they've never been in a place where, if someone really wants to express himself or herself and do community work, they can sit down with others already engaged in community work and they can really do things. And I never really fully understood that. But I think this is part of our culture. It's become a real defining point. I mean, we've been working with Kristyn Miller at CampusTown Waco [an initiative that seeks to connect college students to jobs, internships, recreation and service opportunities to get them to become engaged with Waco and consider settling here]. It's so appealing to the students. Baylor University and the city partnered on hiring Kristyn, who graduated last year, to head this attraction/retention talent piece for Baylor, McLennan Community College and Texas State Technical College graduates, which was identified as a real need by Prosper Waco. I mean, you just can't work from the bottom-income levels up. You've also got to work to attract the high-income earners, so we've had a very purposeful engagement in that. And Kristyn said, "People want to have that level of engagement. It's not all about money, it's about being fulfilled as a person." Granted, we still need high-income jobs and we still have to work on that, but to be able to offer this kind of an opportunity is a unique draw. We're in such a unique position with that talent pool here. When we first talked with the chancellor at TSTC, he said, "Do you know how many of our students come from Waco?" And I said, "No." And he said, "Well, you can just about count them all on two hands — and all those students who come from somewhere else go back somewhere else."
Q     Tuesday marked the end of your tenure. How did you celebrate?
A    Somebody texted me at one point and asked about my state of emotion. "Are you happy? Are you sad?" And really I'm just relieved. I mean, you're not quite in a state of worrying about things all the time as mayor, but you do have this feeling that you are responsible for all these things. Now I can let it go.
Q     Of course, you'll continue to serve on the Prosper Waco board and Waco Foundation board.
A    Yes, and I've offered to serve on the United Way board. I took the city's spot because we're totally reforming the United Way. We're going to a collective impact model. We got a lot of information from Prosper Waco [whose protocol employs a collective-impact model to battle chronic poverty] and from the consultant for the National United Way. We had this national United Way initiative to start measuring impact. Our method of doing that was asking the agencies benefiting from United Way, "So what is your impact?" And then they would give us all these traditional measures of output or input. But it wasn't about outcomes. So now this whole culture of metrics and accountability and measuring performance and shared agendas and shared goals — all those things we do now with Prosper Waco — will be part of United Way so we can eliminate a lot of duplication. I've also offered to go on the Tax Increment Financing Board of Directors [which assists in development or redevelopment of economically disadvantaged areas]. And then the Waco Housing Authority — you know, we've heard from the National Resource Network folks [regarding strengthening local neighborhoods] that we need to be much more aligned with the work of the housing authority.
Q     So much of what Prosper Waco does counts on Waco Independent School District campuses in struggling neighborhoods doing better academically. What happens if the schools don't perform as we hope?
A    There has been so much success in the Prosper Waco education segment. First, we've gotten the schools to agree on what a standard of assessment is for pre-K readiness [to better prepare students for primary grades]. We've never had that. And we had a great conversation with our parks and recreation superintendent yesterday about how we align our after-school programs in our community centers with pre-K readiness standards. So it's all aligned and collaborated. To say we've got schools that aren't performing and that Prosper Waco can't do something about it is not the way collective impact works. Once you get people to the table to agree on what the measurement is and how the strategies align to do that — well, it's really encouraging to see the resources already here. And this doesn't take new money. I mean, there have been two great articles in the Trib this week about Prosper Waco initiatives that are done by other people. The Vroom app [a smartphone app that provides interactive brain games parents can do with their toddlers] — I mean, we have a personal relationship now with the Bezos Family Foundation [which supports rigorous learning environments and pioneered Vroom and other initiatives regarding early brain development]. It knows about Prosper Waco and what we're doing because we've introduced their app into so many different schools and so many different neighborhoods. We're one of its pioneers. And look at what's happened at University High School. That piece today in the paper [about Project Link team efforts that yielded a 100 percent college acceptance rate for University's 339 seniors] is striking, all because of Project Link, which was a Prosper Waco initiative that the Rapoport Foundation seeded. Once we got it going over there, all the kids wanted to be Link students!
Q     And that has been a troubled school.
A    I gave the story today to Tom Stanton [executive director of the Rapoport Foundation] and he said, "Oh, I haven't read this." And I said, "Tom, you better read this and get it to your board before anyone else does!"
Q     What would you say is your legacy as mayor?
A    You know, I think about that all the time because I was sitting there when you were interviewing [former City Manager] Larry Groth and you asked Larry that. And I was running through my mind all the projects that Larry had done and he said, "Well, it's about the relationships." And my jaw dropped. Of all the things this guy has done, that's what he thinks was most important? And yet I think he's right. But I think it's taking it a step further. It's putting those relationships to work and the collaborations that can be brought up from those relationships. Look at not just the city and Baylor, but, well, I was talking about the city's relationship with County Judge Scott Felton. I can't tell you how different the relationship between the city and the county is.
Q     So what is Scott Felton doing that makes it easier for the city and the county to work together?
A    We sit down and agree on common priorities and the barriers that we have and we figure out that we both have a role to play and we both need to contribute to the solution. I mean, we never could sit down with the county before and talk about shared responsibilities. We've now traded roads with them and we're doing water and sewer work out in areas that they want to develop. And they're actually doing road work, they're building new roads. They're going to have a bond issue to build new roads. [Road repair projects include Speegleville Road, Surrey Ridge Lane and Chapel Road.] And if we can plan together and not just facilitate what we have but rather how we plan for the future, that's great. Reagan Ramsower [Baylor's senior vice president for operations and chief financial officer] and I were just talking — I mean, that relationship has just blossomed.
Q     You've mentioned how almost every week some new endeavor comes up in which the city and Baylor partner. The Baylor bubble of insularity persisted a while there. How did all this change?
A    It started with Judge Ken Starr [Baylor's president] and with the city recognizing that we have a significant community asset there on so many different levels that we have to figure out how to work with them. So it's mutual.
Q     Does any project symbolize what you're talking about?
A    CampusTown. And now we're talking about whether there are other ways we can engage Baylor's Department of Entrepreneurship and Corporate Innovation or the business school or the law school. There are so many different natural tie-ins involving what goes into the university and what comes out of it.
Q     Yes, which is why I was shocked.
A    I was naive. But maybe the terminology is wrong — "looking after" is not the right way of putting it. "Listening" is the word. I don't think we have bad legislators and I don't think we're misrepresented but I just don't think we're in enough conversations about what our priorities are to share in any solutions.
Q     What's the problem?
A    Partisan. Partisanship.
Q     New mayor Kyle Deaver the other night saluted your work to make Waco a "kill-free city" in terms of stray and unwanted animals at the city animal shelter, accomplished by getting some very disparate groups [Humane Society of Central Texas, Fuzzy Friends Rescue, the Waco Animal Birth Control Clinic, city officials, etc.] to work together toward a common goal. Knowing the folks involved and problems they had in the past, I wasn't so surprised that Waco reached a 90-percent live-animal exit rate, given your own force of personality, but that the shelter has actually maintained this.
A    Yeah, even in that temporary shelter, we're at 92 or 93 percent. It's a testament to the people and the collaboration. If you'd asked me, I would not have identified no-kill as one of our goals. I never would have thought we'd gotten there when we were killing seven out of 10. It's really about alignment across sectors. I mean, you had the breeders, who resented everything we did, working at cross-purposes with the adoption agencies. And you had the foster homes, the veterinarians and the police function of animal control officers and all of those groups have to work together. Deputy City Manager Wiley Stem told me last night, "You know when you first talked about putting money into spay and neuter, you told me to go and talk to Larry Groth about it and I did." Larry and [then-city budget officer] June Skerik were in a room and Wiley told them that I wanted to put $100,000 into it and Larry looked over there and June just threw her pencil down. The truth is nobody really wanted to do it, but once we did it, that was the best $100,000 we could have spent because then we had this outreach piece, talking to people in the community about what responsible pet ownership really looks like. And we made it affordable by subsidizing spaying and neutering and the microchip work so that it wasn't a financial burden. So you want to ask about how we're at 93 percent? Well, our intake [of animals] went from over 10,000 animals a year to under 6,000.
A    That's what Target Zero [a Florida-based nonprofit which assists cities striving to set up no-kill shelters] told us. It's not about what you do in the shelter, it's about what you do to keep them out of the shelter. Look at Dallas. They're going about it exactly wrong. They have a picture of an animal control officer and they say, "We need more of these and we need to be issuing more tickets." But that's not how you fix the problem. The $100,000 seed money we put into this problem [for spaying and neutering and a community awareness campaign spearheaded by Mistie Gonzales of SpayStreet Waco] — we even changed the culture of animal care officers. We no longer call them animal control officers. They love their jobs now. Their job is all about keeping these animals with their owners. It's not about picking them up and dumping them at the shelter.
A    We had strict rules about how it had to be local. We had strict rules that it was not going to be arts and crafts, it was going to be food, and we had to have the support of the vendors. It wasn't going to work if we didn't structure this market to be positive for the vendors, so we had a position on the board for a vendor — Terry Vanderpool [of Vanderpool Gourmet Gardens] was the first — and he really helped get a lot of those rules set up. We had a really good board, a board that works. Listen, I've been to a lot of farmers markets and this is one of the best in the state. We had our Farm-to-Table Dinner the other night. It was just a huge success. Chef Corey McEntyre of Milo Biscuit Company went to different farm providers and asked what they could contribute and they came up with a menu and then we got one of the vendors to donate the wine. It was as good as Waco gets — down there on the river and it was such a unique blend of people. I invited [school board president and attorney] Pat Atkins and he brought his daughter, who graduated from UT last year, and they were right in the middle of it all. And she was engaged in all this conversation on both ends of the table and she finally told her dad, "You know, if you had told me Waco was like this, I would have come back!"
Interview conducted, condensed and edited by Bill Whitaker.