Last month a survey commissioned by the Waco Foundation showing overwhelming community support for public school curriculum that battles teen pregnancy was outlined for the Waco Independent School District board of trustees.
A survey of 1,340 local parents found 85.5 percent believe teens should have access to birth control and 96 percent believe it's crucial for sex education to be a part of public education.
In a roundtable Q&A, the topic was discussed from the perspectives of parents, community leaders, health care providers and educators, particularly given that teen pregnancy is not only the result of chronic poverty but, in its cyclical nature, a contributor to it. Teenage pregnancy costs Waco $6.9 million a year in health and social services, lower earnings and incarceration, according to a quality-of-life study on the city completed by Texas A&M University.
Participating in this interview conducted by Trib opinion editor Bill Whitaker and staff writer J.B. Smith are Waco ISD Superintendent Bonny Cain; Waco Mayor Malcolm Duncan Jr.; Waco Foundation executive director Ashley Allison; and Ashley Weaver, director of the foundation's SmartBabies Initiative, which focuses on boosting the quality of life of children from infancy to age 3. The discussion began by focusing on an earlier SmartBabies Early Childhood Initiative report rating communities on fetal deaths, teen births, prenatal care, median household income, home foreclosures and child abuse. It continued to include discussion of San Antonio's successful "Me Now Baby Later" campaign. Waco ISD sex-ed curriculum is primarily limited to one week only for grades 6 and 9.
Q    Why is the Waco Foundation focusing on teenage pregnancy?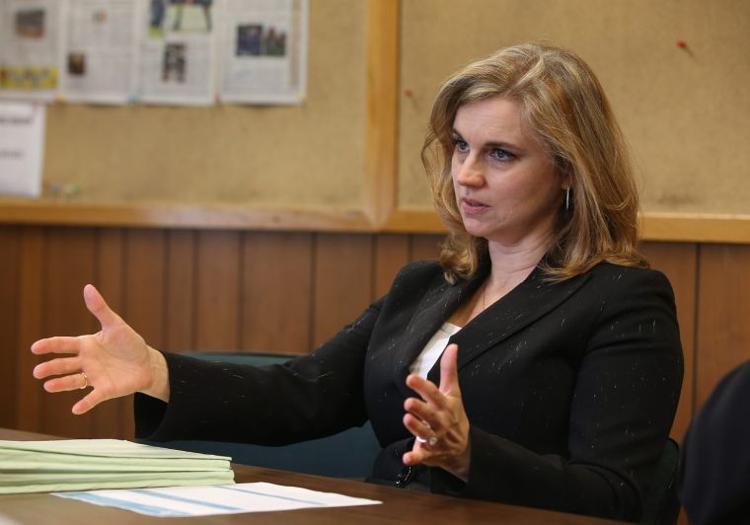 Ashley Allison    We've been talking about that quite some time in this community. And we do know that there is a lot that can be done during the first three years of life — a lot of brain development happens from ages 0-3. There's a lot of research that is now beginning to support what happens in those years when the mother is pregnant and the first three years of life. They have a lot of impact. Bonny here wants more students who are ready to learn when they come to kindergarten because then her teachers can be more effective in teaching them. Everyone has commonly agreed to that. That's why we commissioned this study (on ranking local communities). It's been guiding our work the past three years. We did this early childhood quality-of-life index because, think about it: How do you determine what a child's life is like? When they enter school, we have to actually legally keep up with whether they're on reading level or not. But before they enter kindergarten, we really don't know. All we have are shots records and occasionally you have a child organization that keeps up with them, so we did this study to say, 'What's going on?" You have to look at certain factors that show the likelihood of a child having a good experience in early childhood. And it really comes down to when Mom has her baby and whether or not she's prepared to have a child when she actually has it and the kind of care she gets when the child is in the womb. You can see that so many of these things are related to prenatal care and the age Mom is when she has the child. And then a lot of things are about her ability to support the child — whether or not she has a job, whether she has stable housing — things like that impact that (period) ages 0 through 3.
Q    I see parts of East Waco rank 1 or even 0.
Allison    And 10 is good. But you can see some of these zip codes (in Waco ISD) have very low scores on teen pregnancy. If you're looking at how you address all these other factors — well, the evidence shows that if you are born to a teen mother, you have a lot of things stacked against you beginning with whether you're (prepared) for kindergarten or pre-kindergarten and not being able to read at grade level. When we started talking about early childhood (some years ago), we didn't think this would necessarily end up (focusing on) teen pregnancy, but so much of this is tied there because a lot of these other factors are also magnified if you're born to a teen mother. I mean, you're much more likely, for instance, to have higher infant death rate or low birth weight if you're born to a teenage mother.
Bonny Cain    This is part of the poverty culture that we face every day. It's all interwoven.
Q    Nationally, at least, teen pregnancy is improving. Now Texas continues to have problems there—
Allison    Texas is in the top five (for teen pregnancy rates).
Q    How serious is the problem in Waco ISD?
Cain    Serious. And there's a lot of reasons. The most obvious is it's a child having a child. That sounds trite, but I don't know how else to say it. As a parent, when you're mature and have some age on you and some money, it's still hard to be a parent and make good decisions. But to be 14 years old? Sometimes they're just disengaged in school, sometimes it's just the home life. I mean, when you have extreme poverty, there can be a different permissiveness in sex. In fact, there was this one girl whose mother was really happy her daughter was having a baby and she was like 13 or 14! And I said, "Help me understand why you are not saying, 'I'm going to love you and I'm going to love your baby, but couldn't you have waited?' " And she said, "You don't understand. In your life and the lives of everybody else you hang around with, there's high school graduations, there's college graduations, there's new jobs, new cars. For us, this is it. Having a baby — a new baby in the family — is the big celebration. That's what we have to look forward to. We're not going to graduate from high school, we're not going to get those big jobs. We get fired from jobs." It's a different world. They'll talk to you about the money: "I'll be bringing another $500 into the family every month" (in welfare). Yet (you might tell them that) the baby costs you $700 a month. (And they say), "No, no, the baby won't cost me $700 because we're on food stamps and we've got this and that." And so it becomes an economic discussion. There are so many problems on so many levels that we need a comprehensive program that starts early. I mean, obviously in kindergarten you don't talk about sex (education), but there's still ways to build into the system (to discourage teen pregnancy later on).
Q    But should this burden fall on the teachers when it's really a societal problem?
Cain    At one time we would complain. That's something I'm trying to get the teachers out of. We can sit there all day and say, "It's not our job." Well, you know what? It's our job now. Waco ISD is saying, "Whatever the problem is that's keeping this kid from graduating is our problem." And the city and other organizations in Waco recognize that and are trying to help.
Q    So there's effectively no comprehensive sex education curriculum in the Waco schools now?
Cain    WISD went from K-5 sex-ed programming, to 6-12 sex-ed programming, to now just sixth and ninth grade sex-ed programming one week per grade level for one class period per grade level. At one time school districts were required to teach health. Then the state did away with the health requirement so now health is not a separate class, it's embedded into science classes.
Ashley Weaver    Ashley Weaver Oftentimes people think of sex education in connection with the school district. One of the things we understand more clearly now based on best practices in other communities successful (in cutting teen pregnancy rates) is that it has to be a collaborative effort throughout the community. You have to be thinking how to connect those dots, all those (nonprofit, church and governmental) partners, and how you can make those parents, those in the community, those teens and all of the stakeholders better recognize their roles in preventing teen pregnancy. It's not about just educating the teen and calling it a day. It's how you educate the relevant health care providers and how you educate the parents.
Allison    There are a lot of reasons for teen pregnancy. Some of them are pretty hard. I mean, if you have a family that is very supportive (of the idea) and they say, "It's your job to have a child at this age to support the family" — well, that's the tougher one. What you want to look at is this: Are there people out there who are sexually active who are not interested in being a parent and do not understand how to make that not happen? Is that a group you can work with? You want to look at different aspects of the problem. I mean, there are more than 500 births to girls ages 13 to 19 in McLennan County each year and all of those kids go to school. So you have 500 students in this struggling area. So how are you going to change things if that child has an 83 percent chance of just having another child that's going to struggle? There's nothing that locks you into cyclical poverty more. So we have to try to do something to help people escape this cyclical poverty. The good news is other cities, other communities, have done this very effectively.
Allison    Chicago and Milwaukee have cut (teen pregnancy) rates in half. The one we're monitoring most closely is San Antonio because it's a city in Texas and has a lot of the same issues that we think we're going to have here. And they've cut their rates by 36 percent (from 1994 to 2010) and they do what Ashley just mentioned: a comprehensive approach where everybody in the community takes responsibility for doing some piece of the solution, something that goes on in the schools but is also supported by other parts of the community. It means everybody getting on board if we want to get our teen pregnancy rates to go down.
Q    So, Mayor, how does the community get involved in such a thing?
Malcolm Duncan    We've got to speak with a unified voice. And I think one of the things that everybody dances around is (the fact that) abstinence-based education has not worked. And that's been the bugaboo — that we can't talk about what we really need to talk about because it's so politicized. And yet it's got to be a common message and it's got to be (executed) in little steps. Everywhere we interact with a child — from the sixth grade or wherever you start, from kindergarten to high school, it's got to be integrated.
Cain    Too often no one's talking to these kids at home. My first year here, we had two ninth-grade Hispanic kids — sweet, sweet couple. And they came in and wanted to talk to the school nurse. They said, "We've got a problem. We've been trying to have a baby and we can't."
Q    They had no idea they were pursuing the right thing at the wrong time?
Cain    They don't even understand and no one has ever told them. If someone would just sit down with kids like this and say, "Don't you want a nice house? Don't you want a car?" I mean, someone needs to talk to them about the order of things. Baby? Good thing. But baby is down here on the to-do list. High school is here. College is here. Getting a job is here. Getting a bank account is here. But that conversation isn't happening. So this sex education approach must include that kind of conversation for that kind of kid.
Allison    Plus we know more about what's effective in terms of curriculum and what's not after 10 years of studies. The National Campaign to Prevent Teen Pregnancies actually talks about which programs have been shown to be effective and what the outcomes are. Now there's extensive research and you can pick approaches based on outcomes and methods and what's the best fit for your community. And I think that's what you want to do — incorporate those new practices into what the school district would want to do about this moving forward. But we're really extrapolating here because all we want to do right now is share. Based on this survey, leaders have the permission of our community to move forward with this — and here's what is successful in other communities. And it's not just because teen birth rates are high or low, it's because if you want to address poverty, which is a local priority, here is your source. It's the cheapest way to address this — and we're not doing anything right now.
Duncan    To me what's a major accomplishment of the last three years is we can talk about all this on a much-faceted basis and everybody understands that it impacts us. It's not a problem limited to the schools.
Cain    Plus there's a big chunk of life that these boys and girls are missing that they don't have a clue about. We're talking about choices in life that are no longer choices because they suddenly have this huge responsibility. It limits their potential.
Duncan    And what could you care more about?
Interview condensed and edited by Bill Whitaker