Last week: Seattle native Don Schreiber joined the ROTC program at Washington State University. Upon graduation he was commissioned as a 2nd lieutenant in the U.S. Air Force. He began jet training in 1965 and wound up spending over 28 years in the military.
During his first tour in Vietnam, Woodway's Don Schreiber, 74, then a U.S. Air Force pilot, had his first serious incident flying an unarmed Phantom RF-4C with the 11th Tactical Reconnaissance Squadron. Equipped with cameras — but no guns — the mission was to gather evidence to refute a claim that the U.S. had bombed the Russian Embassy in Hanoi.
Schreiber, then 25, flew as wingman to Col. Vernon P. Ligon Jr., commander of the squadron.
The men left their home base in Thailand, with Ligon in the lead. Flying to the Red River, they came under fire as they arrived. Since they had no weapons, there was nothing to do but try and avoid danger.
Suddenly, Schreiber saw the first of 12 surface-to-air missiles coming straight at them. One hit its target and exploded in Ligon's tailpipe. Schreiber was on his commander's wingtip when "(Ligon) just stopped in the air," he said. "I'm going 1,200 miles an hour and he just stopped," causing Schreiber to scream past him.
Schreiber initiated a rescue mission to find Ligon, but the colonel was captured and imprisoned for nearly six years in the infamous "Hanoi Hilton." He wouldn't be released until 1972.
Instructed to land, Schreiber did so, and "the moment I shut down the engines, I started shaking like hell. They had to help me out of the cockpit. That was a rough night," he said. He was sent out the next day on a mission by his new commander, who advised getting right back out.
"Every mission I was shot at," he said.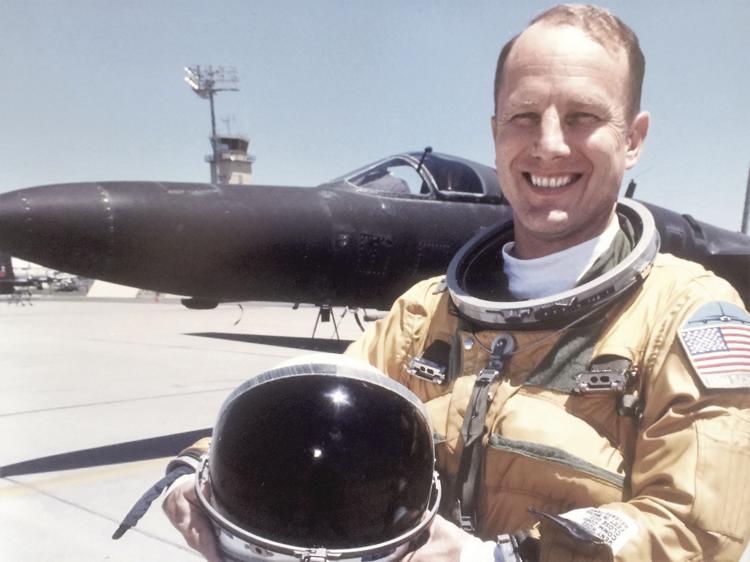 Home, married, back in the air
Returning to the States in May 1968, Schreiber was stationed at Beale Air Force Base in California, when he met Pam Driver. Six months later, they were married. Schreiber continued to advance his career. He returned to Vietnam many times through May 1975, flying three different planes, including the KC-135 refueling tanker and the U-2, a jet that could cruise at 70,000 feet, travel a range of 3,500 nautical miles and stay airborne for over eight hours.
"It's a tricky plane to land," Schreiber said of the U-2. "It must be in perfect alignment, and it lands tailwheel first." Still, it was apparent he loved the plane. "You could actually see the curve of the earth," he said.
There were many more exciting times during his career, including steady promotions. He made a series of moves to different bases, intercepted a nuclear cloud when China tested a 3-megaton high-altitude bomb in 1973, and flew the SR-71 complete with a G-suit — an anti-gravity garment that NASA astronauts and pilots wore to keep blood from pooling in the feet and legs. He also had numerous overflights of Cuba in the U-2.
"Those were always interesting and exciting missions because of the political interest," he said.
Schreiber attended and completed Air War College at Maxwell AFB. He continued to expand his career with higher positions as the years went on. Among his many interesting assignments, he served as commander of U-2 Operations (Black Cat) at Osan Air Base in Korea; squad commander of a U-2 and SR-71 training unit; vice wing commander; and commander of the Air Force ROTC unit at Baylor University. He retired in 1992 from the Air Force after amassing 4,200 flight hours, 208 combat missions and more than 800 hours in combat over 28 years. He earned a Silver Star, four Distinguished Flying Crosses and 20 Air Medals.
Second career at Baylor
In 1993, Schreiber took a full-time job with Baylor. He retired in August 2016 as professor of management. He and Pam have been married almost 49 years. They have three daughters and 13 grandchildren. Today, Schreiber is president of the Baylor Bear Foundation.
Schreiber will never forget the reaction of the public when he arrived back in the U.S. Airmen were told to wear civilian outfits to avoid confrontations. But, they were carrying military bags. Someone spat at him.
"I went over there facing bullets, but they were trying to denigrate my service," he said. "I did what I could do. I never wanted to back down from my responsibilities."
And he has no regrets.
"I wouldn't really change anything. I feel like I adequately served my country," he said.