Danny Reeves, pastor of the First Baptist Church in Corsicana, has been re-elected president of the Baptist General Convention of Texas, also known as Texas Baptists, which wrapped up its annual meeting Tuesday in Waco.
Texas Baptists, which represents about 5,300 churches and missions statewide, filled the Waco Convention Center from Sunday through midday Tuesday. More than 1,100 messengers took part in business meetings, heard inspirational speakers and attended workshops, including one focused on church security in the wake of the recent mass shooting at the First Baptist Church of Sutherland Springs that claimed 26 lives.
The "brokenness" of the man accused of carrying out the attack, and his apparent inability to find help, underlines the importance of the local church, said Dennis Wiles, pastor of the First Baptist Church of Arlington, a messenger and a member of the Baylor University Board of Regents, speaking shortly after the convention closed.
Wiles said he and his congregation can empathize with the community near San Antonio, having experienced the murder of a 28-year-old minister, the Rev. Clint Dobson, who was smothered in his office by an intruder in 2011 as he prepared a sermon. Wiles said Dobson was serving as pastor of a church the First Baptist Church of Arlington founded.
Wiles said Reeves will be a good leader for the group.
"I love him," Wiles said. "He is Texas Baptist through and through, just the leader we need to carry God's message to the world."
As he left the Waco Convention Center, Reeves said in an interview he is deeply honored to become Texas Baptists' next president.
"I have three areas of emphasis: to live compelled to seek God's will, to search God's word and to support God's work," he said.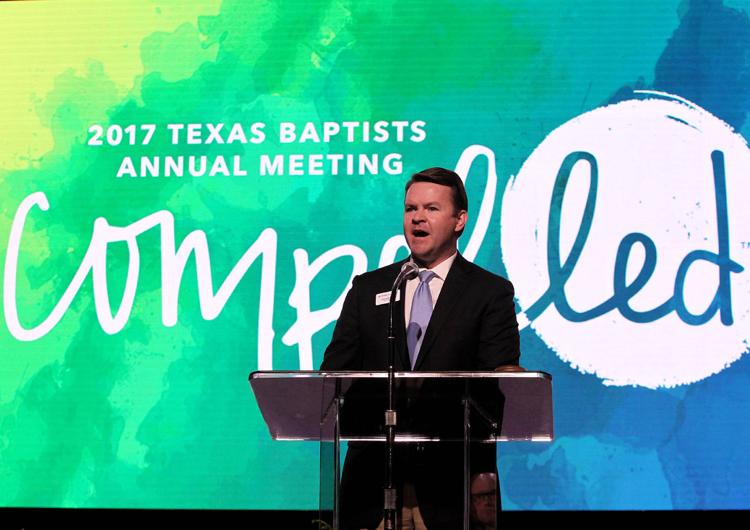 Reeves told the Baptist Standard, in an interview upon learning he would be nominated, that he wants to promote unity, strengthen solidarity and encourage cooperation among Baptists.
Texas Baptists faces the same challenge individual churches face, presenting the gospel to a post-modern, increasingly post-Christian culture, he said in his interview with the Baptist Standard.
Reeves grew up in Monahans and was ordained by Southside Baptist Church there. He went to Howard Payne University for his undergraduate degree and Baylor's George W. Truett Theological Seminary for master of divinity and doctor of ministry degrees, according to the Baptist Standard.
He has been senior pastor at First Baptist Church in Corsicana since 2011. Reeves also served as pastor at Baptist churches in Edna and McGregor and on church staffs in Mart, Big Lake and Blanket, according to the Baptist Standard.
The convention approved a $37 million budget for 2018, and David Adams, who oversees special projects for Texas Baptists, led the seminar on security. He suggested churches write a plan of action, rework it as necessary and remain constantly in touch with law enforcement.
All ministers in a congregation should become involved in security, Adams said.
Delvin Atchison, director of the Great Commission department for Texas Baptists, concluded the convention with a sermon taken from Genesis 5:1-5, in which Abram has a conversation with God.
"God is so powerful he serves as pallbearer at the funeral of every sparrow," Atchison said. "That in mind, we should allow what's above us to handle what's going on around us. We are tempted to stay in the tents. But God says it is tragic when we stay the same. His message has not changed, but our methods must, even if it takes us to unfamiliar places."