World War I's Camp MacArthur, Rich Field helped shape modern Waco

When David Sellers bought a 1980s-era brick home on Chimney Hill Drive this February, he didn't know he was buying a piece of history.
In fact, it took him a while to warm to the fieldstone fireplace and 20-foot chimney in the middle of his patio.
"I had no idea what it was," said Sellers, a Mexia-born retiree who recently moved back to Texas from Florida. "The only thing I could think was, 'Who in the world would build this monstrosity in their backyard?' "
It turns out that he owns not only the namesake of the Chimney Hill neighborhood but one of the few surviving structures associated with Camp MacArthur: the remains of an officer clubhouse for the massive Army base.
Construction started 100 years ago this month on the World War I encampment in North Waco that would ultimately bring more than 80,000 soldiers through Waco between 1917 and 1919.
Like the war itself, the camp is only dimly remembered today but was of enormous consequence at the time. And the imprint it left on Waco's physical development and society is lasting if not obvious.
The base encompassed about a sixth of present-day Waco, an area now mostly covered with houses. The heart of the Army base was about 1,300 acres, stretching from the present-day Waco Center for Youth on North 19th Street to what is now the Extraco Events Center, which operated as the Rich Field Army Air Base. Within those confines was a tent city with hundreds of wooden buildings, including a hospital, hay barns, supply warehouses, recreational facilities and mess halls, along with streets and utilities that would be used for years to come.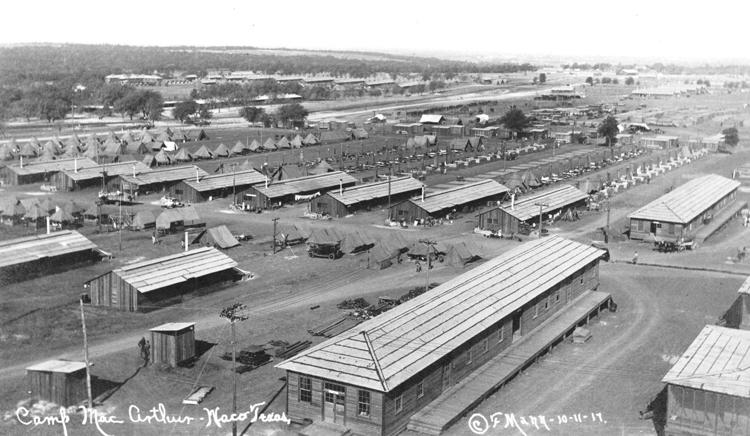 The Army also leased more land on the current site of Lake Waco and stretching toward China Spring, bringing the total footprint to more than 10,000 acres. Rich Field, which was approved in August 1917, operated as a separate but adjacent Army base.
Waco municipal and business leaders assembled the land in a rush bid for the Army base after the U.S. entered World War I on April 6, 1917. On June 11, officials in this town of about 30,000 learned that they had been picked for a camp large enough for 47,000 troops. It would be named for Gen. Arthur MacArthur, father of Gen. Douglas MacArthur. As news spread of the decision, factory whistles blew, church bells chimed and residents took to the street to celebrate.
And on July 20, work started to effectively build a twin city next to Waco. The city would contribute about $700,000 toward the $5 million project. Nearly as much would soon be spent for Rich Field.
"It's hard to get your arms around something that big," said Wilton Lanning, a Dr Pepper Museum founding president whose grandparents lived in Waco during World War I. "It's not stretching things to say we doubled the population in about two months. … It's like you snapped your fingers and it was here. It's hard to overstate the impact on Waco. The community was very aggressive in going after it."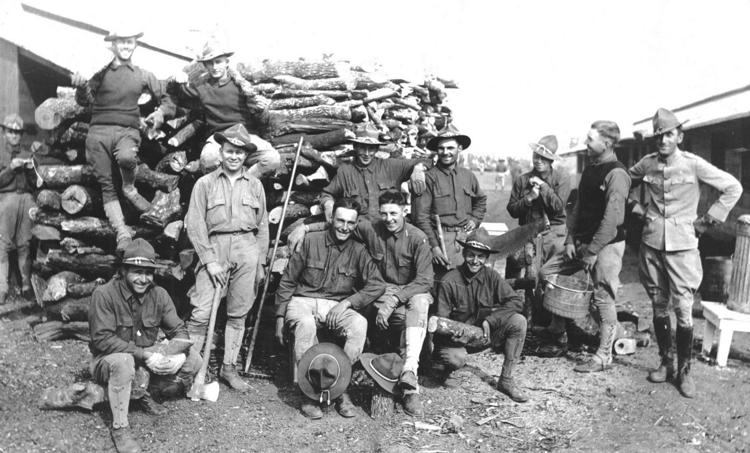 The entire project was jeopardized that July, when some soldiers from an all-black infantry regiment assigned to guard the construction site got into a racially fueled brawl in downtown Waco, protesting segregated bars and restaurants. A white mob assembled and directed rifle fire at the soldiers in a dark alley off Second Street. The shots missed, and six soldiers were court-martialed. Waco avoided the race riot that some had feared a little more than a year after the infamous lynching of Jesse Washington on the Waco square, according to "Lust, Violence, Religion: Life in Historic Waco," by Brad Turner.
In another sign of changing times, Waco leaders were moved to close the city's famous red-light district, "the Reservation," on Second Street, on orders from the U.S. Army, which hoped to spare its troops from venereal disease.
When troops started moving into Camp MacArthur in late August 1917, it was very much a work in progress.
Ultimately, the Cotton Belt railroad would build a spur from the town to Camp MacArthur and Rich Field, snaking up what is now New Road, Hillcrest Drive and MacArthur Drive.
But at first, the soldiers, mostly from Michigan and Wisconsin, had to walk three miles in blistering Texas heat to their new tent city.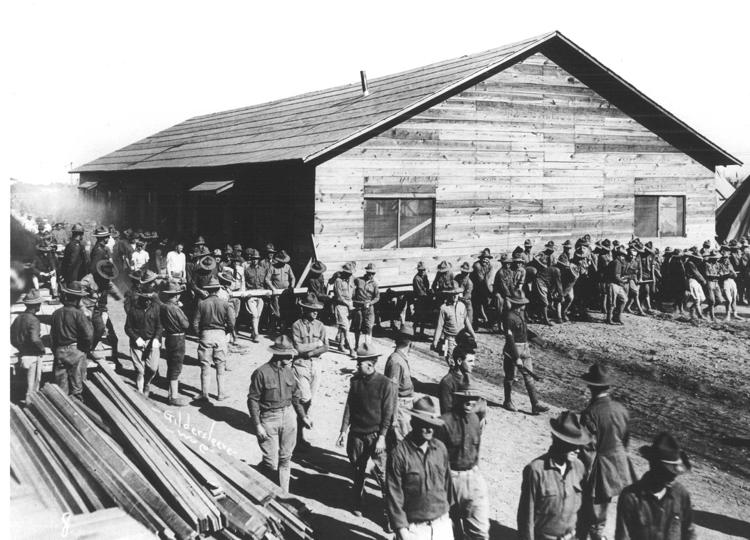 One of those soldiers, Benny Green of the First Wisconsin Cavalry, would relate the experience to the Tribune-Herald 42 years later. He said soldiers passed out in the heat and flopped on lawns.
"We slept on the ground the first night," Green said. "I got bit by a scorpion. They got us some quad tents in a few days, and that was lucky because it started to rain. The rain turned all that dust into gumbo mud. We stuck in it. Some of the fellows said one thing was sure, Texas will stick to you even if you don't stick to Texas."
Green and other soldiers went to work with picks and shovels, building North 19th Street up several feet for drainage, lining the ditches with stone. Along 19th Street, a boardwalk "arcade" sprung up, offering a YMCA, library, canteen and other recreational facilities.
By October, some 15,000 troops had arrived, and the population would at times double that number. The troops included some Texans, but many were from the Upper Midwest, comprising the 32nd Infantry Division. Known as the "Red Arrow," the division would play a critical front-line role in the bloody campaigns in France.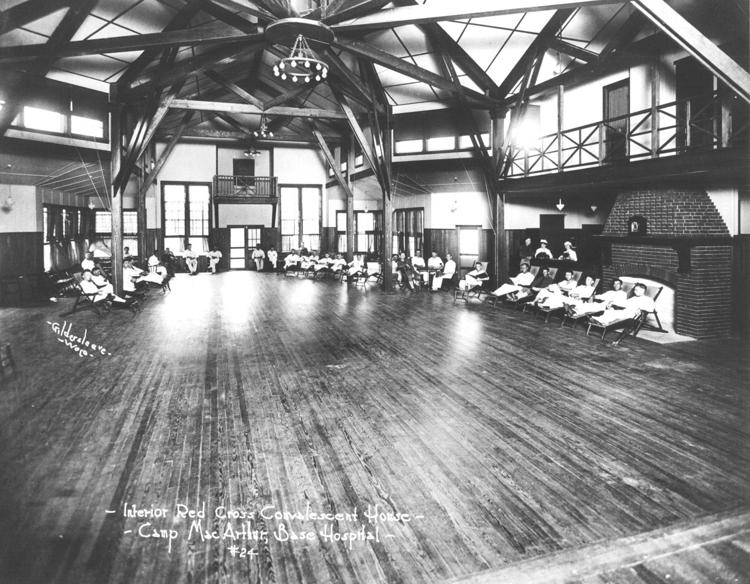 But the young men would face an even more insidious enemy at home. The first wave of Spanish influenza passed through the camp in spring 1918 and again that fall, striking down healthy men suddenly. The base hospital was overwhelmed, and a quarter of the mess halls were converted into infirmaries.
Of some 930 cases of Spanish flu at the base, 202 soldiers died, according to the McLennan County Medical Society. In the city, 280 to 500 people died.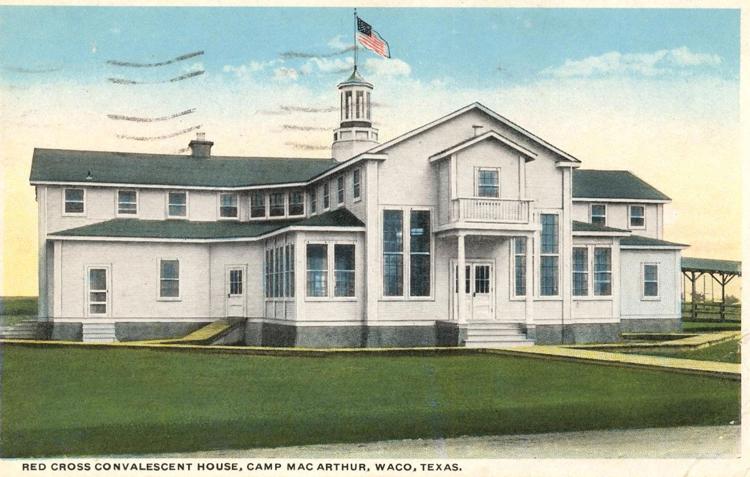 In town, theaters and schools were closed. At the base, sewer lines and a kitchen incinerator were installed, and steps were taken to avoid crowding in tents.
But life was not all grim for the soldiers. The Rich Field orchestra created a touring vaudeville show with a jazz band and jugglers. A Camp MacArthur football team played Baylor University. Soldiers skinny-dipped in the Bosque River near Lovers Leap, or attended Red Cross dances and met local women. A special patriotic Cotton Palace festival saluted the soldiers and drew an estimated 500,000 people from around the state.
The soldiers, who made about $30 a month over living expenses, streamed into downtown stores, and merchants happily complained that they could barely keep up with demand.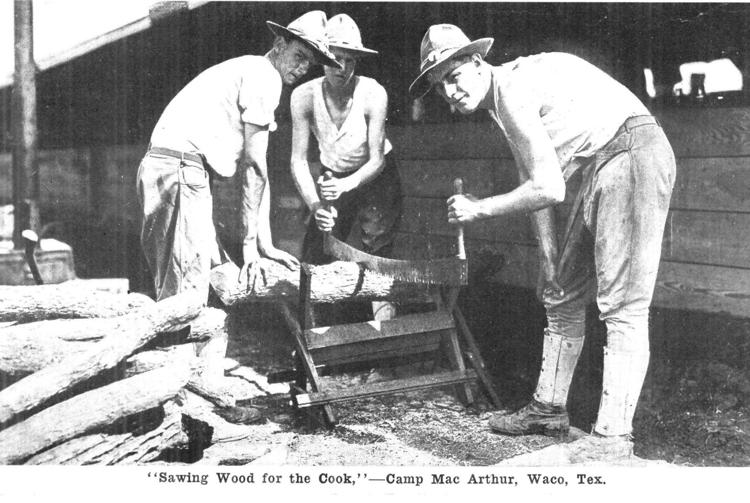 The Waco community opened its homes, churches and social functions to these Northern doughboys, who would express gratitude for the hospitality in reunions many years later.
Some would like Waco so much, they stuck around and became civic leaders long after the buildings had been dismantled and auctioned off.
That process happened quickly. Camp MacArthur became a demobilization center in November 1918 and closed in March 1919. The scrap was used in military stations along the U.S.-Mexico border and in the Edgefield neighborhood of Waco, according to the Handbook of Texas.
An October 1928 Tribune-Herald article remarks that almost nothing was left of Camp MacArthur, though people had started building homes on leftover foundations from the camp around 27th Street and Edna Avenue. In the same area, it was said, new streets were named for fondly remembered Army mules: Alice, Vivian, Dorothy and Olive.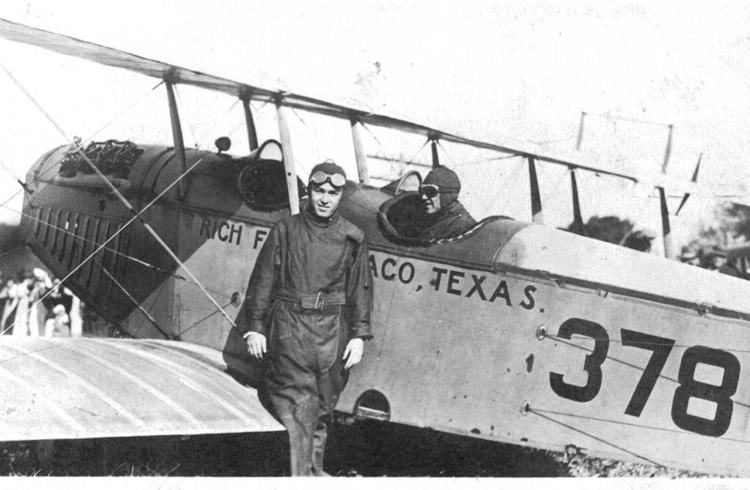 Across North 19th Street, a row of barracks soon became the Waco State Home, now Waco Center for Youth, in 1922.
Rich Field held on several more years as a military pilot school, then served as Waco's municipal airport from 1928 until the early 1940s, when it relocated to its current location. After years of debate about its proper use, the airfield became home to the Heart O' Texas fairgrounds, Lions Park and other civic uses in the 1950s.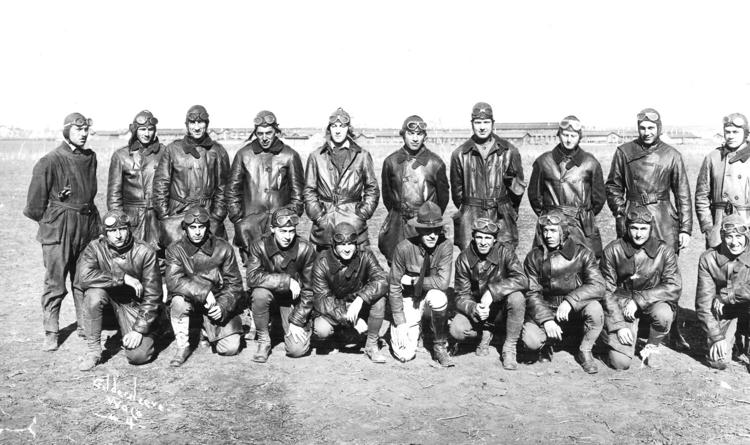 Meanwhile, Benny Green, the Wisconsin doughboy, survived a mustard gas attack overseas and returned to Waco to marry a local, Reva Levy. In 1921, he opened a grocery store on the North 19th Street he helped build, and he would gradually create a whole shopping center, called Greenway, in the area.
He became a leader in the Agudath Jacob congregation, and for decades before his death in 1971 was known as "the mayor of Greenway," who passed out presents to disadvantaged children each Christmas.
Another Midwesterner, Ernest Andreas Olson, married a young YMCA volunteer named Beth Fuller and ultimately left a rich family legacy of civic service here.
Olson, a first-generation Swedish immigrant who was part of the 135th Minnesota Infantry, came to Camp MacArthur as a second lieutenant in April 1918. After the war, he served out a career in the military but kept Waco as a home base.
His three children included attorney Lyndon Olson Sr., father of former ambassador to Sweden Lyndon Olson Jr. and former Waco Independent School District board president Charles Olson.
Charles Olson said his grandfather benefited from the opportunities for self-improvement that the Army offered and retired as a full colonel. In 1947 he enrolled at Baylor University as a freshman at the age of 60.
"Our family wouldn't be here, our home wouldn't be here, if it weren't for Camp MacArthur," Charles Olson said. "I don't know why he stayed, but my grandmother and her family were here, and it was a place a home could be made."