2017 in review: The Tribune-Herald's top stories of the year
Editor's note: Each December, the reporting staff at the Waco Tribune-Herald staff engages in a lively debate over the top stories. That debate ultimately is developed into the list of top stories of the year. Here are the top 2017 stories singled out by reporters and editors here at the Trib.
[ Previous years: 2016 • 2015 • 2014 • 2013 • 2012 • 2011 • 2010 • 2009 ]
Magnolia & more
The hearts of millions of "Fixer Upper" fans skipped a beat in September at the announcement by show hosts Chip and Joanna Gaines that they would end their successful HGTV series after its fifth season, which began Nov. 21.
The Waco couple explained they decided to step away from their home renovation and decor series to spend more time with their family and other business ventures. Local business leaders and city tourism officials expressed confidence the momentum of downtown development, due in part to the success of the Gaineses' Magnolia Market at the Silos, would continue after the last "Fixer Upper" season.
The announcement of "Fixer Upper's" close, six months after more than 5 million viewers watched the Season 4 finale, came as the Gaineses and their Magnolia-branded empire mushroomed in 2017.
Their brick-and-mortar development Magnolia Market at the Silos proved a tourist magnet unlike any experienced in Waco — and much of Texas, for that matter.
Attendance in 2017 swelled to a weekly average of 30,000 and the Waco Visitors Bureau and Convention Center expects the year will end with a total of 1.6 million Magnolia Market visitors — topping tourist traffic at the Alamo.
Fall featured the debut of the Gaineses' Hearth & Hand decor line carried by Target and Chip's book "Capital Gaines." The book joins the couple's "The Magnolia Story" book and "Magnolia Journal" quarterly magazine on the Magnolia publishing shelf with Joanna's cookbook in the works.
More is on the way for 2018 with the expected openings of the second Magnolia bed-and-breakfast, Hillcrest Estate, and Magnolia Table, the former Elite Cafe renovated into a breakfast-and-brunch restaurant. Two "Fixer Upper" spin-offs are set to start their seasons, Clint and Kelly Harp's "Wood Work" on the DIY cable channel and Joanna's "Behind The Design."
"Fixer Upper" also made national news in a peripheral way in July when a late-night motorist lost control of his car and smashed through the front wall of Ken and Kelly Downs' "Fixer Upper" house, a story that went viral on social media.
Biker mistrial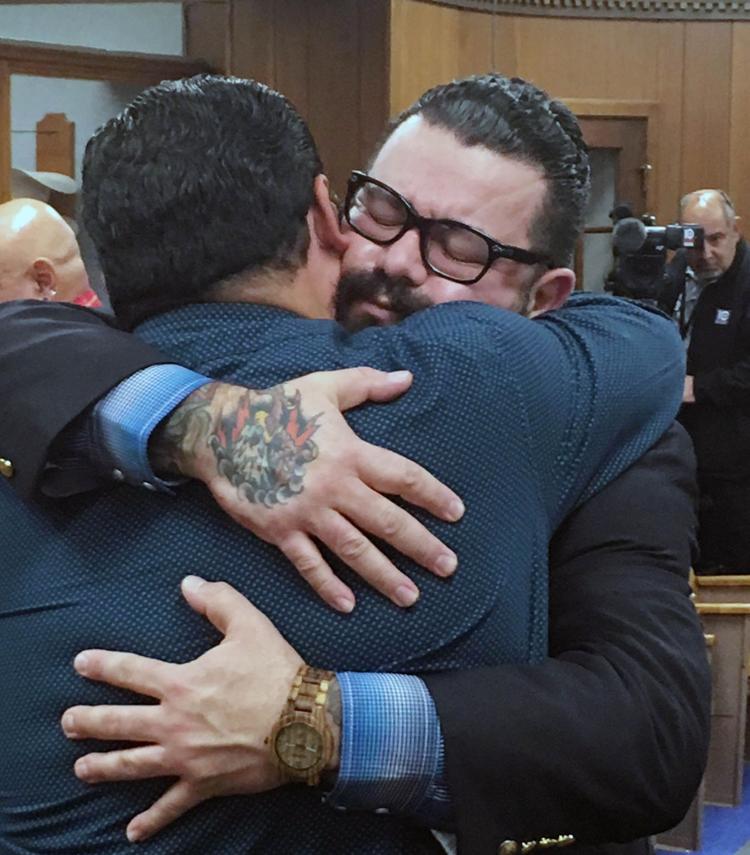 While McLennan County has spent about $1 million on Twin Peaks-related bills, the first biker to stand trial walked out of the courthouse in November after a deadlocked jury forced a mistrial.
A beaming Jacob Carrizal hugged his family and supporters after his monthlong trial, while McLennan County District Attorney Abel Reyna, who handpicked Carrizal to be the first of 154 bikers indicted in the Twin Peaks case to stand trial, has vowed to retry him.
As it stands, George Bergman, 50, a truck driver and a former member of the Desgraciados motorcycle group, is likely to be the next Twin Peaks defendant to stand trial. A jury panel is scheduled to report to the McLennan County Courthouse on Jan. 12 to fill out a questionnaire ahead of a tentative trial date of Jan. 22.
The jury, which deliberated more than 14 hours over two days, voted to acquit Carrizal on the first count before the vote changed. Sources said there were never more than six jurors in favor of finding Carrizal guilty on any of the three counts.
Carrizal, 36, president of the Dallas Bandidos chapter, is charged with directing the activities of a criminal street gang and two counts of engaging in organized criminal activity with the underlying offenses of murder and aggravated assault.
He remains free on bond despite his trial admissions that he violated bail conditions by continuing to associate with Bandidos.
He rose from vice president of the Dallas chapter, which was his title at Twin Peaks, to president after the shootout.
The shootout, the culmination of previous violent confrontations between the Bandidos and Cossacks motorcycle clubs, left nine dead and 20 injured.
The trial bogged down on several occasions after Carrizal's attorney, Casie Gotro, of Houston, discovered that Reyna's office or law enforcement agencies involved in the investigation had not disclosed evidence to which she was entitled before trial.
The trial was held under unprecedented security conditions for McLennan County, with sheriff's deputies racking up $572,000 in overtime costs during the trial.
Landfill debate
The Waco City Council started 2017 moving full speed ahead on engineering studies for a new landfill next to the rapidly filling Waco Regional Landfill.
What direction the council is going on the landfill site in 2018 is anyone's guess.
The 290-acre site on Old Lorena Road site seemed ideal in some ways: It was accessible to garbage trucks and lay atop a thick seam of impermeable shale.
But in March, a neighbor sued the city, claiming it was attempting to violate a 1992 agreement in which it promised not to expand Waco Regional Landfill. A coordinated campaign by angry residents in the Highway 84 corridor followed, with road signs, door mailers and social media advertising. Opponents allege (and city officials deny) that the landfill would contaminate Lake Waco, lower property values in a development hotspot and pose bird strike risks at local airports.
Councilman Jim Holmes, who represents the area, sided with the opponents starting in February on grounds that a landfill would sully future development west of Waco. The council asked to study other sites, and after several rounds with a consultant found three alternatives, including some that could offer rates competitive with Old Lorena Road.
Those sites have not been disclosed to the public, but Mayor Kyle Deaver said they all have serious flaws. But council members agreed to postpone a vote and take another stab at identifying possible landfill locations while continuing to pay the engineering and legal fees for the Old Lorena Road site.
Lake Air wins World Series
By capturing a World Series championship, the girls from Lake Air captured Waco's heart.
In August, the Lake Air Little League Softball All-Stars won the first World Series title in league history, defeating North Carolina, 7-2, in the final in Portland, Oregon. It also marked the first World Series title for the Waco area since Midway won the last of 11 titles in a 13-year stretch that ended in 2004.
Coached by David Rodriguez, Lake Air was often dominant in claiming city, district, sectional, state and regional titles before eventually adding a World Series banner to boot. The team lost only once the entire summer.
Afterward, hundreds of fans greeted Lake Air on its return to Waco at the team's home field. The girls were also honored at a banquet at the Texas Sports Hall of Fame, and won the Tribune-Herald's Sportspersons of the Year honor.
Fairgrounds overhaul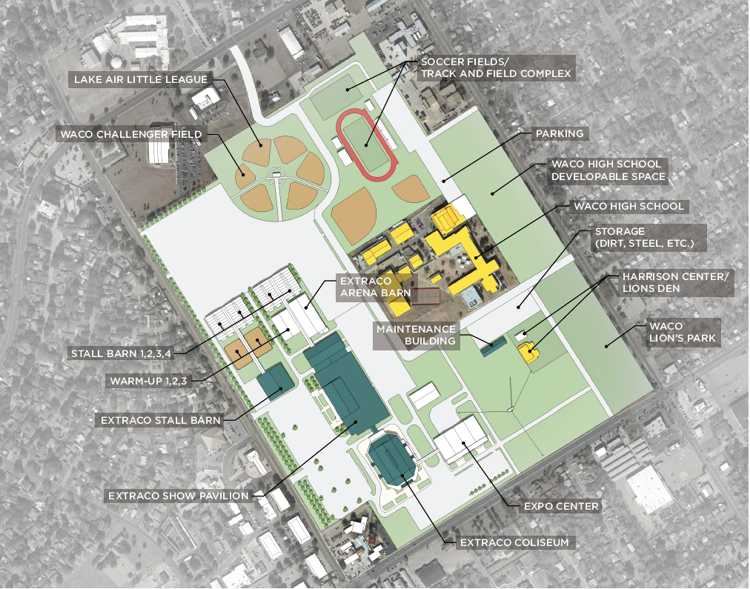 In May, McLennan County voters approved two tax issues, clearing the way for $34.4 million in renovations and expansion of the Extraco Events Center and surrounding fairgrounds.
McLennan County, the city of Waco and Waco Independent School District leaders each supported the measure, which will mark the first major infusion of funds into the facility in more than 15 years.
One measure implemented an additional 2 percent room tax on hotel beds in McLennan County. The other was a 5 percent tax on short-term car rentals. Both taxes, which took effect Aug. 1, are dedicated revenue streams for fairgrounds and event center improvements.
Both measures passed by better than two-thirds majorities.
More than $500,000 was received in collections from the first five months of the venue taxes. A Baylor University study said that after a full build-out of the planned improvements, the economic impact from the fairgrounds would increase from $47 million a year to $60 million. Area leaders touted the added taxes would be paid by visitors to the area and that the proposal created a self-sustainable model to further economic development by bringing new and expanded events.
The proposal passed with 2,856 people, or 67.4 percent, voting in favor of creating the taxes . Countywide turnout was 3.3 percent of the 130,830 registered voters.
The three major public entities that supported the tax own a patchwork of the 60-acre property, and are in the process of handling land swaps to maximize usage, while the county is tasked with issuing a bond to cover costs.
The Extraco Events Center opened its doors in 1953 and the last major renovation was in 2002. Area leaders have not finalized plans for the site, but will hear from architects in January about moving forward. Proposals include removing the creative arts building and the general exhibit building and replacing them with an 80,000-square-foot multipurpose building connecting to the existing coliseum. Plans also include adding about 300 livestock stalls to the campus, and replacing Waco ISD's Paul Tyson Field and the Lake Air Little League facilities, moving both to new locations in the area.
There were 79 events at the Heart of Texas Fairgrounds in 2015, and organizers believe the expansion will push that to 162 events. Those events drew 123,273 out-of-town visitors, with the Heart O' Texas Fair being the top draw, followed by equestrian opportunities.
Area leaders believe the overhaul can almost double the number of out-of-market visits to the property. Officials estimated 33,400 hotel rooms were rented in the Waco market in 2015. That number is expected to grow to 52,700 when the project is completed.
Fatal police shooting, officer injury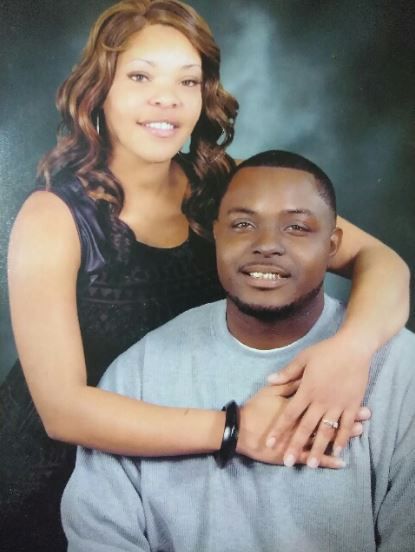 The fatal shooting of a 37-year-old Waco man by police this summer drew protests from the victim's family, and left one officer with serious injuries.
Waco SWAT officers and drug enforcement unit members attempted to execute a search warrant on a white GMC Yukon, driven by Kerry Bradley, on Aug. 1. When police spotted Bradley's car near the intersection of North 23rd Street and Olive Avenue, Bradley reportedly accelerated and struck Waco police Officer William Graeber, an eight-year police veteran, pinning the officer under the vehicle.
Police stated that Bradley used the SUV as a deadly weapon when the vehicle dragged Graeber up into the drive train, trapping the officer. Officers fired at Bradley, killing him and stopping the vehicle.
Both Bradley and Graeber were taken to Baylor Scott & White Hillcrest Medical Center. Bradley was pronounced dead at the hospital and Graeber suffered seriously injuries that left him hospitalized for three weeks
Graeber has yet to return to duty full time, and continues to recover from his injuries, according to Waco police Sgt. W. Patrick Swanton.
Bradley's family claimed he died of excessive force, alleging police fired 37 shots, striking him 22 times. An autopsy report stated Bradley died from six shots to the head, back, shoulder and arm. Three officers, Sgt. Phillip Zboril, Sgt. Vrail George, and Officer Adam Fuller, were cleared of any criminal wrongdoing by a McLennan County grand jury in late September.
Police reports released nearly three months after the shooting stated Bradley sold capsules of heroin to a confidential informant shortly before the violent encounter. When Bradley's body was removed from the car, police reportedly found 12 capsules of heroin on him.
Brittany Bradley, Kerry Bradley's wife, said her family has struggled with the August events and does not believe Bradley was selling drugs on the morning of the shooting. She said her husband was a changed man and was no longer involved in any criminal activity.
The Bradley family said they have been in touch with a civil attorney for a possible lawsuit against the city and have sought police reports and additional information about the shooting. Brittany Bradley said this year has been difficult, especially celebrating the holidays for the first time without her husband.
Downtown and riverfront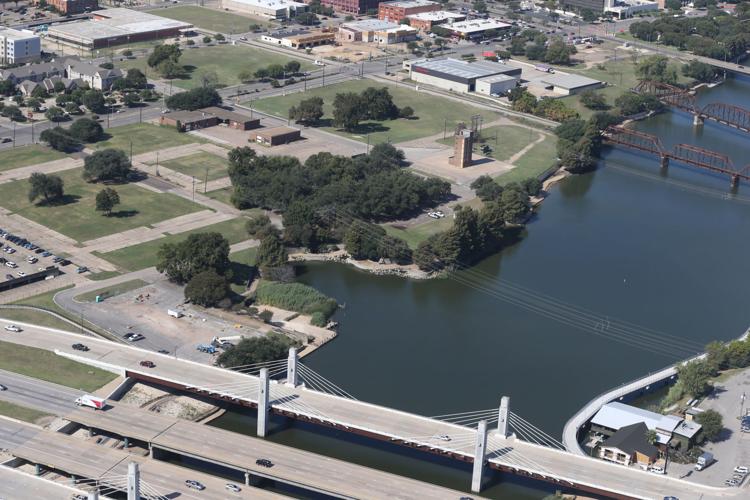 The transformation of Waco's downtown and riverfront continued in 2017, with development spreading beyond Austin Avenue to Franklin, Washington and Mary avenues. Mixed-use projects promising lofts, microbreweries, restaurants and novelty shops began to emerge within walking distance of Magnolia Market at the Silos, which is attracting an estimated 4,000 to 5,000 visitors daily to Waco's inner-city.
Grabbing headlines was Mary Avenue Market, 300 South Sixth St., which filled with such tenants as Hecho En Waco, an upscale Tex-Mex restaurant, as well as GoodTimber Furnishings, Iron Willow, Fox and Gray and Pie Peddlers, according to Dallas-based developer Marshall Stewman.
Within blocks of the Market, the old Geyser Ice Co. building was targeted for upgrades that will create 25,000 square feet of usable space for a restaurant, hotel and venue for live entertainment. And creation of The Containery at 319 S. Fourth St. will involve using large shipping containers to create lease space for an array of users, including restaurants.
Meanwhile, developer Shane Turner launched an expansion of the Waco Hippodrome at Eighth Street and Austin Avenue. Already recently renovated, the historic theater is getting more screens and additional dining options. Turner and businessman Todd Behringer have collaborated to transform the aging Waco Labor Temple and a longtime sports bar, both in the 700 block of Franklin Avenue, into a destination spot that includes Waco Running Co., a neon-lighted shop for running enthusiasts, and later will add a food-and-drink court called Union Hall.
Elsewhere, the "Big Green Automotive" building on Franklin Avenue was acquired by investors who is offering it for retail and restaurant use. Milo Biscuit Co. has announced it will locate there.
A Dallas-based development group, responding to a city-sponsored request for proposals, unveiled its vision for Civic Center Waco, a multimillion-dollar mix of 550,000 square feet of Class A office space, 100,000 square feet of retail and restaurant space, a 15-story mixed-use tower and an underground parking garage. All would unfold in Heritage Square, city-owned land near Waco City Hall.
During 2017, the city continued work on extending a riverwalk along Lake Brazos, and the Waco City Council approved $7.9 million in Tax Increment Financing money for the proposed "Brazos Commons" venture of businessmen Joe Beard and Rick Sheldon. It would include an 11-story hotel, 400 dwellings, 30,000 square feet of office space and 800 structured parking sites on the west bank of the river. Next door, the $129 million Brazos Promenade would feature a 110-room hotel, 12,000 square feet of restaurant and retail space, and 265 residential units.
All ventures were launched or announced in 2017.
Baylor fallout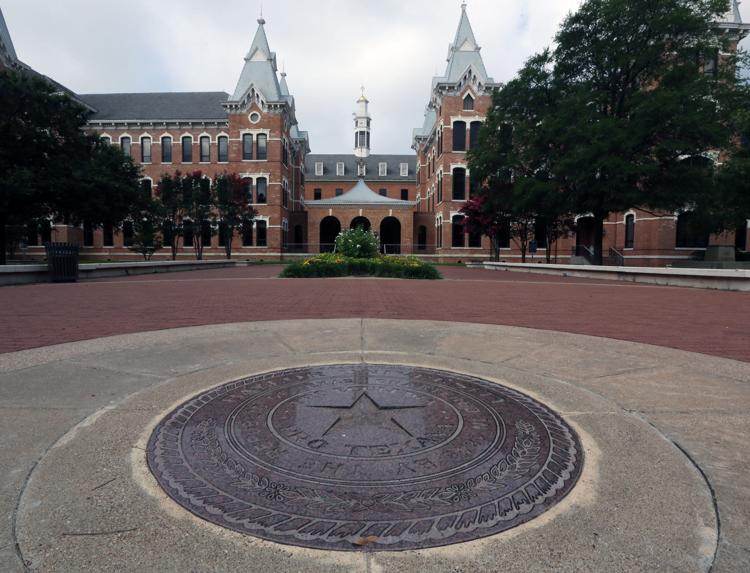 Baylor University's sexual assault scandal continued in the legal system throughout 2017. Disgraced former head football coach Art Briles, who was fired in May 2016 at the peak of the scandal, dropped a libel lawsuit against Baylor regents and an administrator in February.
Days later, regents gave Briles a parting blow in the form of a 39-page legal filing alleging the coach and other staffers covered up crimes committed by football players. "Those are some bad dudes. … why was she around those guys?" Briles allegedly responded after hearing the names of five football players accused in a gang rape.
The filing effectively shut down the claims of Colin Shillinglaw, a top staffer under Briles who was fired amid the fray in 2016. In August, a Canadian Football League team hired Briles as an assistant coach. The team reversed course immediately after backlash ensued. The Briles saga grew stranger after a letter penned by Baylor's general counsel surfaced, saying the school is unaware of Briles having direct contact with anyone reporting a sexual assault to him or of Briles directly discouraging a victim to report to police or school officials.
The most prominent Title IX lawsuit against Baylor features 10 unnamed plaintiffs represented by Jim Dunnam, a former state representative. Proceedings this year produced a deposition in which interim President David Garland appeared unaware of details behind the scandal. It also unearthed an email from then-Regent Neal "Buddy" Jones referring to students he suspected of drinking underage as "perverted little tarts." Another lawsuit this year alleged Baylor football players long considered gang rape "a bonding experience."
Within Dunnam's lawsuit, a federal judge ruled that most of the information from the Pepper Hamilton LLP investigation must be released. Alongside the bombshell news, the judge said Baylor broke attorney-client privilege with the law firm when it released findings and recommendations in May 2016, and the February filing by regents also broke privilege.
Baylor reached settlements with several women and currently faces six Title IX lawsuits. One such lawsuit was filed by Gabrielle Lyons, a former Title IX investigator.
Garland also testified before the Texas Senate Higher Education Committee in March, advocating against a bill that would have forced Baylor to hold open board meetings because it accepts a large amount of tuition equalization grants. He was grilled by senators angered by the scandal and appeared frazzled during the questioning.
Meanwhile, two former Baylor football players were arrested on related charges. Tre'Von Armstead and Myke Chatman currently await trial in connection to an alleged 2013 gang rape.
In February, Matt Rhule dismissed his new Baylor strength coach after he was arrested on a prostitution charge. The next month, Rhule dismissed a second staffer, who was accused of sending inappropriate text messages to a teenager.
Two audits confirmed Baylor's completion of 105 compliance improvements the school made after the scandal. Baylor's warning sanction handed down by its accrediting agency was lifted, but it still faces investigations from the NCAA, the Big 12, the U.S. Department of Education's Office for Civil Rights and the Education Department's Clery Compliance Division.
New Baylor president
Baylor University spent 2016 embroiled in one of the ugliest chapters of the school's 172-year history. A sexual assault scandal, sparked by current and former students alleging they were raped and then further mistreated, included a leadership shakeup and sharp scrutiny of longstanding policies. Perhaps the most important task regents faced in 2017 was selecting a president with the sensitivity to acknowledge past sins and the resolve to turn the page.
In April, regents named Linda Livingstone, dean and professor of management at George Washington University's business school, as Baylor's 15th president and the first female to hold the role.
Livingstone, who taught in Baylor's business school from 1991 to 2002, has received high marks in her seven months in the role. She set forth a bold plan to make Baylor a tier-one research university and boost its graduate population. She has also sought to improve relations with the Baylor Line Foundation alumni group and with high-profile donors angered by the scandal.
Livingstone has overseen a top-level reorganization that led to the departures of two fixtures of Baylor leadership. Reagan Ramsower and Tommye Lou Davis will no longer serve as chief operating officer and senior vice president of constituent engagement, respectively. Livingstone also appointed Michael McLendon as interim provost.
DA Reyna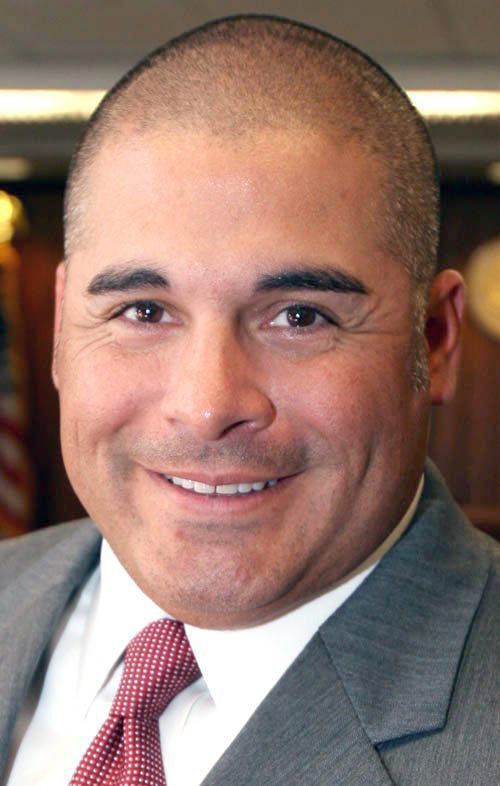 2017 was not the best of years for McLennan County District Attorney Abel Reyna.
He drew a Republican opponent in the March 2018 primary election and has two general election opponents waiting for him in November if he makes it past Barry Johnson. Seth Sutton has filed for DA as a Democrat and Daniel Hare is seeking the office as an independent candidate.
He didn't lose the biggest trial of the year, but after having more than two years to prepare for it and handpicking the first of 154 Twin Peaks defendants he wanted to try first, a mistrial in November must have seemed like a loss for Reyna.
Besides accusations that he has been a poor steward of county resources by deciding to indict 155 bikers on identical charges in the May 2015 Twin Peaks shootout — one biker has since died — Reyna also has been hit by court filings alleging he is under FBI investigation for dismissing criminal cases for friends and donors.
Other court filings in the latter part of the year alleged Reyna did not disclose Twin Peaks evidence he knew he was required to and encouraged a Texas Ranger to do the same, was delivered cocaine by a man whose attorney said they reported that to the FBI agent investigating Reyna, and is close friends with men under previous investigation for alleged ties to illegal gambling operations.
Reyna remains the subject of disqualification motions filed by Twin Peaks attorneys and is one of several defendants in civil rights lawsuits filed in Austin by more than 100 Twin Peaks defendants.
In statements to other media outlets, Reyna has called the accusations "fake news" and "laughable." Reyna continued his streak in 2017, stretching now at least five years, of not speaking to the Tribune-Herald.
New Waco city manager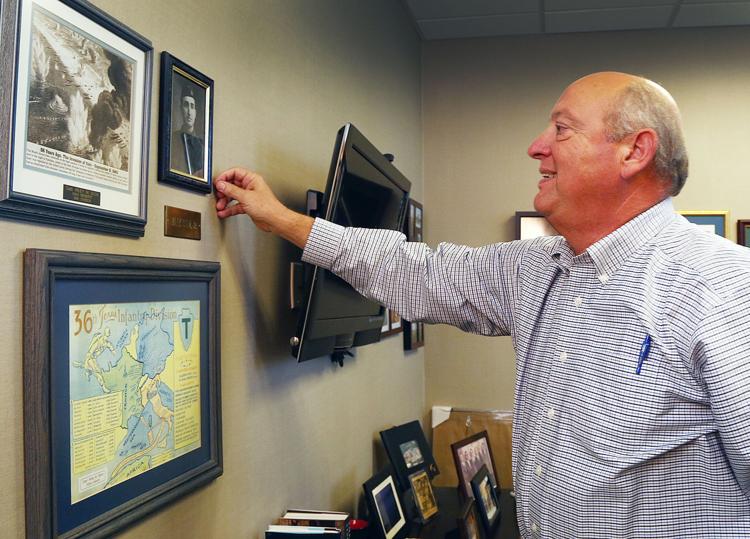 After four decades with the city of Waco, Deputy City Manager Wiley Stem III, 65, was looking forward to retirement.
He would go out on a high note, having served as point man on the turnaround of the Waco Animal Shelter and overseer of the biggest package of utility improvements in Waco history.
Then City Manager Dale Fisseler offered him the wheel.
Fisseler, 58, who returned to his native Waco in 2011 after retirement as Fort Worth city manager, is heading toward his fourth year in Waco's top staff position.
But in September, he informed the city council he'd retire again, this time because of family health issues.
He recommended Stem as a steady hand who could provide continuity in an eventful period of city history.
In October, the council agreed, and Stem accepted. He'll step up to the top job in March.
"It couldn't be easier for us after seeing the hard work you've done in so many departments of the city," Mayor Kyle Deaver said in October.
Stem said he doesn't know how long he'll serve, but he hopes to finish some big projects before he retires.
"I think I've got a little more to give, and I want to give it," he said.
New Waco ISD superintendent
When one administrative legacy ended in early June, another started in Waco Independent School District with the arrival of Superintendent A. Marcus Nelson.
But as he entered the district on the heels of former Superintendent Bonny Cain, he inherited several low-performing schools.
Nelson spent the first day of school in August going from campus to campus, evaluating with a critical eye where campuses could improve.
He came from Laredo ISD, a larger district that has a higher percentage of students who are economically disadvantaged than Waco ISD. In his last year with Laredo ISD, none of the campuses were on the state's improvement required list.
When state accountability scores came out the same month, announcing six Waco schools had failed state standard for three consecutive years or more, Nelson was quick to promise those schools would be off the state's improvement required list this coming year.
But then the Texas Education Agency warned that five of those same schools could be shut down in 2018 if academic accountability ratings didn't improve.
Since the warning, overcoming the obstacle has been Nelson's first priority.
He led several community discussions between October and November for the district to get feedback on developing alternative plans to stave off the closure under new legislation.
And his administrators have spent the last couple of months researching the best way to reconfigure or identify local nonprofit partners to operate Alta Vista Elementary School, Brook Avenue Elementary School, J.H. Hines Elementary School, G.W. Carver Middle School and Indian Spring Middle School under the new law, if the campuses don't meet state standards in May.
The Waco ISD board of trustees has only until Jan. 25 to approve an alternative plan for the schools and then submit the plan for state approval by March 1.
As of December, district officials announced the plan would most likely involve building an in-district charter system with Prosper Waco, a nonprofit that can help coordinate wraparound services and partnerships with other nonprofits to operate the campuses.
If the schools meet academic accountability standards, the alternative plan won't matter, but preliminary accountability scores aren't expected to be released until August.
As he heads into 2018, Nelson is relying on the philosophy of "hard work pays off" and he's pushing for more volunteers to join the fight, for more community partner support from churches, businesses and nonprofits and for a renewed focus on improving literacy skills to help turn the campuses around.
Closing the schools is not an option, he said.
Business roundup
Choosing the top 10 business stories of 2017 was no easy task. Where to start? Mike Copeland tries in his column here.