Before every game, Kyle Boyd leads the Baylor University football team out of the tunnel carrying a big American flag.
There's a compelling reason why Baylor has chosen the sophomore fullback to do the honors. He's a Marine Corps veteran who gave up his football scholarship out of high school to serve his country.
On Veterans Day, Boyd's service took on even more meaning when he carried out the flag before Baylor's game against Texas Tech University on Saturday at AT&T Stadium in Arlington.
"I kind of get the chills knowing that I'm carrying that flag," Boyd said. "It's kind of a neat deal that I get to raise that flag for everybody that's ever served and will serve one day. I think it's important that people realize what those people have given to this country."
After signing with Baylor out of Mesquite's Dr. John D. Horn High School in 2011, Boyd felt called to join the Marine Corps instead. When his four-year hitch was over in 2016, he still had the urge to play football and came back to Baylor as a walk-on, paying for school with the GI Bill.
Boyd mostly played special teams last year but is playing fullback for the Bears this season. When injuries depleted the Bears at tight end, he filled in against Duke University. Boyd, 24, is Baylor's oldest player, and there isn't a more respected player on the team.
"I don't think there's enough you can say about Kyle," Baylor coach Matt Rhule said. "Number one, it's the sacrifice that he made and the things that he's been through. Number two, it's the fact that you would never know all the things he's been through because he just handles his business. He's just such a complete and total team guy. He has tremendous work ethic. Whatever role you give Kyle Boyd, he just embraces it and does it to the best of his ability."
Boyd's role at fullback says everything about the kind of character he brings to the Baylor football team. He hasn't carried the ball once and hasn't caught a pass. All he does is block for his teammates, and doesn't complain about not getting any of the glory.
"I think he's the hardest worker on this team hands down," Baylor senior defensive end Brian Nance said. "He's been through so much, and we respect him so much. I think he's a great person, a great friend, a great leader and a great role model. For him to go to the military shows what type of person he is and the type of respect people have for him."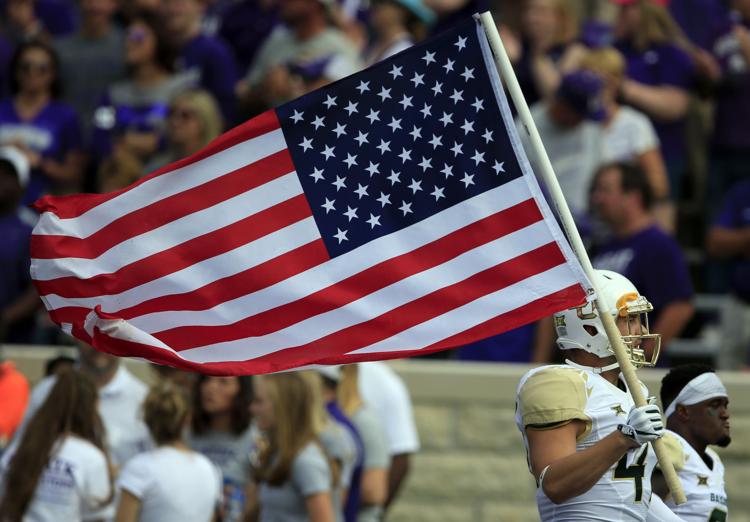 Coming out of high school, Boyd was a talented linebacker who had also played fullback. Baylor had just reached its first bowl game in 16 years with a trip to the Texas Bowl in 2010, and Boyd was excited to sign with the up and coming program in 2011.
But as the months passed from the February signing date to his summer reporting date at Baylor, Boyd kept thinking more and more about serving in the military. He saw the United States in conflicts in Afghanistan and Iraq and felt a call to do his part in protecting the country.
"After I signed here at Baylor, I got to thinking, 'There's a war going on. There are people out there fighting for this country and dying for each other,' " Boyd said. "I have a servant's heart I guess. My father has been a police officer for 27 years, and I've had other family members in the military and I think it just runs in my family and in my blood."
Boyd's decision shocked his parents, Doug and Lorena Boyd, and they tried to talk him into at least waiting until he graduated from Baylor to join the military.
"At the beginning it was a little difficult," said Doug Boyd, a police officer in Mesquite. "We tried to talk him out of it or tried to convince him to go and get your college education first and then go to the Marines. But he was dead set on it, and it became apparent that was what he's going to do. So we said we're behind you and we're your biggest fan and we support you 100 percent."
Though Kyle respected his parents and knew they wanted the best for him, he was convinced that joining the Marines was what he was called to do instead of playing football.
"They were very shocked and upset and confused," Boyd said. "It had always been a dream of mine to play Big 12 football, and I finally got the chance. All of a sudden I told them one day I'm going to join the Marine Corps. I'm not going to college. I was just a hard headed 18 year-old and I wanted to do it then, so definitely for a solid few months it was a battle between me and my parents of who's right."
Boyd had to wait a year before a spot opened up for him to enlist in the Marine Corps infantry. He was sent to boot camp in San Diego in 2012 and quickly learned how tough the drill instructors could be.
"It's nothing but a big mind game to see how far they can push you and what your breaking point is," Boyd said. "They just kind of get you in the worst position mentally and then they test you physically. It kind of breaks you down and pushes you at the same time."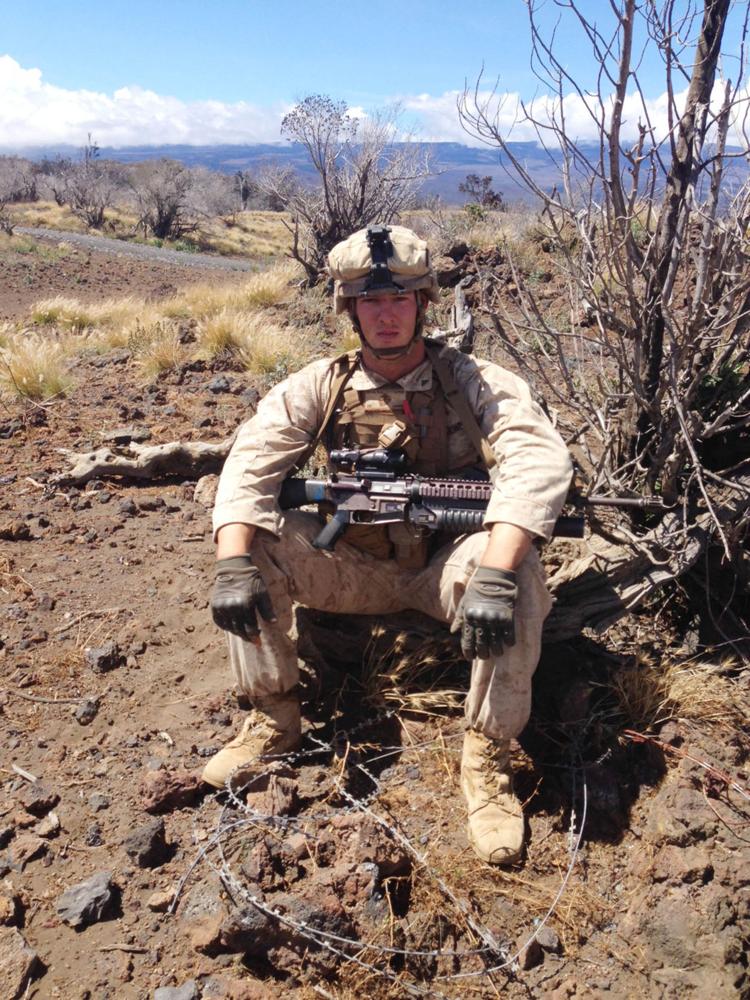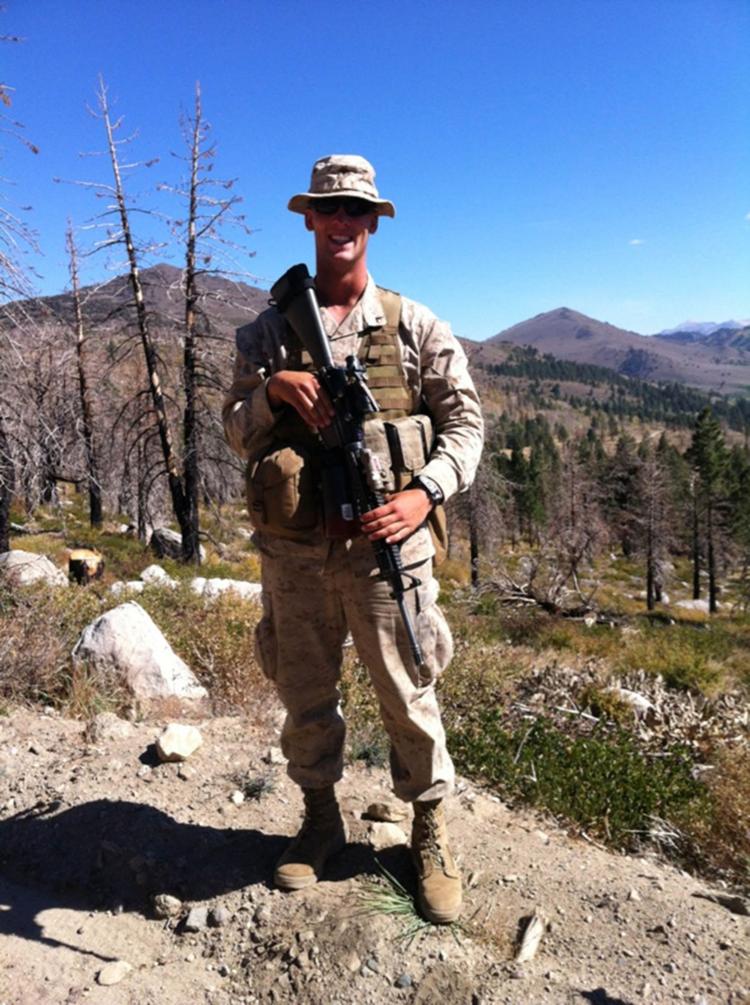 Though Boyd tried to do everything his drill instructors asked, they always demanded more.
"Physically they worked you out for every little thing, even if you didn't do anything wrong," Boyd said. "If you had a nice tight (bed) rack they'd come by and flip it over and make you do it all over, and then you'd have 10 seconds to do it. They just wanted to push you and mess with you and disturb you."
To graduate from boot camp, soldiers had to complete "the crucible," a three-day exercise that tested their physical and mental endurance.
"You'd get very little food and very little sleep and be required to do a lot of teamwork tests and lots of endurance tests," Boyd said. "You had a big hike at the end of it where you'd hike up a mountain called 'the reaper.' It was a series of hills that go up and up a mountain."
After completing boot camp, Boyd served for the Marines in several countries around the world, including Japan, Korea, Australia and New Zealand. The Marines compared training and tactical methods with other countries to learn how they could best work together.
During his four years in the Marines, Boyd hungered to go into combat but was never called.
"That's the main reason I joined the Marine Corps was because I wanted to be in the infantry and be there for your brothers in a fight," Boyd said. "That's every infantryman's dream. There were a few times when we were on standby to be sent to different places. We were hoping and eager to go. But we didn't get that chance unfortunately."
As Boyd's four-year hitch was coming to an end, he started contemplating a return to football. He gave the Baylor coaching staff a call in 2016 but was told there were no scholarships available. He was told he could join the team as a walk-on and eagerly accepted.
Since it had been six years since he last played at Mesquite, getting back into the football mindset wasn't easy. He played linebacker for the Bears and had to relearn everything the position demanded along with a few new wrinkles. But he felt great being back on the field playing the game he loved.
"To be honest, I was kind of nervous when I came back," Boyd said. "I didn't know if I could still play football. It had been so long. But I made a promise to myself that I would try. I just kind of closed my eyes, put my head down and worked at it, and here I am."
As draining as football could be in Texas' oppressive August heat, it was never as tough as boot camp. It didn't bother him to find coaches demanding a lot out of him after hearing Marine drill instructors yelling in his ear all day.
"Football was something I had to get used to again," Boyd said. "You have to play football at a low position and at full speed and high intensity and with a short burst. In the military, it's all about long distance and endurance and stuff like that. I just had to adjust to the way football is played again and getting in mind that you're going to be in a fistfight every play."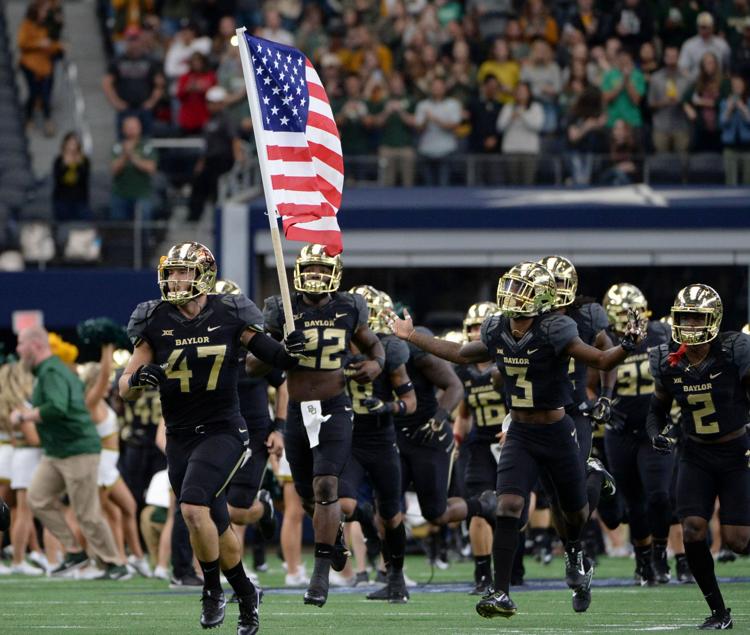 Boyd has had to get readjusted to the rigors of school and is majoring in business management. His younger teammates like needling him about his age. The freshmen on this year's team were entering junior high when Boyd signed with Baylor six years ago.
"I always make fun of him and call him grandpa," Baylor sophomore receiver Denzel Mims said. "He's a good dude. It was a big sacrifice to make, but I'm happy that he went and served for us. It's good that he came back to get his degree."
Boyd carried the American flag out of the tunnel at McLane Stadium for the first time when the Bears played Southern Methodist University during Military Appreciation Week in 2016. Now he carries the flag out before every game.
Though Boyd delayed college football for five years, he's glad he served in the Marines.
"For a while there, I was a little questionable in boot camp, and I was like 'What did I do with my life?' " Boyd said. "I had a lot of those moments. But I matured in so many ways and learned so much, and experienced so much that I never would have if I had gone straight to Baylor. Now I get to come to Baylor and play football and have this experience with a different aspect and a different view of it."
Boyd's parents are proud that he served his country, but they're enjoying seeing him play football again. They come to all his games at Baylor, and love to see him carry the flag out before kickoff.
"Looking back on it now, I wouldn't change a thing," Doug Boyd said. "I'm so proud of him for serving our country, and nobody can take that away from you. Every game is a joy for us. He loves going to Baylor and loves playing football, and I'm proud that he got a second chance."