April 21 is a special day in Aggieland, and a Waco veteran who worked at Baylor University and graduated from the University of Texas has a special connection to the tradition.
The Texas A&M University faithful gather annually for Aggie Muster, when students and alumni honor Aggies who died within the past year. The largest Muster is held on campus, but Aggies everywhere observe the tradition. Attendees read the names of Aggies who have died, and a family member or friend of the deceased responds, "Here."
Bill E. Porter, a nonagenarian living in a Waco assisted living facility, participated in what is known as the most famous Muster. On April 21, 1946, the 110th anniversary of the Battle of San Jacinto, 127 men gathered on Corregidor Island in the Philippines shortly after World War II ended.
It was not until 71 years later that Porter, a University of Texas graduate, was identified in two photos of the event, which are familiar to most Aggies. In one photo, Porter smiles slyly as the rest of the group is bent over at the waist with their backs to the camera.
"He's just lived a very interesting life," Porter's stepson, Rob Kennedy said. "This was more or less a 'Forrest Gump' moment to be in this particular place at this particular time."
The family came together like "The Brady Bunch," Kennedy said. After his father and Porter's wife died, a new unit was eventually formed.
Porter was drafted into the Army after World War II and became a lieutenant. Why he participated in the sacred Aggie tradition has left people shrugging and laughing.
"I think Dad may have gone with some of his friends there," said Billy Porter, another son who is a 1978 Texas A&M graduate. "I don't know for sure how he ended up there."
Billy Porter joined the A&M Corps of Cadets, then went on to serve 30 years in active and reserve duty in the Army before retiring as a colonel.
Bill Porter, now 92, doesn't quite remember why he was there either. He suffered a stroke in 1997 which took away his speech, but he is still mentally sharp, communicating mostly by writing on a whiteboard.
"He's continued to thrive and continued to be the patriarch of our family," Kennedy said.
In 1996, Texas A&M launched an initiative to identify all 127 people in the famous photo, the one in which they are all facing the camera, according to the university. The effort has identified 113 so far.
Billy Porter said his father told him long ago that he was in the photo. He was about 22 at the time and is now identified on the former student association's website.
Bill Porter's face is the only one visible in the second photo.
'All in good fun'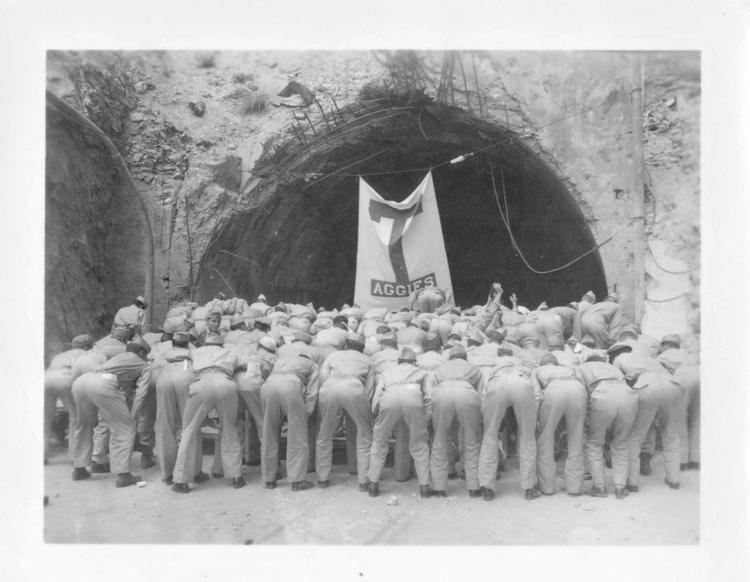 "The photographer said, 'OK, everybody who went to the University of Texas, stand up,' " Billy Porter said. "Dad was the only one standing, and all the other Aggies turned around and showed their butts to the camera. That's how they feel about their rival. That's basically what it was. It was all in good fun."
Bill Porter grew up in Gonzales. His family moved to Austin, and he went to the University of Texas and eventually entered pharmacy school.
He founded Porter's Pharmacy in Waco with a location across from the 25th Street Theatre, where the family worked. Later, he worked as a pharmacist at Baylor University's health center.
Bill Porter, the longest-tenured resident of his facility, also considers himself a fan of Baylor, where Kennedy now works.
"You've got an A&M (Aggie Muster photo) with a guy from UT, who eventually works at Baylor, so it shows the big schools can co-exist," said Jason Young, one of Bill Porter's six grandchildren. "You got A&M, UT and Baylor all together, and he's a great representation of all of them. We knew after all these years there was something with A&M that had to do with him, and we finally figured it out."