The Hewitt City Council could issue a bond between $4 million and $6 million in coming months in a move that would increase taxes as city leaders eye road projects and the need for a new fire truck.
City Manager Adam Miles said if the tax rate was increased about 3.5 cents, from 53.9677 cents per $100 valuation to about 57 cents per $100 valuation, the average homeowner would pay an added $4.33 per month, or nearly $52 a year. If the city opted for a $6 million issuance, the tax rate would need to be increased to 59 cents per $100 valuation, which would increase the average Hewitt homeowner's bill by $6.50 per month, Miles said.
Mayor Pro Tem Ed Passalugo said the council needs to decide soon how it wants to handle potential certificates of obligations.
"We don't want to fool ourselves. (Work on) Ritchie Road is going to happen," Passalugo said. "We need to be ready."
The city of Hewitt is looking at partnering with the city of Waco and McLennan County to overhaul Ritchie Road from Panther Way to South Hewitt Drive. An interlocal agreement is underway between the three entities for the overall project.
Passalugo said not agreeing to the tax rate would only be done by someone running for election. The city of Waco is moving forward with its portion of the road, he said.
"What are we going to do, sit there and go, 'No'?" Passalugo said. "Nobody wants to raise taxes, but guess what, somewhere along the line if you need something, what are you going to do sit back and wait?"
Miles said he would prepare options for a certificate of obligation for an upcoming meeting.
Council members discussed the possibility of using that bond to replace its 1993 fire truck, which would cost about $1.3 million.
Moving the Ritchie Road project forward, the council on Monday voted to enter into a professional services agreement with Walker Partners LLC for $138,530 for design and administrative services.
Walker Partners was selected by the city of Waco to design their portion of the project. The estimated construction cost for the portion of the project in the jurisdiction of the city of Hewitt and McLennan County is more than $2.24 million, according to city documents.
Area leaders are narrowing down plans to transform much of Ritchie Road from a bumpy country…
The proposed project for the portion of road in the city of Waco is for a four-lane road with curbs and gutters. Hewitt and county's portion will match the city of Waco's portion near West Warren Road and transition down to 40-inch wide lanes to match the existing Ritchie Road pavement near Park Place Drive.
Based on preliminary work, Walker Partners estimates that up to four parcels will need to be acquired as part of Hewitt and county's portion of the road, and up to 12 parcels will require right-of-entry letters for survey, design and construction.
Construction is expected to be completed in 2020.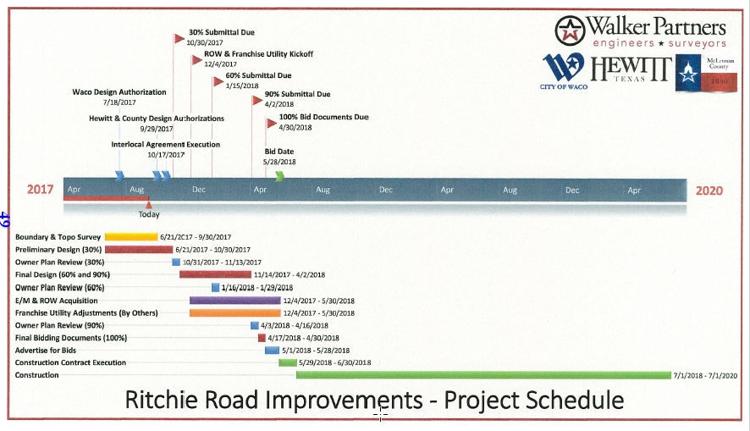 Also at the meeting, the council denied a request to amend an ordinance to allow for a 1 percent discount to hotels for early payment of taxes.
The current code requires hotel tax payment by the end of the month, according to city documents.
"Long story short, the new owner of Sleep Inn asked if we (could give) them a discount," Miles said.