Dusk poured into an open workshop door as council members of a small McLennan County city learned they would serve another term, adding to the decades the group has accumulated in their roles.
Many of the elected leaders chosen to represent Gholson's 1,000 or so residents can't recall just how long they've held the positions, only that they keep coming back to serve.
After putting out his third cigarette, Mayor Larry Binnion takes his place at a table under yellow fluorescent lights in a work shed next to Councilman Russell Smith's home. Before the meeting starts, Smith points out a list of faded and scratched names and phone numbers on his wall of "anyone who could do anything in the world." Shuffling between any dangling hands willing to give a good ear scratch, Smith's dogs Pup and Sassy are oblivious to the formal city government proceedings and make themselves comfortable.
When the group was ready, each elected official, the city secretary and the city attorney checked their watch to ensure it was 6:30 p.m. on the dot and not a minute earlier. Coyotes' cries in the approaching night do little to distract the well-rehearsed sound of Binnion, wearing a Make America Great Again cap, reading the agenda.
"If you write anything up about us, you put in there that this council cares about the city of Gholson," Smith said. "Ron and I grew up here. Tom grew up here. We care about this place."
No one chose to challenge Mayor Pro Tem Ron McCartney or soft-spoken council members Tom Buzbee and Tommy Wiley in the May election.
It's not unusual for no one to file, McCartney said. Over the years, the council has had to appoint people at times just to keep the positions filled, he said. Then there are residents who run for office with an agenda, get elected, push for drastic changes and are promptly replaced the next election, he said.
"We like it like it is out here: simple, county standards only, not over-complicated and still country," said McCartney, who has been on the council more than 17 years.
"We've got two churches, one store and a fireworks stand," said Chrissy Stinson, head cook of Bubba's food truck in Gholson. "But we don't have all the politics a city has. We do have a mayor. But we have no jurisdiction, like no police station out here. We do have a volunteer fire department. We've got everything you need without all the hustle and bustle of the city. We don't have to worry about hearing sirens at night. We can hear coyotes and look at the stars."
Teresa Martin said she has lived in Gholson for about 20 years.
She met her husband in Tennessee and moved with him to his hometown. Martin now watches a lot of the neighborhood children while their parents go to work.
Summers in Gholson are the best, she said. The small roads are filled with families out for walks with their dogs, and children are out playing together. Many families stay in the area, she said. Her son lives next door to her, and her daughter teaches in the district. Knowing all the neighbors helps people look out for one another, she said. Neighbors recognize when a vehicle isn't familiar with the neighborhood or if someone is on a property where they don't belong.
"Everybody kind of knows everybody," Martin said.
The city is not without its faults. There have been a series of drug raids in the area, and the city desperately needs a playground for the youth, Martin said. But overall, the properties aren't smashed together, and there is breathing room to enjoy the countryside, she said.
The city council meeting in Smith's shop was the first in that location but also a reminder that city leaders lack a permanent home to conduct business.
Gholson's City Hall suffered extensive water damage about a year ago, pushing council meetings across the street to the volunteer fire department building. But the volunteer fire department had a meeting the same night as the council in February, so the council had to find somewhere else to meet.
After meeting in Smith's shop, the council picked up its next meeting back at the fire station.
Since the answering machine broke when City Hall was damaged and no one can man the line in the building, members agreed to buy a cellphone for the part-time city secretary so calls to the city could be redirected to her.
Unless a neighbor has the personal cellphone number for a council member or knows the city's email address, which is not posted anywhere, they would have had to attend a council meeting to speak with a city official. The council agreed the cellphone for the city secretary should also include access to the city's email.
And if anyone wants to file an open records request or view city documents, Smith said they could call him and he'll make it happen. But Smith said he's not aware of anyone ever wanting to review city information.
City Secretary Mel Priest said she also keeps city documents sorted and filed in her home, as she also works and goes to school full-time.
"Most people at Gholson don't care if the city is there or not," Smith said. "They could care less. The only thing they are interested in is that we keep the city of Waco from getting them in the city of Waco."
Smith said the city has about half a million dollars in reserves. The council still is deciding whether to fix its old meeting space, which is owned by the Gholson Independent School District, or buy its own piece of property and build.
McCartney said sometimes young people get frustrated with the speed at which business is conducted in Gholson. But the "old Gholson concept" is not quick, and it's frugal, so projects are done as money is available, he said.
City's history
Around the Civil War, the area now known as Gholson was called Sardis, according to Tribune-Herald archives. The city was named Gholson after the brothers Samuel and Benjamin Gholson, two of the first Western settlers. By 1890, the community had 25 residents.
The council credits former Mayor H.T. Sexton with a lot of the progress of the city at the intersection of Farm-to-Market Road 933 and Farm-to-Market Road 1858, 12 miles northwest of Waco in northern McLennan County.
The city officially incorporated in 1975, and population rates rose to as high as 650 in the late 1970s, before dropping to 263 by 1980, according to the Texas State Historical Association.
Many of the council members agreed the whole reason for the city's incorporation was to get out of the city of Waco's Extraterritorial Jurisdiction and the ordinances that came with it. There was also the desire to improve the town's roads.
Though the initial incorporation stemmed from a desire to escape rigorous ordinances that came with city of Waco oversight, residents periodically ask to have a municipal court. Without a municipal court in place, there is no mechanism to enforce city ordinances, but the city doesn't have the money to establish a municipal court, City Attorney Jacob G. Straub said.
"The last time we quoted it, we'd have to triple taxes," Straub said.
Potholes once littered the city, said McCartney, the mayor pro tem. The council has worked diligently to help pave the once all-gravel roads, he said. It also focuses on keeping the city clean and holds regular cleanup events for residents.
"Like all cities, we've been very, very conservative. We try to watch over our roads and maintaining the trees the best we can," McCartney said.
The city expects to bring in $124,500 for fiscal year 2017, including $67,000 from property taxes, $40,000 from sales tax, $14,500 from franchise taxes and $3,000 in interest. Meanwhile, city leaders only plan to spend $80,700 this year.
The council dedicated $50,000 for road improvements, and the rest will cover dues, election fees, insurance, legal services, office supplies, utilities and other miscellaneous expenses.
The city's property tax rate is 20.9488 cents per $100 of valuation.
In comparison, the city of Woodway has a 47-cent tax rate; Robinson has 49.95-cent tax rate; and the county's tax rate was set at 52.5293 cents per $100 of property value for the fiscal year.
Precinct 3 Commissioner Will Jones said he keeps a standard interlocal agreement in place with the city of Gholson to cover any emergency work that needs to be done.
"We're always helping them with their roads," Jones said. "It's something that's very important to me to help out these smaller communities. They don't have the means to have a lot of equipment. We really like working with them."
Bubba's food truck, parked next to Bubba's Gholson Country Store off the main thoroughfare, has served burgers for about two years. The cash-only establishment features cheeseburgers, steakfinger sandwiches, steakfinger baskets, chicken quesadillas, corn dogs and more.
"I had some people come in from Waco who had a burger here last week, and they said that was the best burger they ever had and they'd bring back their family. They asked us to move to Waco, and I said more Wacoans need to come out here," Stinson said. "It's just a little, home country town. Why move to the city when we can bring the city here?"
Like most people in Gholson, Stinson said she knows everyone in the community, right before shouting with a wave, "That's Jared's wife," as a woman exited the nearby store.
"I guess if you were raised in the city, the city is what you want. When you come out to the country there's nothing to do," she said. "But when you're from the country and you go out to the city there's all these things, you can go skating, you can go do whatever. But you can't go to the river in the evening when you get off work and go catch a bass and cook it for supper."
The food trailer is open 11 a.m. to 7 p.m. Tuesday through Thursday and stays open an hour later on Friday and Saturday.
The city of Waco cut the minimum size for a house lot in certain areas. Gholson is considering doing the opposite.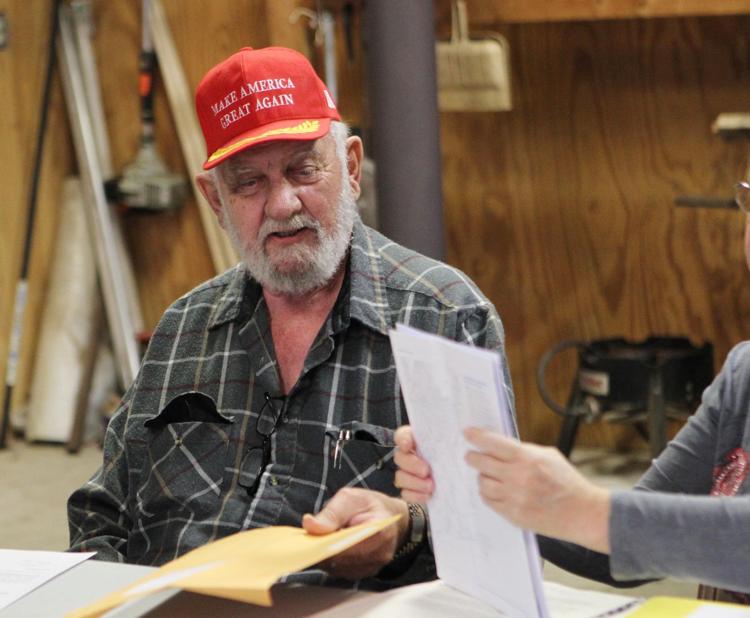 Half-acre minimum
During its last meeting, the council discussed creating an ordinance establishing a half-acre minimum for home lots. Councilman Binnion said the city already has an ordinance requiring all mobile homes to sit on a minimum of a half-acre to meet health department septic requirements. It would only be fair to make the same requirement of all properties, he said.
McCartney said a lot of people think they want more than a half-acre of property until it comes time to care for the land. Ultimately, he said, the council just wants to take care of its city and its neighbors and maintain its country feel.
Jennifer Yates, who works at Bubba's Gholson Country Store, moved to the city from Aquilla about a year ago to be closer to work. Yates said she transferred her two children to Gholson ISD and has been pleased with the teachers in the district.
Gholson is the kind of city where the community rallies behind those in need with fundraisers or community garage sales, she said. It's also the type of town where a trip to fill up a vehicle with gas can turn into an hourlong conversation with a neighbor at the pump.
Yates said she isn't very involved in the local city government but knows the council posts meeting announcements on the store's door. She said she probably should be more involved, but as long as elected leaders stay focused on streets and keeping taxes low, she's happy.
"Everybody sticks together around here. It's a good little community," she said.