Four Rapoport Academy seniors are taking learning about sustainable urban farming to a new level by setting out to build two aquaponics greenhouses before they graduate this spring.
But they'll need to raise $10,000 to accomplish the goal. As of Wednesday afternoon, they only had $316.
The greenhouses could also give future Rapoport students a chance to embrace sustainable farming methods and contribute to the overall well-being of the East Waco community by growing produce to sell at a local farmers market or use in the cafeteria, they said.
"Moving forward, there's definitely going to be a need for urban agriculture," senior Connor Wright said. "I think aquaponics systems and greenhouses in a compact area are going to be a really good way of providing food for a lot of people. It's going to be really good for a lot of people to learn how to do."
Rapoport Academy serves more than 800 students, and more than 60 percent are economically disadvantaged. The area is also considered a food desert by the U.S. Department of Agriculture.
The project is part of something every senior at the public charter school is required to do before graduating: either write a thesis paper or create a science, technology, engineering and math-based capstone project, the project group said.
Called the Serving Urban Needs by Redefining Inefficient Systems of Ecology, or SUNRISE, Greenhouse, the students were inspired to take on the idea after a recent graduate brought the vision to them, senior Rachel McLean said.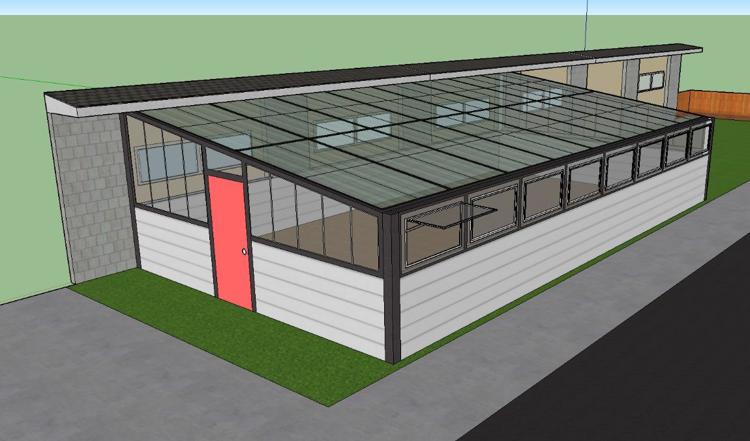 The group is still deciding what fruits and vegetables to grow in the building, but the produce will be grown by using a fish tank to cycle water into plant beds, senior Layton Coker said.
"The water is cycled between the two, so it's kind of a symbiotic relationship between the fish, whose excrement produces the vitamins the plants need, and the plants clean the water that goes back to the fish," Coker said. "One of our former teachers actually had a very small-scale aquaponics system in their classroom."
The students plan to build a smaller aquaponics greenhouse at the East Elementary campus first to see how well their idea works. Then they will build one at Meyer High School along the side of the science building. As of Wednesday afternoon, they were already laying the foundation for the larger greenhouse.
"The area over there used to be a lot worse. It was full of overgrown gardens that used to be there," McLean said. "When we were freshmen, there was a nice garden there that used to be kept up well. We just kind of saw a need there for something to make the school look better, to provide an educational section for kids to come learn about plants."
The students work on the project when they can, including as part of a principles of business class that helps them understanding how businesses in today's society work , they said. But the biggest challenge has been financial, senior Zach Bartek said.
Bartek heads up the financial side of the project and has applied for two grants he hopes the group will get within the next few weeks. One is a $5,000 Home Depot grant, the other is a $2,000 grant from the Whole Kids Foundation, said Clay Springer, the district's STEM coordinator.
The group also set up a GoFundMe donation account online and is networking and marketing with businesses and community members for materials and help, Wright said.
"I'd like students to take away that they can do anything really, if they put the hard work into it," Bartek said. "I want them to know working hard can lead to great things. A lot of times students don't want to do the work to see the outcome, and this is a great way of showing it can be done."
Once completed, the school will set up a class account for the SUNRISE Greenhouse to hopefully keep it going for years to come, Springer said. To donate, visit www.gofundme.com/ sunrise-greenhouse.