With an election flier sticking out of his shirt pocket and business cards in hand, Ryan Coggins won't drop his political drive for a second.
He knows when to lay out his platform for inquisitive voters and he can recognize when to dodge tough questions from a reporter.
Coggins talks the talk and he's learning to walk the walk as he goes up and down neighborhood streets after school throughout the week, knocking on doors to campaign for his budding political career with his grandparents never far behind.
At 18, he's the youngest candidate out of 14 in Gatesville Independent School District's school board race vying to land one of three at-large seats in the Nov. 7 election. And as far as residents and school officials can recall, Coggins is the first 18-year-old board candidate in the district's history.
And there's nothing that would prohibit him from serving on the board and finishing up his senior year at the same time, said Barbara Williams, spokesperson for the Texas Association of School Boards.
"We have always had young people interested in board service. There has never been a large number who have decided to run," she said. "I can't say that we have a way of tracking it accurately over time, because we don't ask the age of our board members. But you hear of one or two young adults seeking a seat now and then."
While some candidates praise his efforts, others worry how he will do if elected to serve a three-year term.
"By law, he's eligible to run. I don't have any problem with him running," candidate Charles Alderson said. "I'm 71 years old, and been in education for 50 years, and even I don't have all the answers. So how can an 18-year-old do it? It's a big responsibility."
But Coggins isn't worried about the competition, he said.
He said he has been an active student in Gatesville ISD for a few years now, and is serving as student council president. He is an office aide and works closely with staff and students, he said. He is also in choir and is helping to orchestrate his school's Veterans Day celebration and Coryell County's National Night Out event, he said.
But his desire to run for school board comes from something deeper than student activities and community involvement, his grandfather, Lyle Coggins said. Lyle Coggins and his wife took Ryan Coggins in when he was 7 days old and have raised him as their son.
"We're a generation behind, if you will, so we've always taught him that what he's going to get out of life is what he's going to get out of life," Lyle Coggins said. "We watch Fox News and we also pull up NBC and ABC because we want him to get other views and perspectives of life. To be real honest, I used to make him sit down and listen to President Obama's State of the Union address, not that I believe he should agree with it, but because it was important to know what was going on."
They waved goodbye to some new friends as they walked out of J&M Hill Country BBQ on Wednesday and drove down the main road in the town of about 12,400 to meet a few more.
Lyle Coggins stood along North 31st Street, a few feet from the sidewalk, giving Ryan space to do his thing as he approached his first door of the night. The teenager, who loves crime movies and action movies and listens to George Strait, Alan Jackson and Michael Jackson, hopes to one day be a governor, he said.
"I believe in a younger vision. Me being 18 years old, I've gone through the modern K-12 system at GISD," Ryan Coggins said. "I believe if I get to be a school board member, I get to bring a different perception to the board than most candidates can."
Residents didn't answer at every door he approached Wednesday evening, but none who answered refused a business card. One asked where he could vote, and another recalled meeting Ryan as he campaigned during the town's family-fun celebration, Spurfest, last weekend. A third welcome even resulted in a surprise run-in with his assistant principal, Kristi Street.
"Ryan's a great student. He works hard. I'm excited for him to do this," Street said. "We have a lot of great young people, but not many of them strive to do the things Ryan's wanting to do at his age and beyond. Ryan has a voice and he's very good at expressing his opinions and he's very supportive of his fellow students. He's a great leader on campus, so I was not surprised."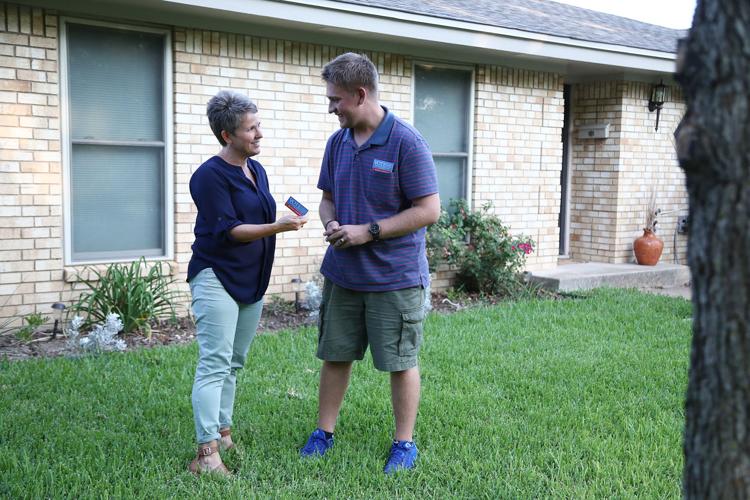 His grandfather looked on with a sense of pride as they walked on to the next home.
"He just wants to do good stuff for other people," Lyle Coggins said. "You can't ask for anything better than that. He's a good kid. I used to burp him, after all."
The Tribune-Herald reached out to some of the candidates Ryan's going up against, but not all, to see how they felt about running against someone who still has his high school prom and graduation in front him.
"I'm surprised there's this much hype over a student running for the council. I thought there would be more hype over the fact that there are 14 of us running for three seats," said Joseph Campbell, a first-time candidate and Gatesville parent. "I mean, it says something when there are this many people working this hard for a non-paying job."
Campbell doesn't mind if Coggins is running as long as he has an agenda that's about providing the best education possible to Gatesville ISD students, the masonry company owner said.
And Gatesville parent and incumbent Lisbeth Graham Appelman said she's glad to see Coggins as part of the competition. Appelman has served on the board six years.
"It's wonderful," she said. "I think our young people need to be going out and getting involved in that manner."
Asked what Ryan's biggest challenge might be if he wins, Appelman said "I don't know. You would have to ask him."
Coggins, though, knows one of the biggest responsibilities he will have if he wins is spending taxpayer dollars wisely, he said. He will listen closely to what taxpayers want and try to make the best judgment call possible, and he won't be afraid to speak up when necessary, he said.
Though he didn't answer directly what issues he sees in the district, he is focused on becoming a bigger voice for his student body, which has more than 2,800 students, he said.
"I want to bring programs into our school district, and there's a different range of programs I want to bring in," Coggins said. "Some of them promote patriotism, love for our community, love for our school district and love for our country."
For one, he wants to bring a Junior ROTC program to the district. There is always interest in military recruiters who come to campus, so he thinks there would be enough interest to sustain a successful program, he said.
If he doesn't win, he will finish out the school year helping Gatesville students the best he can before attending McLennan Community College to study accounting, then moving on to a four-year university, he said. Accounting is his backup if his political career falls through.
But Coggins won't know if he can achieve his goal if he doesn't try. And going door to door in a community that typically has a low voter-turnout is his best chance of winning, he said. As he approached his last door for the night Wednesday, a woman answered and he introduced himself as he did with everyone else.
"Hi, I'm Ryan Coggins and I'm running for GISD school board trustee," he said. "I'd appreciate your vote."