About a week ago, Bosqueville High School freshman Emma Grace Carpenter and her friends cleaned out the nearest Dollar General and H-E-B of as many No. 2 pencils, backpacks, tissues, Clorox wipes and packages of paper as possible, she said.
The receipt seemed more than 5 feet long, and Carpenter knew the supplies were going to help a small community recover from the destruction Hurricane Harvey left along the Gulf Coast in August. But she didn't realize the extent of the damage until she and about 20 Bosqueville Independent School District classmates and staff members arrived late last week in Austwell-Tivoli Independent School District, just up the coast from Rockport.
"How they all picked themselves up and came together as a community, and just got back to work and kept up their lives and didn't stop and sit there to be sad all the time — they got back up and continued to do what they could to help others — it was really awesome to see," Carpenter said.
Carpenter and other members of the National FFA Organization's Bosqueville chapter decided helping a small community, much like their own, would be just as important as the help they had seen in the news going to the Houston area.
Bosqueville students started their 5-hour bus ride at 6 a.m. Thursday. With the help of their sponsor, career and technology teacher Charles Prause, they delivered more than $3,300 in donations and school supplies to Austwell-Tivoli students.
The district of about 160 students serves the area around the two small neighboring towns of Austwell and Tivoli, about 30 miles northeast up the coast from Rockport.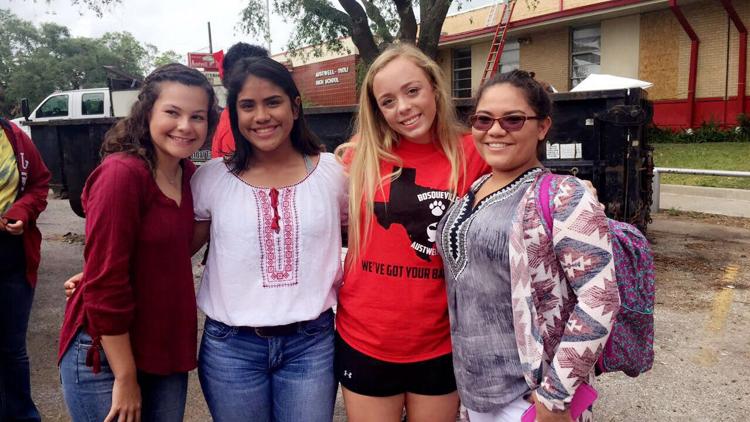 Austwell-Tivoli ISD didn't endure as much destruction as Rockport, but its gymnasium flooded, students lost homes, and classes recently started in temporary buildings, Bosqueville students said.
"It's difficult to imagine. I've played football for every year of my life for 11 years now. Having that huge chunk of your life delayed for a good amount of time is difficult," Bosqueville junior Ian Hankhouse said. "You just think of, 'What would I do? What would I do?' Honestly, you can't really fathom it until it actually happens to you."
When the Bosqueville students arrived, they immediately unloaded the supplies and became fast friends with younger Austwell-Tivoli students by sharing lunch and playing during recess, they said. They also delivered 270 spirit shirts, enough for every person in the district, paid for by community donations collected in the last two weeks. The shirts depict the state of Texas, with the location of the two districts and the words "We've got your back" printed on the front.
"The lightheartedness they had as we were eating lunch with them, it was so surprising to me," Carpenter said. "I think if I had lost a lot of stuff in the flood, I would probably be totally devastated, but all the girls were happy, smiling and giving us hugs."
Their trip didn't stop there. The Bosqueville students traveled to Rockport to see the scope of destruction and the difference the distance between the coastal towns made.
As they left Austwell-Tivoli ISD on Thursday afternoon, the students were all chatter, Bosqueville High School Principal Cliff Heath said. When their bus started passing discarded washing machines, roof tops, mattresses and other debris piled in fields and on the sides of Rockport's roadways, the students fell silent, Heath said.
"It's crazy to see people walking around, searching through the rubble," sophomore Jacob Baker said. "They're trying to find a certain item that means a whole lot to them and they couldn't find it, but they're just looking for it."
But what struck Hankhouse and other students the most were the American flags seen waving in the wind at the top of piles of rubble, he said.
"Our kids stepped up huge and made a lot of personal connections. … On any given Friday night, Thursday night or Tuesday night, we would compete against a school like that and would want to win," Heath said. "At the same time, they're kids just like us, people just like us in a community just like us. "