China Spring Road is lined with signs hyping new subdivisions, along with an army of yellow earth-moving machines scraping the wildflowers down for a road expansion.
But just off that crowded road, residents are trying to turn those new subdivisions into true neighborhoods.
The fledgling China Spring Neighborhood Association is emerging as a unifying force for China Spring, a loosely defined community northwest of Waco Regional Airport that straddles the Waco city limits. Since organizing last month, the group is setting to work on China Spring's future as it transitions from sleepy rural community to fast-growing suburb with pressing needs such as traffic management, development controls, parks and pedestrian safety.
"All these changes are happening out in China Spring," said Sara Shoup, president of the group's 11-member board. "Honestly, we were only getting together when we were trying to stop something, or we were hopeful that a park was coming. It became apparent that if we wanted to have a voice, we needed to come together and talk about what we need."
China Spring's growth has already put pressure on transportation and the China Spring Independent School District, which itself is a major engine of growth in the area. Most of the growth appears to be within the city limits, between Flat Rock Road and North River Crossing, said Chris Evilia, Waco Metropolitan Planning Organization director.
Based on current construction and platted subdivisions, Evilia estimates the area is on track to have some 8,400 people by the 2020 census, up almost 62 percent over the 2010 census count of about 5,200. A China Spring ISD study last year predicted district enrollment would grow by 50 percent within a decade and fill up the existing four schools within five years.
Haphazard growth
But many in China Spring, both old-timers and newcomers, are worried that the growth is happening in haphazard way.
"I'm all for growth in the area and diversifying the neighborhood and community," said Julie Talbert, an association board member who has lived on her family's ancestral ranch in China Spring for 14 years. "That part is exciting. The concern I have is that the growth has been too fast and seemingly somewhat unplanned.
"I think a lot of us are in agreement about the need to slow things down and maintain what a lot of us love about China Spring and the incredible schools we have. Growth is good. Unplanned growth is not."
The new neighborhood association has already had meetings with city of Waco staff and held a candidate forum this week with District 5 Councilman Jim Holmes and his rival in the May 6 election, Deanna Leach. Both agreed to be champions for China Spring on issues from traffic to parks to grocery store recruitment. They also heard from residents who complained that better development standards and inspections are needed to prevent low-quality construction in subdivisions.
Association leaders are hoping the city will recognize the group as part of Waco's neighborhood association system, which has been in place since the 1990s as a way to increase civic engagement. Shoup said one complication that has arisen in discussions with city staff is that the neighborhood association spans a large area beyond the city limits, unlike the other associations the city works with.
April Hull, the city's liaison with the neighborhood associations, met with the group last month but was unavailable this week for comment.
The group has appointed committees to look at various issues and is still trying to recruit more members.
Shoup said traffic concerns are high on the list of issues driving involvement. Members would like to see more traffic lights along China Spring Road, or Farm-to-Market Road 1637, which is being widened from Steinbeck Bend Road to just past Wortham Bend Road at a cost of $27.8 million.
A second phase of widening out to North River Crossing, or F.M. 185, is expected to start next year.
Shoup said several roads that cross F.M. 1637 are a problem during rush-hour traffic, including Tree Lake Drive and Yankie Road.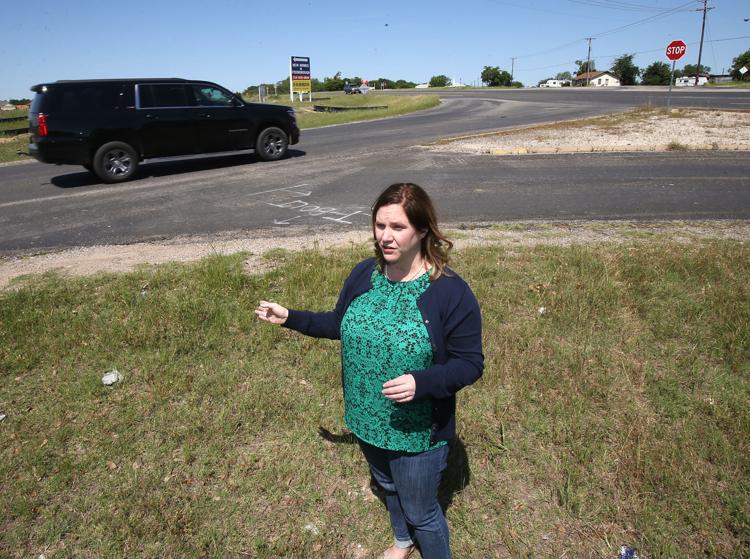 "Our concern is that people don't have a way to cross this crowded and fast-moving highway," she said while standing near the Tree Lake intersection Thursday morning. "I come through every day because my son goes to daycare down the street. I've gotten smarter about it and given myself more time. If you try around 7:20 or 7:30, it's crazy. I've seen several accidents on these roads. I've sat stopped in traffic for 45 minutes because of accidents."
The group plans to meet with local Texas Department of Transportation officials about signals for the area.
Local TxDOT spokesman Ken Roberts said the agency will consider public input on traffic controls in the area as it moves forward with China Spring Road improvements. One safety and mobility project planned in the second phase of the road expansion is to realign Old China Spring Road to connect with F.M. 185, he said.
Parks and connections
Neighborhood association officials also are concerned about the issues that could make China Spring something besides a car-centric bedroom community. Shoup said parks are high on the list, as are pedestrian and bike connections.
Shoup lives two miles from Airport Park at Lake Waco, but she said there's no easy or safe way to walk or bike there. She would like to see bike lanes and more sidewalks in the area to connect to existing and future parks.
She said a public meeting a few months ago in the China Spring area that city parks officials held for the new Waco Parks and Open Space Master Plan was the genesis of the neighborhood association idea.
Talbert, who lives on Talbert Ranch Road on the unincorporated side of China Spring, agreed that a new park would enhance the sense of community identity.
"We don't want to be just the northwest part of Waco," she said. "We want to have some kind of identity, something unique to China Spring, and the outdoors is a part of it."
Talbert grew up in New York City but remembers her childhood visits to China Spring, where her family had lived since the 19th century. She enjoyed China Spring's rural charms as a kid, but she is also excited about the possibility of more urban opportunities, including varied parks, public transit, perhaps even a public library.
She said her children, ages 12 and 14, "can't walk to anything from anywhere," but she'd like to see the day when kids can walk to after-school programs, ball games and summer camps.
"As China Spring grows, so does the need for more diverse and interesting activities," Talbert said.