The widening of Interstate 35 through Waco has not started, but the process of buying land to make room for a wider highway is forcing two local businesses out of their I-35 locations.
TxDOT has been buying land for years with long-term plans to widen the highway to four lanes in each direction between North and South Loop 340 and install new entrances and exits.
Altex Computer & Electronics and Standard Hat Works will have to leave their current locations.
TxDOT has informed Altex, near South 16th Street and the I-35 frontage road, that it must bow to progress and depart the premises, store manager Chris Coffey said. It falls in the boundaries of the planned $400 million Waco portion of the project. Money for the project is not yet in place.
"We have to be out of this building by April 11, and our last day of business is March 31," Coffey said.
The store sells computers, hardware, security equipment, cabling, technical supplies and power sources.
Coffey said TxDOT is paying Altex for the building and land, but the company has decided not to reopen elsewhere in Greater Waco.
"We couldn't do that without paying a bunch of money beyond what they have offered, so corporate has decided just to pull out. It is frustrating," Coffey said.
Altex has been in Waco for 12 years and has created a loyal following, he said.
The store serves local school districts, Baylor University and McLennan Community College, he said.
"Now I guess we'll just have to meet their needs from one of our other stores in Texas, but they won't have a local place to get service and advice," Coffey said.
San Antonio-based Altex has three locations in its hometown and others in Austin, Corpus Christi, Dallas, Fort Worth and Houston.
Coffey said Altex has become a success because it refuses to take on unnecessary debt, "and relocating within Waco would put us in the red for a time."
Kevin Tullous, owner of Custom IT Solutions in Robinson, said Altex's decision to leave the Waco market may put him in a bind.
"I install most everything they sell, and I receive referrals from them," Tullous said. "If someone buys surveillance cameras, the work of installing them goes to me."
He said Altex fills a critical need by helping him with last-minute purchases or assisting in replacing faulty parts he may have acquired from other providers.
To deal with the company's departure, he said, he may have to stock up on parts and even become a supplier to other Altex customers who find themselves in a lurch.
Josh Obat, who manages the Computer Giant store at 3112 Bellmead Drive, said he was stunned to hear of Altex's decision to leave the market.
"Gosh, that's catastrophic," Obat said. "We buy a lot of newer product from them, and we refer customers back and forth."
He said Computer Giant has done business locally for about 18 years, selling and repairing personal computers, tablets and phones.
TxDOT spokeswoman Jodi Wheatley said the department does not comment on negotiations with property owners for privacy reasons.
"A lot of the decisions about whether to relocate are made by the property owners themselves," Wheatley said. "If an acquisition requires demolition of a building, we have money available for moving costs, and we have relocating agents who get involved in that process."
When TxDOT deems a piece of property vital to a project, it hires an independent appraiser to determine its market value, she said.
"Whatever the appraised market value is, that is what the offer is," Wheatley said. "The property owner receives a copy of the appraisal and has the opportunity to make one counteroffer. If that counteroffer is within bounds, we can deal. If the two sides can't agree, we move to the process of eminent domain."
Eminent domain is the legal authority of one organization to buy property against the owner's wishes.
In the case of TxDOT, an independent commission handles eminent domain decisions. Its decision can be appealed to a jury.
Cameron Morris, who owns Standard Hat Works at 1826 Circle Road, near Waco's traffic circle and I-35, is searching for a new location for his business.
TxDOT has informed him that its work on the interstate will require him to move.
"It's a shame I'm having to leave an I-35 location, because I get so much business from it," Morris said.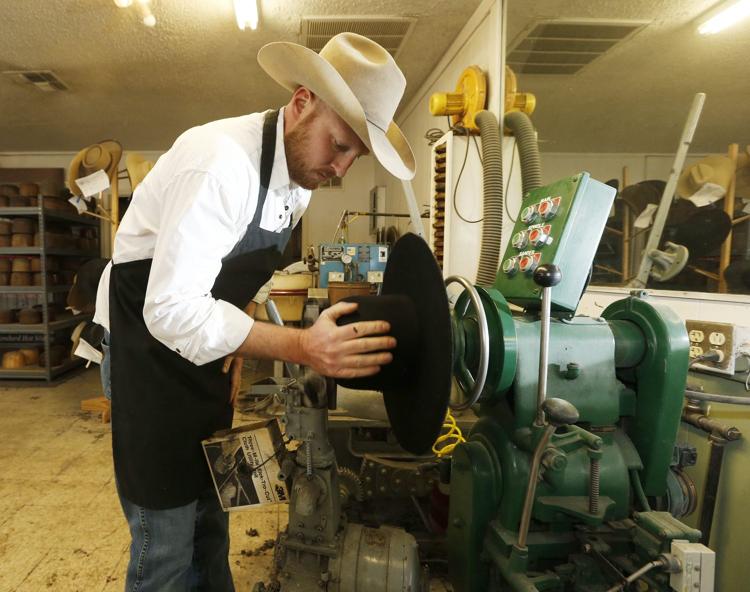 He said he leases the building and plans to relocate in town.
"I definitely will stay here in Waco, and I'm looking for another building near Baylor University or downtown," Morris said. "I'm not really looking for a shopping mall environment. I'm wanting a rustic, old-school place, probably 2,000 to 4,000 square feet in size."
Waco's Standard Hat Works, which specializes in customized hat making, can trace its founding to New York City more than 100 years ago. Williams Gross, a Hungarian immigrant, walked the streets selling hats off his head. He later found a home for his shop in Waco, settling at 622 Washington Ave.
The store attracted George Strait, Clint Black, Garth Brooks and Neal McCoy as clients as its reputation for making quality western hats spread.
The shop went through a succession of owners and moved to its current location on Circle Road in 2006, before TxDOT's plans for I-35 became common knowledge.
Wheatley said construction to widen the interstate through Central Texas began in 2010, and much of the work between Waco and Hillsboro has been completed.
It began just south of Hillsboro and continues south through Lorena, Bruceville-Eddy, Troy, Temple, Belton and Salado.
"Within Waco and Temple, it will be expanded to four lanes," Wheatley said.
Funding for construction in Waco remains pending, but right-of-way acquisition has been underway for years, she said.
The process already has led to the demolition of the original Heitmiller's Steakhouse in Elm Mott, with owner Jay Hinojosa erecting a larger, stone-covered Heitmiller's on the interstate frontage road near Lake Shore Drive, not far from Cracker Barrel and the Wal-Mart Supercenter in Bellmead.
Rumors abound that the widening will impact the popular El Chico restaurant on Waco's traffic circle, possibly forcing it to relocate.
"It's just a lot of rumors, nothing definite," said Bill Watson, vice president of marketing for the El Chico chain. "We are very much open for business and expect to remain open for business until TxDOT tells us otherwise. I can tell you this: The location we have now is irreplaceable."
Wheatley said plans for the widening remain in flux, and properties affected by it are subject to change.
She said developers placing new restaurants and retail establishments along the I-35 frontage road between University Parks Drive and South 10th streets have kept TxDOT's plans in mind.
Dallas-based DuWest Realty demolished the Clarion Hotel near the interstate to make room for an In-N-Out Burger and a CVS Pharmacy, which it built farther away from the highway than the hotel had operated, Wheatley said.
Moody Aljadael, local Denny's franchisee, closed the Denny's near Baylor two years ago, fearing a widened interstate would slice into his already small parking lot. He built a new Denny's in Bellmead and also owns the 150-seat Denny's that opened in 2010 inside the Flying J travel center at New Road and I-35.
Raymond's Southern Kitchen in Lorena saw a slowdown in business while an exit off I-35 was closed for work related to the interstate expansion.
"Yes, we were impacted, but the exit has reopened and we're getting back to normal," said Diana Aguilar, a team leader at the home-style restaurant.