As one sports bar plans a Friday opening in downtown Waco, another along Interstate 35 is prepping to hire 190 employees for a mid-June opening.
Coach's Smoke sports bar will open Friday at South Fourth Street and Franklin Avenue, in Waco Town Square, and owner Gary Zacharias on Thursday evening was smoking the barbecue he will serve to some customers on his first day of business, which begins at 11 a.m.
"I have no idea what size crowd to expect," said Zacharias, who has remodeled 6,500 square feet of space formerly occupied by Sam's on the Square.
He has decorated it with sports-related memorabilia that includes Baylor University football helmets, vintage sports equipment, and magazine and newspaper articles.
The former McGregor High School football coach also owns Coach's Bar-B-Q in that community, but he chose not to include "barbecue" in the name of his downtown establishment, saying he will offer a varied menu that includes wings, chicken-fried steak, fried pickles and other fare.
Flat-screen TVs will allow patrons to follow sporting events as they enjoy a full bar and a patio.
He said he has hired about 30 people to staff Coach's Smoke, which will operate from 4 to 11 p.m. daily, seven days a week.
Meanwhile, an 8,400-square-foot Bubba's 33 sports bar is scheduled to open June 15 in a development at Interstate 35 and South Valley Mills Drive.
That site already has become home to a Gander Mountain outdoors store, a Starbucks location and Potbelly Sandwich Shop.
Phillip Dunn, managing partner of the Waco Bubba's, confirmed Thursday he is hiring 190 people to staff the restaurant.
"We'll probably lose about 20 percent of that number through attrition, and we won't necessarily replace them, but we will start with 190," said Dunn, adding that the eatery's size and dedication to quality service dictates that it maintain an employment level larger than most restaurants and sports bars.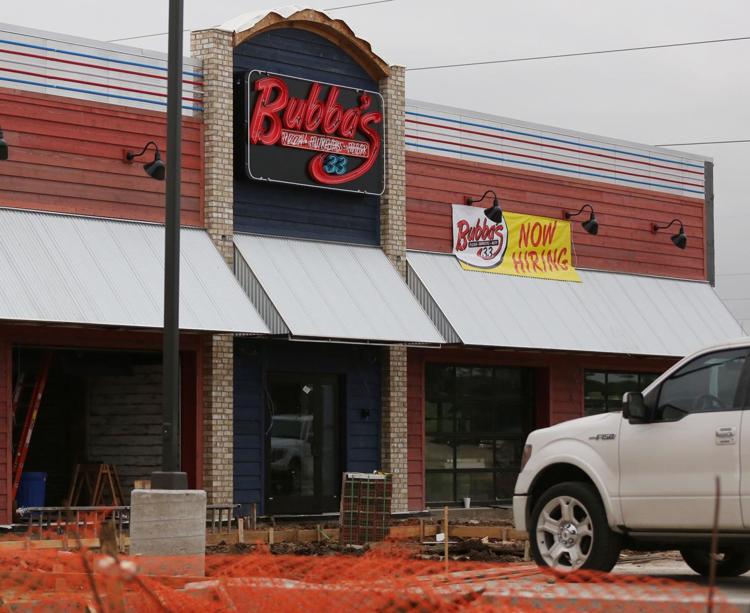 He said the Bubba's locally will have two full bars and a large dining area to accommodate 325 people.
"Our slogan is that we have more TVs than tables, and that typically means we have almost 100," Dunn added.
Dunn said the restaurant already has hired about 65 people, with staffers to include pizza makers, meat cutters, hosts, servers and bartenders.
The menu will include stone-baked pizza; burgers, including the chain's signature Bacon Burger; and a variety of beers.
Bubba's 33 is a relatively new restaurant concept launched by Louisville, Kentucky-based Texas Roadhouse, which has a spot on Waco's traffic circle.
The first Bubba's 33 opened about a year ago in Fayetteville, North Carolina, and the Waco location becomes its sixth.
"We targeted Waco because of growth in the community and the success of Baylor University's athletic programs, which are attracting attention nationally," Dunn said, adding that the popularity of Waco's Texas Roadhouse also played a part in the company's decision.