A compound built to be heaven on earth turned into a funeral pyre Monday, with more than 80 Branch Davidians feared dead from a fire they apparently set.
Cult leader Vernon Howell, who claimed to be Christ, apparently died in the fire.
FBI Special Agent Bob Ricks said some of the nine cult members who survived the holocaust reported that at least three separate fires were set just after noon Monday. The fires, apparently feeding on lantern fuel, consumed the Mount Carmel compound 10 miles east of Waco within a half-hour.
One Branch Davidian survivor, Ricks said, reported hearing others yell, "The fire has been lit. The fire has been lit."
"I can't tell you the shock and the horror that all of us felt when we saw those flames coming out," Ricks said. "We thought, 'Oh my God, they are killing themselves.'…We can only assume that there was a massive loss of life. It was truly an inferno of flames."
McLennan County Justice of the Peace James Collier, called to the scene, termed the heat from the fire "terrific." He questioned how many of the bodies would be recovered.
"It's a wild guess as to what we'll find," Collier said.
A search for more bodies will be conducted this morning, then the crime scene will be turned over to the Texas Rangers, Ricks said.
Former cult member Robyn Bunds cried while watching TV broadcasts of the fire.
"It's another Jonestown," she said, in a telephone interview from Pomona, Calif. "They all died. These people killed themselves. It's so sad. These people wanted to die."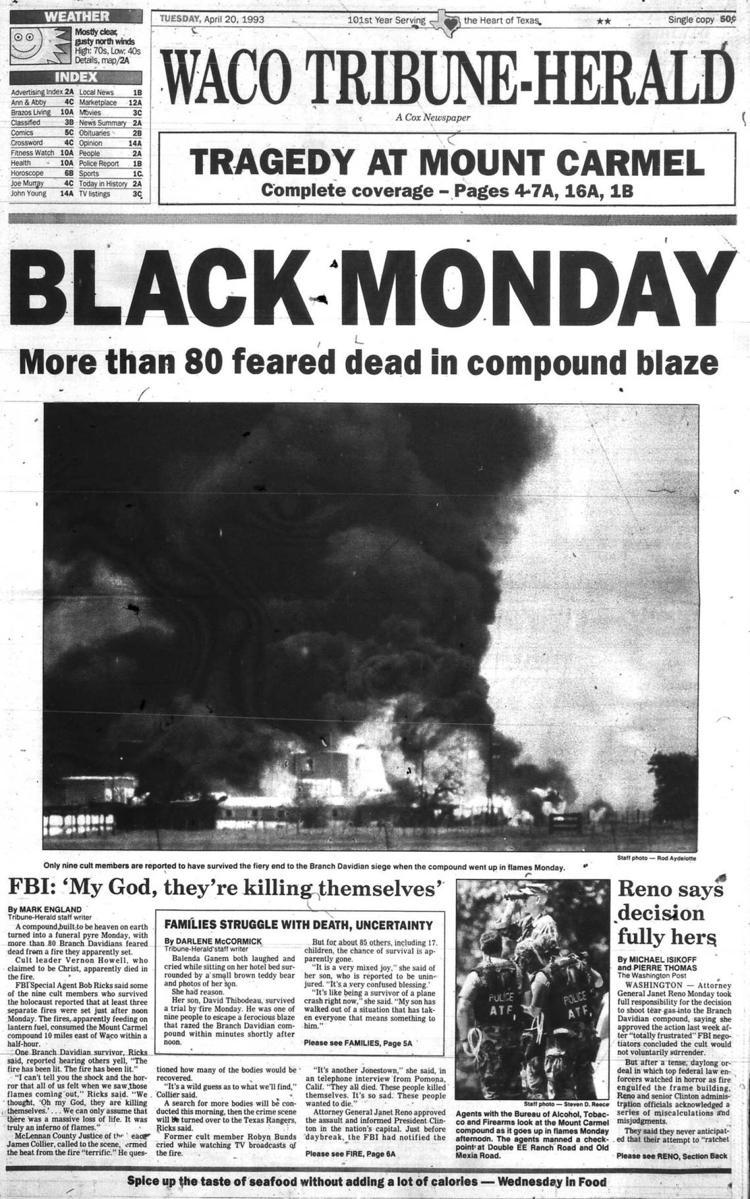 Attorney General Janet Reno approved the assault and informed President Clinton in the nation's capital. Just before daybreak, the FBI had notified the compound's neighbors "that it would end today," according to Melanie Felton, a rancher.
FBI Director William Sessions praised agents' handling of the standoff, which began after a Feb. 28 shootout in which four agents with the Bureau of Alcohol, Tobacco and Firearms and possibly six Branch Davidians died.
"I have no question that our plan was correct and was conducted with professionalism and care," Sessions said.
But critics questioned the FBI's abrupt change Monday morning from a waiting game to an aggressive attempt to drive the Branch Davidians out of their compound. At 5:55 a.m. FBI agents called Steve Schneider – considered Howell's top lieutenant – and warned him that the compound would be hit with tear gas unless cult members surrendered immediately.
After 51 days, its patience had run out, the FBI told Schneider.
Schneider reportedly hurled the phone out the door.
A combat engineering vehicle then began poking huge holes in the compound. Cult members fired an estimated 80 rounds in response, Ricks said. They continued shooting as more holes were punched and non-lethal tear gas was pumped in. Ricks said the FBI did not fire back.
Waco attorney Gary Coker – who successfully defended Howell and seven Branch Davidians in 1988 after they were accused of trying to kill rival prophet George Roden – questioned the pressure the FBI put on the cult.
"So what if they talked to CNN?" Coker asked. "What did it hurt? It politically looked bad. That was all it was: Lives were very secondary. The way it looked and whether they could get convictions was tantamount. This was unprecedented. I don't think Attica was as bad, and those were convicts. These may not have been perfect human beings, but they didn't deserve to die."
Ricks, though, said the FBI thought the use of tear gas would provoke the women inside the compound to "grab their children and flee out."
"Unfortunately, they bunkered down the children, the best we can tell, and they allowed those children to go up in flames with them," he said.
The raging fire that signaled the end began about 12:10 p.m. Monday.
As a combat engineering vehicle ripped another hole in the compound's wall, as easily as scissors through cloth, a spark could be seen in a second-story room. As TV cameras pulled back, at least two other fires could be seen.
Watching a TV at Hillcrest Baptist Medical Center, employee Gloria Gonzales, who lives in Hallsburg, knew what was ahead.
"There's no way they can put that out," she said. "They don't have any water out there. All they have is a tank."
Waco fire trucks arrived on the scene at 12:22 p.m., according to Sandy Test, a public information coordinator for the city of Waco. But the trucks were not allowed past an FBI checkpoint until 12:45 p.m.
"The FBI held them in concern for the firefighters' safety," Test said.
A hellish orange fire engulfed the sprawling compound within minutes.
The so-called lookout tower tumbled first. Then the front porch began collapsing. After more than 20 minutes, the heat seared the Branch Davidians' Star of David flag from its pole and it hurtled into the inferno, looking rather like a crazed bird.
Ricks said there were at least three major explosions, presumably from the cult's store of weapons and ammunition.
At one point, a woman with her clothes aflame came running out of the compound. The flames, though, seemed to summon her back. An FBI agent had to leave the protection of an armored vehicle to rescue her, according to Ricks.
"He ran toward the building and physically rescued the female, despite her attempts to fight him off," Ricks said.
By 12:39 p.m., the compound was in ruins.
Three Chinook helicopters, each capable of ferrying several dozen people, landed nearby, but Bob Riggs of Channel 8 in Dallas noted, "There appears to be no one to evacuate."
First estimates put the number of survivors at 20. That number proved to be optimistic, however. Ricks listed eight of the nine survivors, with none of the 17 children in the compound among them: Jaime Castillo, 24; Clive Doyle, 52; Misty Ferguson, 16; Derek Lovelock, 37, a British citizen; David Thibodeau, 23; Renos Avraam, 28, a British citizen; Ruth Riddle, also known as Ruth Ottman, 29; and Graeme Craddock, 31, an Australian citizen.
None of the survivors was considered close to Howell.
Three Branch Davidian survivors were flown by helicopter to Parkland Memorial Hospital in Dallas, the nearest burn unit to Waco.
Dr. James Atkins said one woman brought to Parkland suffered burns over 50 percent of her body and was on a respirator and in critical condition. She had burns on her neck, face, and lower body, according to Raji Bolton, a Parkland spokeswoman.
A second woman, also in critical condition and on a respirator, was burned over 25 percent of her body.
Clive Joseph Doyle, 52, was listed in good condition. He suffered burns only on his hands, Atkins said.
Riddle was taken to Hillcrest in Waco. She was in stable condition with burns over less than 4 percent of her body, said Dr. Bill Daney. He said Riddle reported breaking her ankle when she jumped from the compound.
Ricks said FBI agents attempted to rescue the cult's children from the fire.
"When we were told the children were in the buried bus area, we immediately doused that area," Ricks said. "We went down with the fire department to try and rescue the children if they were there. We did observe several bodies. We think, however, those bodies are members who participated in the shootout Feb. 28."
One cult member later told authorities that the children were upstairs when the compound was torched, Ricks said.
Howell and many of his inner circle apparently holed up in a cinderblock room in the middle of the compound during the gassing, Ricks said. For a time, it appeared to offer them protection, he said.
"Once the protected area was injected with gas, it appears at that point the order was given to send it up in flames," Ricks said.
Ricks said authorities believed tear gas was the best way to avert a possible mass suicide.
Cult member Brad Branch, though, told CNN during a call from McLennan County Jail, "This is a systematic…assassination by the FBI to eliminate all of the crime scene, now they're finishing off the job, destroying the crime scene."
Throughout the afternoon, military Huey and Chinook helicopters took off and landed near the ATF command post at Texas State Technical College.
At about 2:30 p.m., the first of five uninjured surviving cult members, all wearing jail-issued orange jumpsuits, was seen leaving the ATF command post riding in a DPS patrol car.
It was unknown late Monday if the 21 children who had left Mount Carmel during the standoff knew of the fire.
Bob Boyd, program director of Children's Protective Services, said the Branch Davidian children are still under the care of a treatment team.
He said counselors have discussed many issues with the children, but he didn't know if they were prepared for "anything like this."
Ricks, obviously weary at an afternoon news conference, defended the FBI's bold move.
"We believe this thing had to be brought to a logical conclusion at some point," Ricks said.
"…He wanted as many people killed in that compound as possible. That is why it was named Ranch Apocalypse. All of us in the FBI feel very saddened. This is a very tragic event. We were doing what we thought best to prevent this tragedy from occurring."
Former cult members said Howell taught that he and many followers would die in a showdown with authorities. Later, though, they would be resurrected and return to slay the unbelievers.
Still, Robyn Bunds had trouble reconciling Howell's teachings and what happened Monday.
"People dying in a burning building," she said. "Tell me. How is that prophecy?"