Two musicals perennially popular with Waco audiences go onstage this weekend, but with much younger casts than earlier productions, thanks to the youth theater programs that are staging them.
For Mission Waco's Jubilee Theatre youth theater program, the musical opening a three-performance run on Friday is "Beauty and the Beast Jr." with a 10-year-old beauty (Eliah Contreras as Belle) and a 12-year-old Beast (Hunter Dillon).
At the Lee Lockwood Library and Museum, the older actors of Waco Children's Theatre will present "Grease" in a two-weekend run starting Friday, with a largely high-school-age cast playing, well, high-school-age characters.
Waco audiences have responded to both musicals whenever they're presented and in both cases, the kids doing the musicals have fully embraced their parts.
Jubilee children's director Afton Foreman said turnout was surprising for "Beauty and the Beast's" auditions earlier this spring, the first open auditions held for a Jubilee children's production.
She ended up with a cast of 35, one of the largest fielded by the Jubilee and with ages ranging from 5 to 17. The wide popularity of the Disney animated film musical meant that many in her cast knew the songs and story before work on the play began.
The stage musical, however, has two more songs than the 1991 movie, including "Human Again" sung by the Beast's enchanted household. There's a difference, too, in knowing about all the characters and having to play one specific one, but give a young actor a prompt about a character's motivation or outlook and she or he often take it from there, Foreman said.
"It's been really eye-opening. Working with kids, you see they have such big imaginations — they run with stuff in ways you didn't see," she said.
The tale as old as time follows a young villager named Belle (Contreras) who ends up in the enchanted castle of a fierce Beast (Dillon) under a spell that requires true love to break. His household — Lumiere (Diamond M. Wade-Akridge), Cogsworth (MaKyah Foreman), Mrs. Potts (Sharidyn Harold), Chip (Ariel Gooden), Madame de la Grande Bouche (Katherine Hebert) and Babette — are similarly transformed and rooting for Belle to fall for the Beast.
Meanwhile, the boorish Gaston (Joel White) and his sidekick LeFou (Francisco Lara) complicate matters with Gaston's intent to woo Belle.
Foreman doubled as the production's costumer, sewing Belle's yellow ballroom gown in three days before practices began, and found her cast rising to the challenge of a large production even as some, like Contreras, had never acted before.
In some cases, her cast's youthfulness worked to the musical's advantage. The relationship between Belle and Beast, which starts in misunderstanding and conflicted emotions, mirrors the teenage awkwardess of a first date, she noted.
"I am really excited by this show," Foreman said.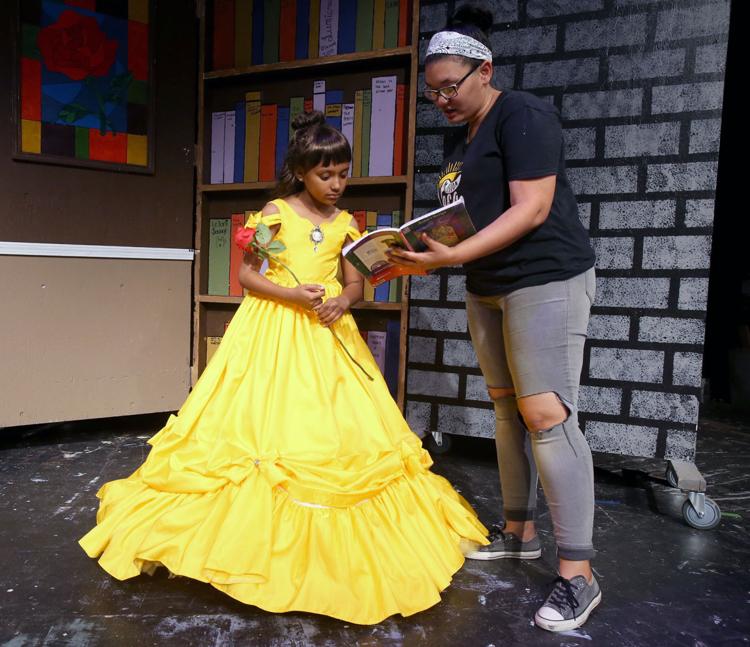 The Waco Children's Theatre production of "Grease" and its story of shifting romances in a 1950s high school is familiar territory for WCT founder and director Linda Haskett, who has led multiple productions during her career and with casts of varying age ranges. "I've been around 'Grease' a lot plus I've lived it," she laughed.
In looking for a stage musical this summer for her older students, many of whom who have acted for years in the WCT, Haskett said pressure to do "Grease" again came from within the company, who wanted to do the musical they remembered older kids doing when they were young. "They saw it as their right of passage," she said.
The rock 'n' roll musical follows Danny Zuko (Tyler Sims) as he attempts to make a summer friendship with more sedate Sandy Dumbrowski (Alyssa Riggs) into something more substantial. Juggling their own friendships and issues are classmates Doody (Collin Selman), Rizzo (Bethany Johnson), Frenchy (Addie Genarlsky), Marty (Bradyn Braziel) and Kenickie (Graham Smith), part of a cast of some 50 junior and senior high students from across McLennan County.
Initially, "Grease" was to be directed by former Waco choreographer Jerry MacLauchlin, a frequent WCT collaborator during his years with McLennan Community College before retirement to Galveston. But recovery from a recent illness kept MacLauchlin from directing, so Haskett's son John took over those duties.
Haskett said Baylor theater faculty and students plus more than a few Waco stage veterans have lent a hand to the Waco Children's Theatre's "Grease," including music director Daniel Faris, voice director Glenn Beals, choreographers Autumn Hodge and Micha Sandusky, tech director Haileigh Herrin and costume designer Tricia Jenarovsky.
"Grease" has a six-performance run running Friday to July 9.