Local musicians and regional acts often don't connect outside of shared songs, but the two are linked in two shows taking place this week.
In one, a regional trio containing a Waco singer performs a concert at McLennan Community College. In the other, a Waco country/blues guitarist plays with his band in Waco before leaving on a 35-state solo tour.
The Beat Divas, McLennan Steinway Series, 7:30 p.m. Thursday, McLennan Community College's Ball Performing Arts Center; $5. Call 299-8200 for ticket information.
Beth Ullman, who teaches jazz voice at McLennan Community College, has sung in venues large and small across the country in her career, but there's a touch of pride for her Thursday performance at MCC: It's home.
The voice professor/soprano sings in the Austin-based The Beat Divas with Mady Kaye and Dianne Donovan, a female jazz trio that's in its 17th year. Most of their show are in the Austin area, including a regular "Dishing With The Divas" cooking and singing gig at H-E-B Central Market, with the occasional venture to Dallas, San Antonio or Houston.
Ullman combines a jazz singing performance schedule with her classes at MCC, where she's taught for 23 years. Kaye sings jazz, has a voice studio in Austin and does recording production work. Donovan, a native Canadian, is a host and producer at Austin classical music radio station KMFA and also produces a weekly jazz radio show for an Edmonton, Canada, station.
When the Divas were invited to perform as part of the McLennan Steinway Series, Ullman quickly said yes. "I'm really honored to be asked to sing for the series," she said.
The trio sings a wide-ranging repertory that in- cludes Big Band and contemporary jazz, pop and Latin numbers, rich in three-part jazz harmonies.
Thursday's program, with pianist Jeff Helmer on the Steinway grand, will feature several Big Band standards, a Crosby-Stills-Nash song; a standard from '50s-'60s vocal jazz trio Hendricks Lambert and Ross; some original songs; and several of the Divas' "food songs," which enliven the Central Market's cooking show.
Ullman said the threesome may close their show with "The Word Song," in which they improvise a closing number from words submitted by audience members.
Brett Hendrix Band, 9 p.m. Friday, The Backyard, 511 S. Eighth St.; $5.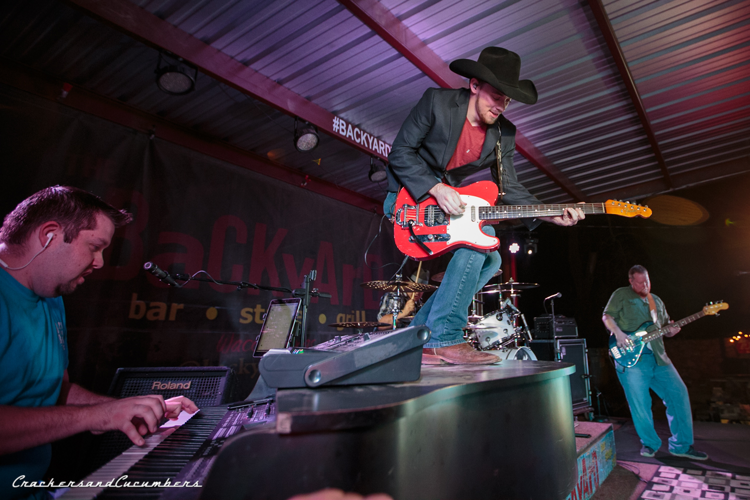 Waco country/blues guitarist Brett Hendrix plans to say goodbye sometime after saying hello with his band at The Backyard on Friday night.
Friday's show is the last Waco appearance for Hendrix and his band before he leaves in two weeks for a three-month solo tour that will take him to 45 shows in 35 states.
The tour is his idea, something the 22-year-old guitarist wanted to do to test non-Texas markets and himself before commitments to friends, family and place tie him down.
Hendrix booked his tour, which takes him to 20 states he's never played in before, features a Chicago gig on St. Patrick's Day and which ends, appropriately, in Nashville.
"I'm definitely excited about it," he said. Booking that many shows took persistence — "I probably got 15 times as many nos as yeses," he said — and some of the dates are more for experience and exposure than making money. Traveling solo allows him, too, to show off the blues-rock guitar prowess that caught many listeners' ears when he was a kid as well as the Texas country that many northern clubs are open to book.
He grouped his shows to minimize drive time, but adds that time spent behind the wheel often translates into new songs. "I may come back with a stupid amount of songs," he said with a laugh.
Friday's show will feature Hendrix and his full band plus a short of his touring show, he said.