The natural world — complex, awe-inspiring, beautiful, unpredictable — forms the starting place for artists exhibiting works in two shows opening this week in Waco.
For Dallas artist Sherry Owens, the twisting, forked forms of crepe myrtle branches that she uses as raw material for many of her sculptures show a complexity and unpredictability found in nature. Sharon Kopriva, of Houston, finds a spirtuality sensed in the beauty of a forest. Waco artist Joel Edwards sees a beauty in landscapes that's revealed through selective detail.
Owens and Kopriva have works in Baylor University's Martin Museum of Art show "Confluence of Earth & Mind," which runs through Feb. 26. Edwards, the Art Center of Waco's current artist-in-residence, has a one-man exhibit of drawings and paintings opening Thursday at Art Center of Waco.
Kopriva, the 2005 State Visual Artist of the Year, references nature and her Catholic upbringing in her part of "Confluence," noted Martin Museum director Allison Syltie. Large multipaneled assemblages dominate the front space of the Martin's inner gallery, where "Cathedral Green" and "Sanctum" from her "The Verde" series suggest a cathedral's stained-glass windows behind a green forest vista, with actual branches, moss and leaves extending from the paintings. "It's really immersive," Syltie noted.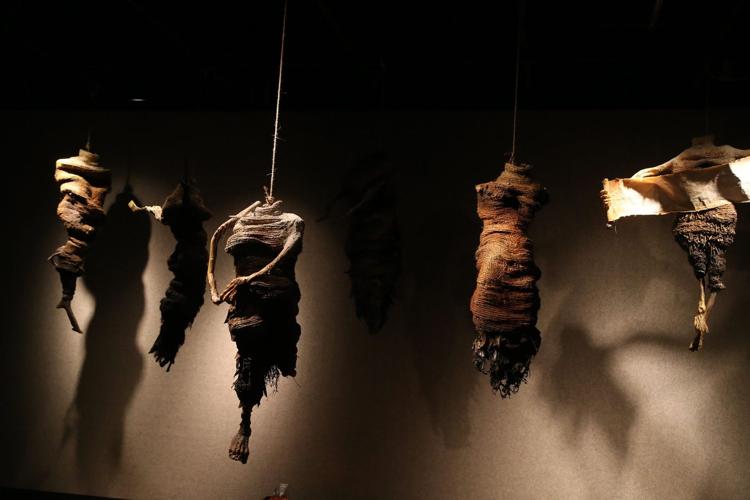 In another gallery space, natural fibers form the six hanging forms of the Houston native's "Remnants de Muses," an outgrowth of her "Tuber" series created from rope, each inspiration hovering with a symbol of its art, such as a harp or a scroll. The forms, as do those in her "Matrimony," echo the mummies she saw during a trip to Peru in the 1980s.
Many of Owens' sculptures start with the slender, twisted forms of crepe myrtle twigs and branches, many of which she laboriously carves clean before using, then connects with tiny pegs from the same wood. Some like the nest-inspired "Heart of the Prairie" she shapes around a core, which is later removed, although the empty space is part of the art. "For me, that void is a living space," she said while helping install her artwork in the Martin Museum show.
Others are woven into free-standing pieces, such as her "self-portrait" "Twirling Like a Seed in the Wind," or ones mounted on a wall, as the red-painted "Joy," whose nine interconnected sections splash across a gallery corner.
Then there's her heavier work: insubstantial stick sculptures cast in substantial bronze and steel. Owens' floor piece "Drought" started as a wood assemblage. After a ceramic coating that acted as a mold, a foundry then poured molten metal into the framework, burning out the wood and replacing it with bronze. A metal cast of Owens' own hands forms the center of "Cloud."
In multiple media, the artist takes an asymmetry of sticks and branches and molds it into expression, creating interaction between pattern and randomness. "I'm kind of reorganizing nature into my own chaos," she explained.
Owens, a Southern Methodist University graduate, started to pursue art as a career when she found the art classes required for her elementary education degree spoke more deeply to her. She switched from elementary education to art education and spent her early career as a tapestry weaver, where she began work in natural materials and dyes.
Several of the pieces in "Confluence of Earth & Mind" show those influences. The wall piece "The Slow Growth of Sameness" resembles a loom with tiny bundles of her hair, each a day's worth rescued from sink and shower over three years, suspended by scores of linen threads. Attached to each thread is a dated metal tag, with the tags for significant dates fixed higher on their threads.
Even more two-dimensional is the drawing "Field," the suggestion of its subject built from hundreds of colored pencil and graphite strokes.
Both Owens and Kopriva will talk about their work in a Feb. 2 reception at the Martin Museum.
At Art Center of Waco, several dozen of Joel Edwards' paintings and drawings capture nature, but with an eye to another layer of beauty, the play of light and shadow. Most are scenes taken from the Waco area or Texas locations such as Caprock Canyon in west Texas.
His black-and-white drawings are detailed, but deceptively so: Not all the detail found in a photograph or a studied in-person look are present. "I try to share the beauty of creation as I see it. . . . I don't want to spell out all the details. It makes it much more of a personal experience," he said, explaining that part of an artist's job is clearing out those distractions that interfere with a viewer's interpretation or enjoyment. "There's an infinite amount of information in nature. I'm removing as much detail as I can and eliminate every thing not pertinent to what I'm trying to say."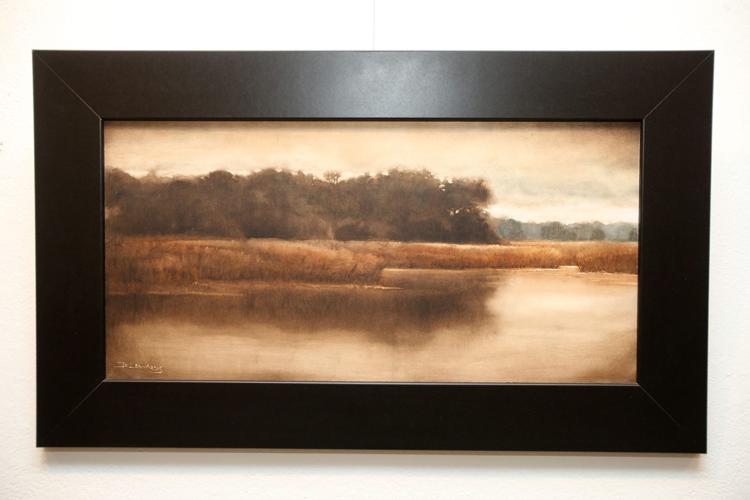 Color, for instance, can get in the way of looking at the light and darkness of a scene and Edwards' watercolor landscapes, such as his "Wetlands in Winter" study, employ a muted palette, such as the browns and greys of winter. The desaturated color helps bring out the contrasts in light that he finds, but Edwards also admits it's a personality thing, too. "I think artwork is an extension of a person, and I'm not a bright, loud sort of person," he said.
The 42-year-old Waco native got bitten by the art bug early by what he found in comic books — "My first painting was Batman in a graveyard," he said. — and studied at the Art Institute of Dallas. Waco doesn't have the developed art scene to commercially support many artists, but since 2000, Edwards has worked as art director for GM Wholesale, which specializes in granite memorials. He found he could pursue his other art in his time outside work — at least as much extra time as a father of three children might have.
Edwards enjoys sharing his art with others through teaching and creating as the Art Center of Waco's artist in residence, but confesses it has another perk — working space. "I used to have a studio at home until we had kids," he said. "I have lots of space now and it's been great."
Edwards will be at Thursday's opening reception at the center, but says he doesn't plan on presenting anything like a formal gallery talk.