Viewers of Waco photographer G.S. DeFoore's work often find a surprising connection to his images. A treatment of movie posters whose subjects are people in his life. Oversized black-and-white portraits that seem to capture a person's essence in an eyeblink. Shots of familiar camera subjects — Stanley Marsh's "Cadillac Ranch" or Ansel Adams' "Moonrise, Hernandez, New Mexico" from another angle and in color — that somehow contain something new and different.
Those flashes of meaning, some almost mystical, were characteristic of DeFoore himself, examples of a roving intellect, curiosity and innate talent, recalled his widow, Lisa Braswell-DeFoore. The various sides of his work and personality go on display Thursday in the exhibit "G.S. DeFoore: My Time at the Movies" at the Art Center of Waco.
DeFoore and the Art Center began planning that exhibit several months ago with his latest series, "My Time at the Movies," as its focus, but the photographer's sudden death at 65 from a heart attack Jan. 20 caused a slight shift from recent work to samples of a career, shaped by Braswell-DeFoore and his children, Dustin, Alexandra and Cayce.
"It was so important for us to get this show up as a memorial to him," she said. "We wanted to show his love for Waco and his happiness at being here."
Sifting through his father's photos proved therapeutic, said Dustin, his oldest son, who found himself remembering home life in several cities, including Fort Worth and Houston, but always with a darkroom somewhere in the house, whether a bathroom or kitchen. Alexandra pitched in by writing many of the captions accompanying the show's photographs.
DeFoore — known variously as G.S. DeFoore, Grady or, to friends and family, "Smitty" — was born to an unwed mother then living at the King's Daughters Home for Unwed Mothers in Natchez, Mississippi, adopted at 6 weeks by Grady Smith DeFoore Sr. and Mattie Elizabeth DeFoore, who gave him his name and eventually moved to Waco.
He grew up in Waco, attending Reicher Catholic High School, and remembered his boyhood hometown fondly, said Braswell-DeFoore, a friend from those days who reconnected with him decades later and married him in 2011. The hours spent watching movies at the 25th Street Theatre, in fact, sparked his "My Time at the Movies."
He left Waco after briefly studying theater arts at McLennan Community College and eventually gravitated to photography, starting a career that saw stops and studios in Houston, Memphis, Fort Worth, Los Angeles and Waco. An Ansel Adams exhibit in Houston in 1981 proved a major inspiration, but his outlook and philosophy were "always morphing," his widow said.
"He was an interesting mix. . . . He believed in the Bible, but also reincarnation." At the same time, he held to traditional values and love of family.
"My Time at the Movies" captures moments from his life and family and reworks them as movie posters, inspired by his longtime love for cinema.
His three children appear in "Siblings — Three's Company," which names Alan Smithee as director — a movie in-joke, referring to the fake name directors sometimes attach to films instead of their own.
"Guadacanal Diary," a war movie poster, refers to DeFoore's father, a World War II Marine who served with Carlson's Raiders in the Pacific.
"Sirens — The King's Daughters" looks like a horror movie, something that DeFoore found his birth mother had lived through at the home for unwed mothers, after tracking her down through the help of a psychic and hearing her story.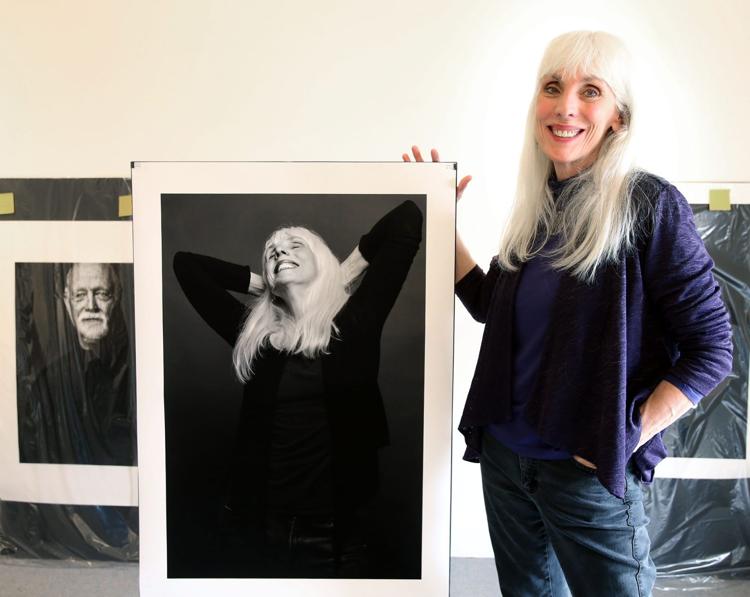 In another image, DeFoore inserts these posters in frames seen on the exterior of the 25th Street Theatre — a close look finds him selling tickets in the box office window. Braswell-DeFoore points out an even smaller personal detail: The jagged line seen in an eye above the marquee is from an EKG representing a triple heart bypass that DeFoore had had.
The Art Center's smaller gallery features DeFoore's photographic portraits. His style of shooting was informal and quick, and his subjects sometimes didn't realize he was finished, though he did. There's a portrait of a laughing, relaxed Braswell-DeFoore that she said was shot off-the-cuff and over before she realized what had happened. "I didn't know he was paying attention," she said.
Another black-and-white portrait is of sons Cayce and Dustin, embraced by Dustin's arms and hands — except that the hands belonged to their father, Smitty, who had removed the rest of his image from the picture.
DeFoore had shown some of his work in Waco at a 2011 Croft Art Gallery exhibit and was currently working on a series of portraits of Comanche Indians. "His heart came back to get him," his wife mused. "Who knows what he would have done?"